Marshall Mirarchi knows a thing or two about surviving a dog attack. He's a former US Secret Service Special Operations Officer and the handler of Hurricane, a Distinguished Service Medal recipient.
He recently told Free Range American that he's been on both the giving and receiving end of attack dogs. One such event stands out in his mind:
"We were doing a training scenario at Camp David, and I'm hiding up in a tree," he said. "The dog alerts, he barks, so I jump down to reward him. He's got a muzzle on and I'm essentially fighting with him and wrestling with him because that's what he wants.
"We pick them up by the harness and kind of throw them a little bit and when their feet hit the ground, they spring back like a trampoline. I throw him and he stops and I'm like, 'What the heck?' Well, he felt his muzzle come loose. So he stopped and swung his head to the ground and just shot that thing straight off his face."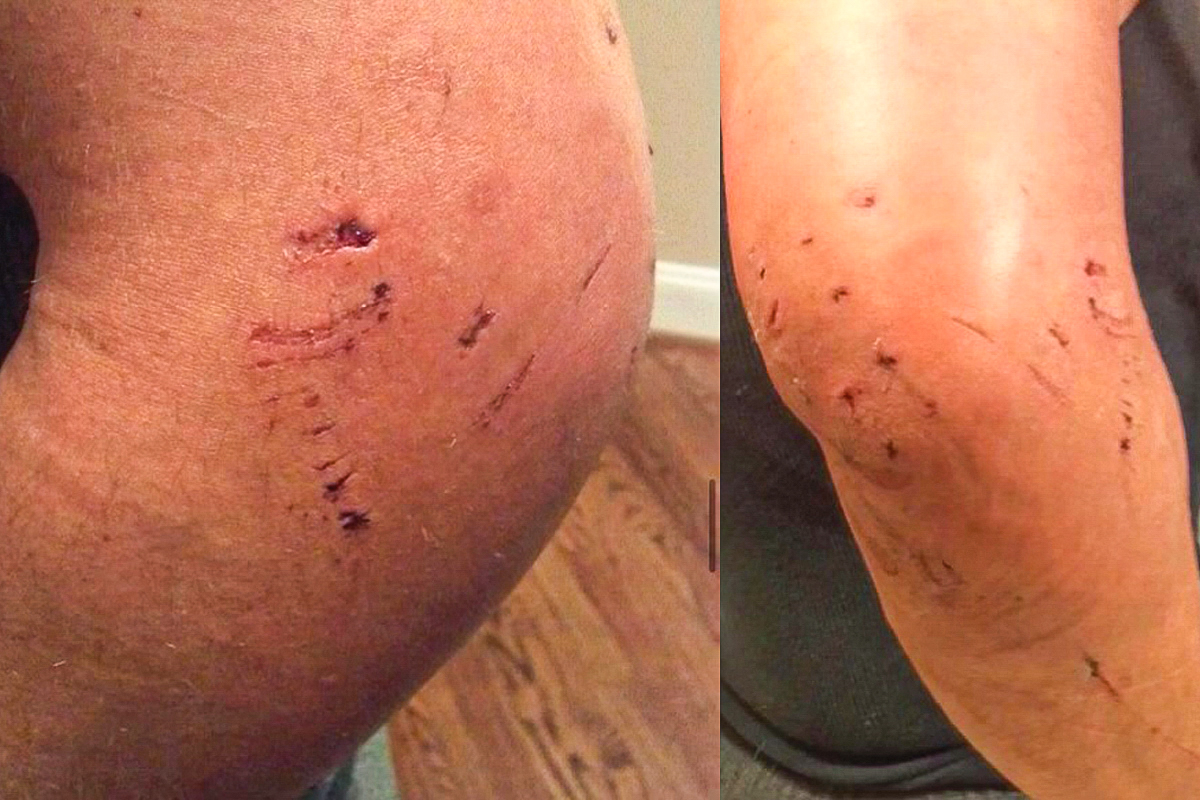 "So there I am," he continues, "the team's still a good 100 yards back in the woods. I am one second away from a full-blown 100-pound Belgian Malinois attack. At that point, I'm like, 'I'm not getting out of this one.'"
With nothing to keep the dog at bay, Mirarchi tried to give up his forearm to the bite when he pounced. Unfortunately, the dog clamped down on his elbow, tearing into the bursa sac, tendons, and ligaments of the joint. Mirarchi was out of commission for six months.
And that was only one dog attack of several the expert handler has had to fend off during his career. For Mirarchi, despite the injury, the encounter was a win: It could have gone far worse.
But what about the rest of us ill-equipped, untrained, soft-fleshed civilians? How do we handle a dog with a mouthful of sharp teeth and a mind full of adrenaline that's barreling at us in a dead sprint?
The Centers for Disease Control and Prevention and the Humane Society of the United States say about 4.7 million people in the US are bitten in dog attacks every year — more than 800,000 of those are serious enough to require medical attention, and about 16 of those attacks are fatal.
Thankfully, Mirarchi had some great insight and advice to offer for such occasions.
---
Gauge the Dog's Personality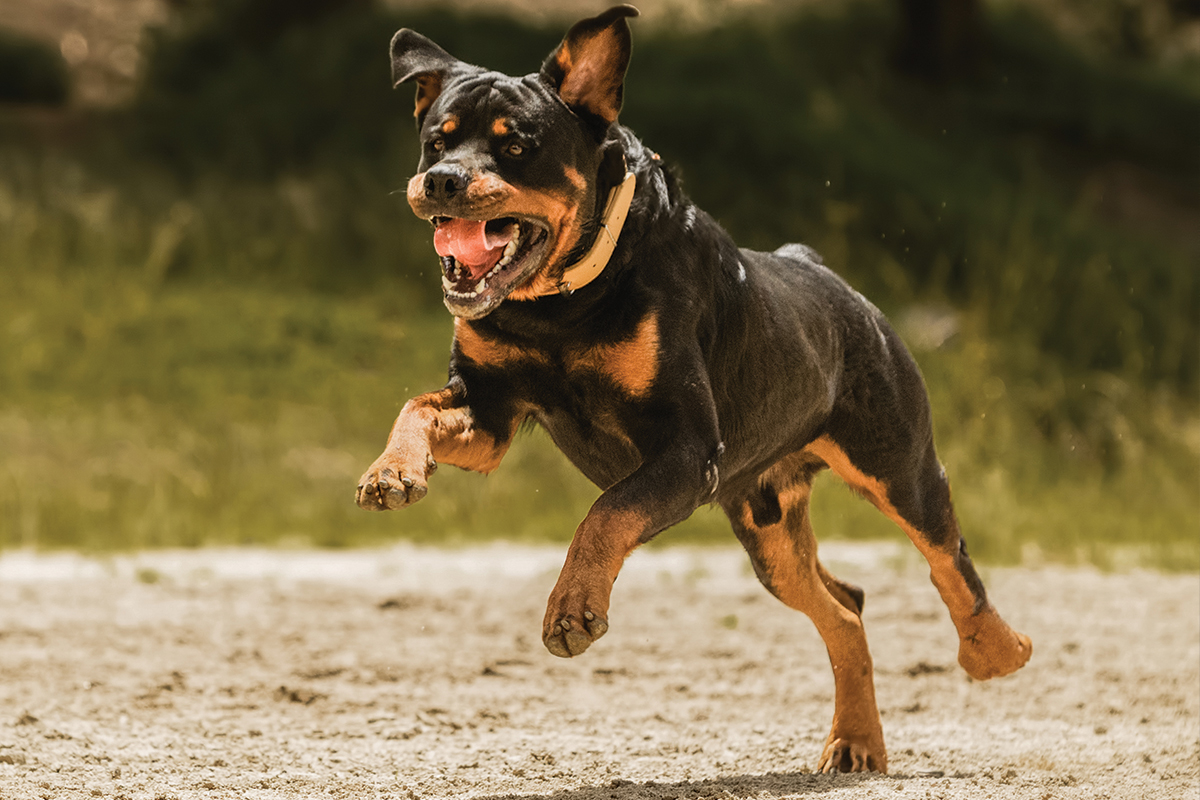 Not every dog that barks or runs at you is looking to tear your throat out. Yes, it's difficult to deter dogs with the alpha mentality, but if you're able to quickly determine that the dog is just acting a bit big for its britches, there's hope.
"Dogs have that pack mentality that comes naturally to them," Mirarchi said. "Working dogs obviously are all alpha of their pack, so you're not going to get around that. But there are other dogs that will attack out of fear and [for] some other reasons.
"If they know that you're the alpha, if you fight back, they will either stop or be scared off. They will know, 'Alright, I'm tough, this guy is clearly tougher.' It's not in their nature to fight and lose. So, if they think they're going to lose, they will stop."
Obviously, this could be a bit of a split-second decision during a dog attack — but if getting big and loud gets a dog to turn-tail and run, that's far better than the alternative.
---
Give The Dog Something to Bite That Isn't You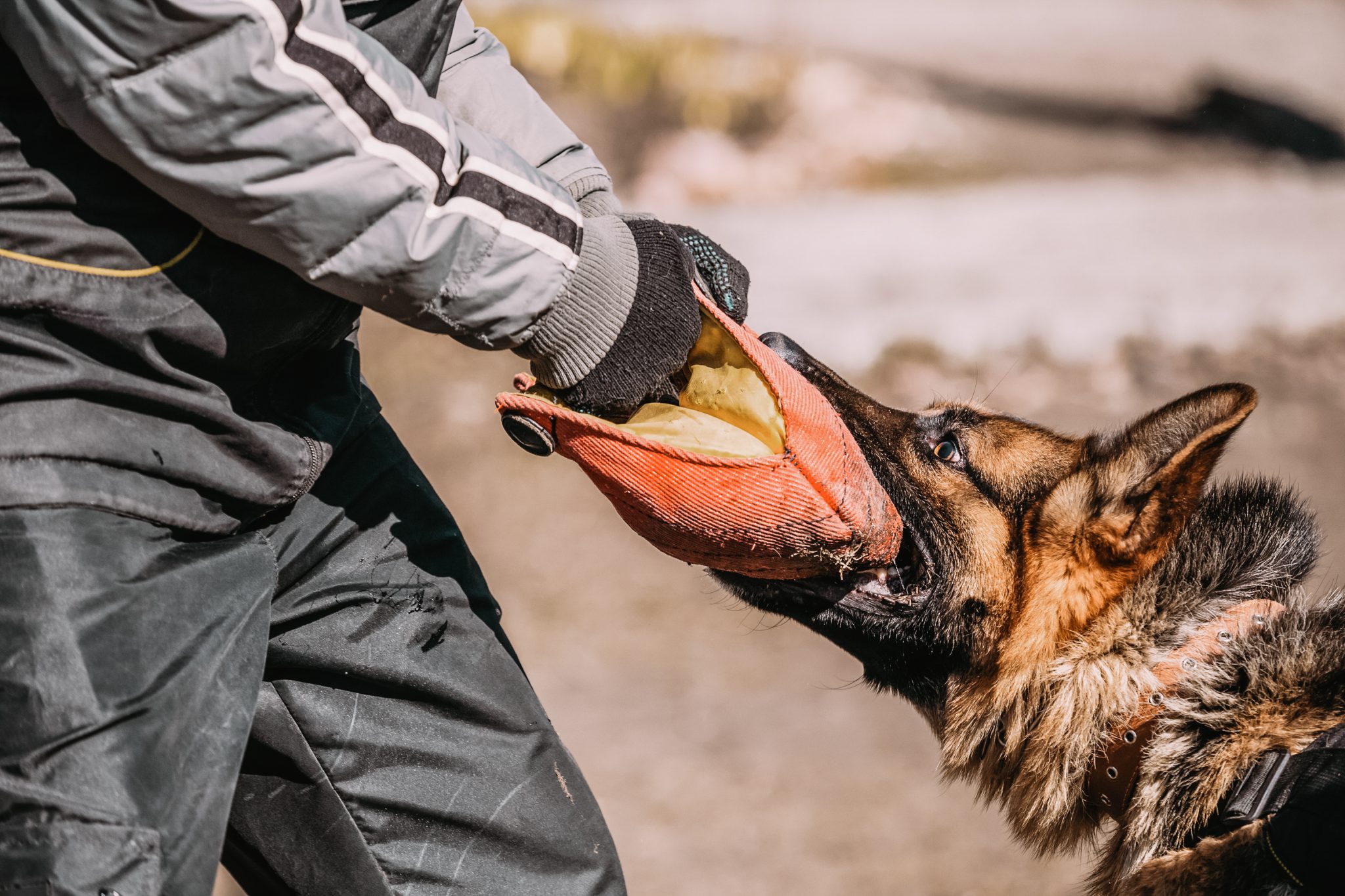 You know when your dog grabs a rope or frisbee or stick and goes into tug-of-war mode with you? That's the goal here. When any dog has its mind set on biting you, if you can give it something else to bite before it buries its teeth in your arm, leg, or any other body part, do it.
"If you have anything in your hand, even your freaking wallet, if you can use it as a tug, get the dog to go for that instead of you," Mirarchi said. "If a dog is running at me and my girlfriend's with me, she knows to immediately hand me her pocketbook.
Mirarchi says to grab what ever you're holding on both sides so it's exposed in the middle for the dog to bite.
"You have a 50/50 shot that the dog will jump up and go for that as a toy," he said. "Then you can control and manipulate them until you can jump on top of a car, hop a fence, or do whatever you need to do.
"I mean it doesn't work every time, you know; if the dog wants you personally for some reason, they're gonna get you. But most likely a dog running at you — they're not exactly sure what their plan is. Their brain is the size of a walnut so if you run, you're basically telling that dog, hey, I'm a bad guy, and you put their prey drive into a higher mode than it is.
"I'll try and turn it into prey mode/play mode instead of fight mode and hold out whatever I can [in front of me]."
---
If You're Going to Get Bit, Give Up the Forearm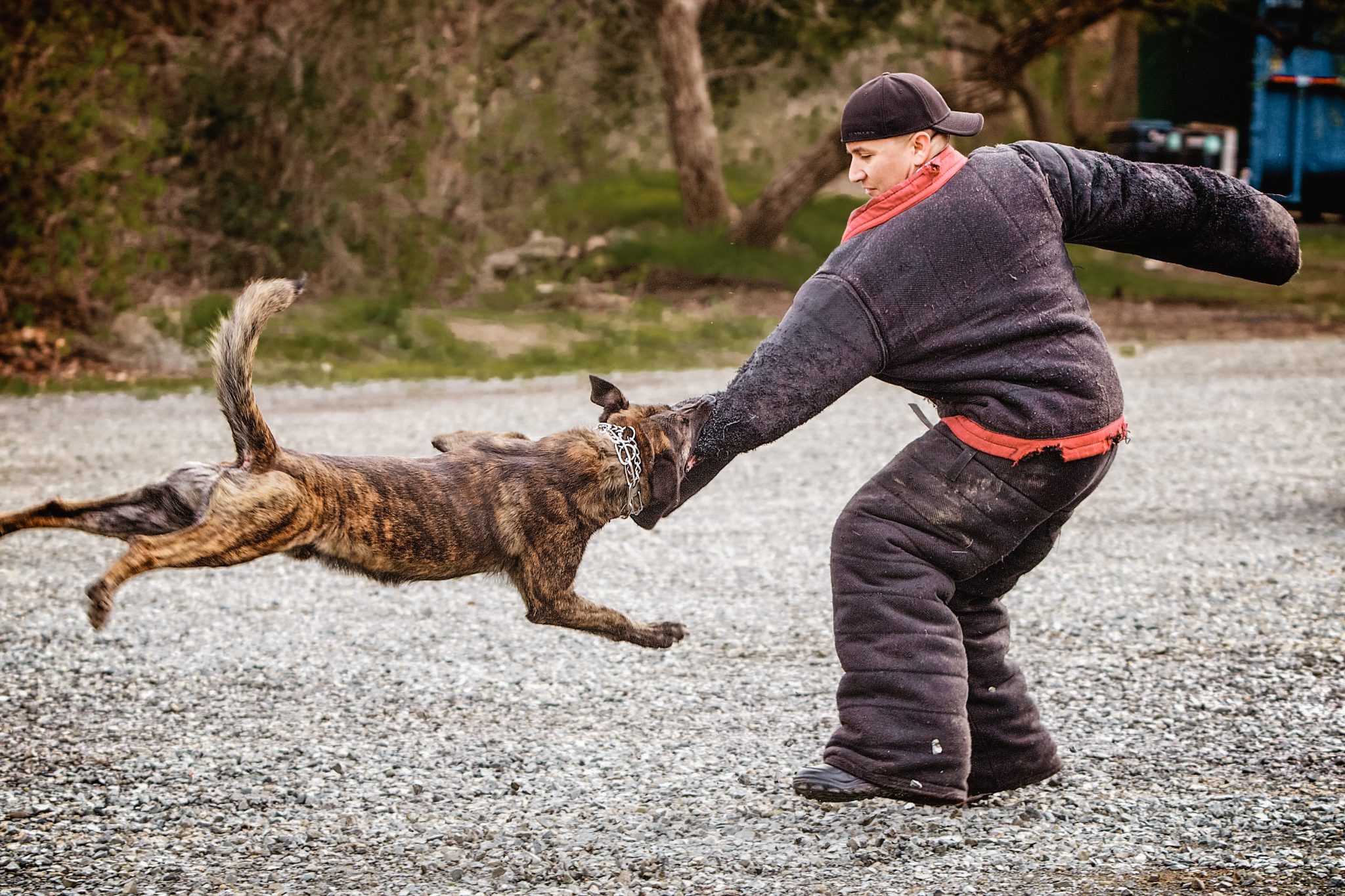 There are times when a person comes up against a dog that will not be intimidated or fooled into backing down. When that happens, you have to need to get right with one truth: You're going to get bit.
Most dogs instinctively go for the arms, even if they bite something else first. So if you're going to get bit, it's best to give them the right target to begin with.
"If you can avoid the bite, avoid it," Mirarchi said. "If not, now it's damage control. How can I walk away with the least amount of damage? If I was able to keep that dog on my forearm, I probably wouldn't have been out of work that long. I would have had four holes and just cleaned them out.
"But he slid up to the elbow and that's when you encounter all the damage. Dogs will pull your calf clean off your leg. A dog that gets the back of your arm, if it's a shallow bite, that tricep's coming fucking clean off. It's disgusting.
"You want to stay away from your hands because you don't want them damaged. So from your wrist to an inch or two south of your elbow, there's really not much that they can tear off. They're gonna get bone and they're probably going to get on and hold."
---
Go With the Bite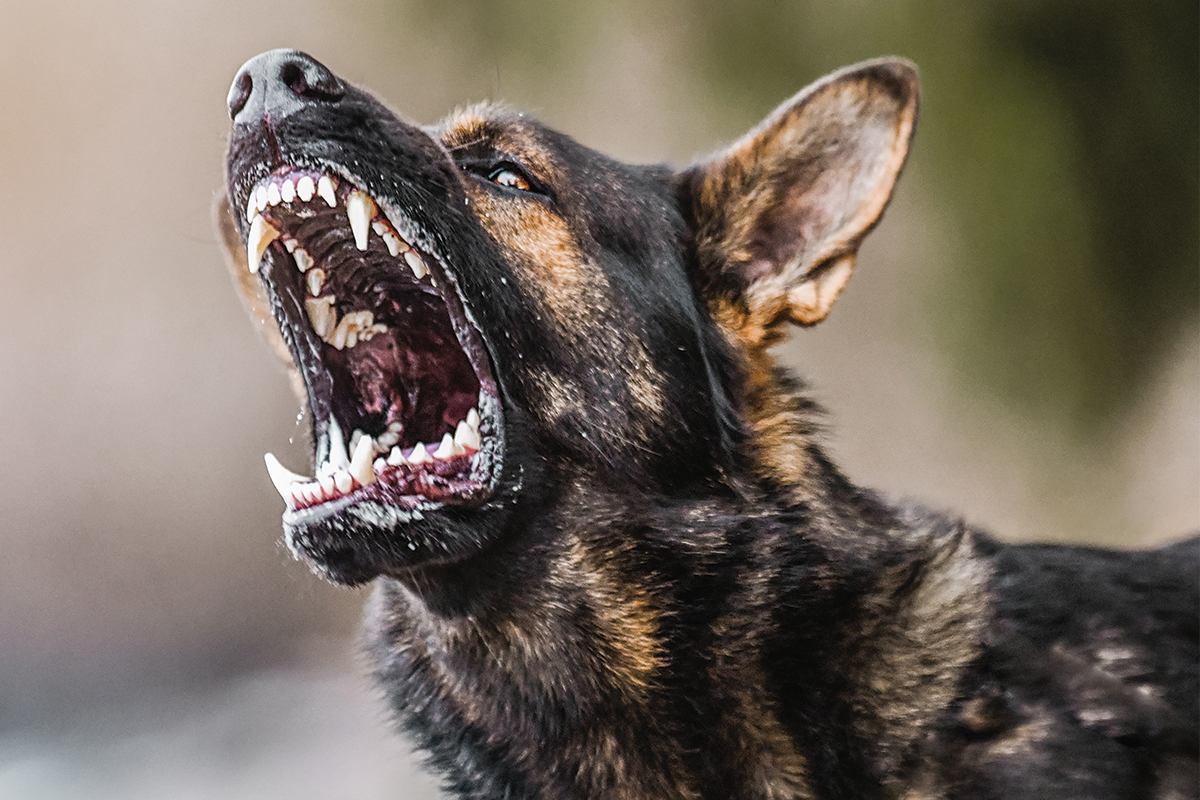 When you have a set of jaws locked on your forearm, there is no benefit at all to yelling, kicking, punching, or trying to yank your arm free. All that does is signal to the dog that you're having a ball and want to play rough.
While it's counterintuitive, Mirarchi said it's best to go with the bite.
"If you can stay with it, you can minimize how many times you get bit and how many holes you end up having on you," he said. "Once those teeth go in, depending on the dog and the dynamic of the tooth, you basically have a blade stuck in you. If you pull really hard, you're not going to pull your arm out, you're just going to slide those small incisions across.
"If you do get bit and can't get out of it, go with the dog and the motion of the mouth. I've had this happen a couple of times.
"In the attack I described before, he basically had my whole forearm in his mouth, but he's trying to move his head back and forth because they typically want to thrash once that prey drive kicks in — to get something and vanquish it. When he was moving his head back and forth, I was moving my arm with his mouth, almost as if I was holding a tug or a toy. I was able to do that until somebody was able to come and get the dog off me."
---
Attack a Dog's Choke Points or Pain Points
If you're alone and find yourself in the middle of a dog attack, help might not be close by. To increase chances of survival and minimal injury, Mirarchi advises learning some dog anatomy basics. This can also be useful if you have to save somebody else from a dog attack.
This is where adrenaline and a cool head come in really handy.
"Choking a dog off is how we get a dog off a bite," he said. "We take that chain or collar and twist it. When the dog can't breathe, it has to let go or it'll pass out. Sometimes the crazy ones don't let go and they pass out. They still come off, though."
Another technique is to go for pain points in the dog's "armpits."
"Those areas are extremely sensitive," Mirarchi added. "If you can't stop the dog from breathing, you can come up right under those hind legs and basically grab as much skin as you can and twist as hard as you can. That is extremely painful for them. Punching and kicking are not."
So the next time your neighbor's labradoodle comes hauling out of their backyard at you or the mutt that always pisses on your tree decides to get a little ballsy with your kids, get big, get a stick, or get ready to dance with them.
---
READ NEXT – The 8 Greatest Hunting Dog Breeds of All Time