Willy Hollings is a "stone-cold killer," according to his hunting buddy Eric Hamilton. The Oregon State Police Wildlife Division couldn't agree more — and now they have nearly 30 big game animals poached by Hollings, Hamilton, and a third accomplice, Nicholas Lisenby, to prove it.
This three-man poaching ring operated across hundreds of miles in four Oregon counties, allegedly committing crimes that included exceeding tag limits, hunting animals that were too young, killing animals out of season, and hunting with spotlights. Investigators found evidence of illegally killed elk, cougars, mule deer, bears, and bobcats in their possession.
The three men have been slapped with more than 40 counts of poaching-related offenses combined, and they've already pleaded guilty or have been found guilty of 13 counts. The men reportedly killed the animals for food, not for any black market or illegal wildlife trade purposes.
Related: World's Dumbest Poacher Must Wear GPS Tracker All Fall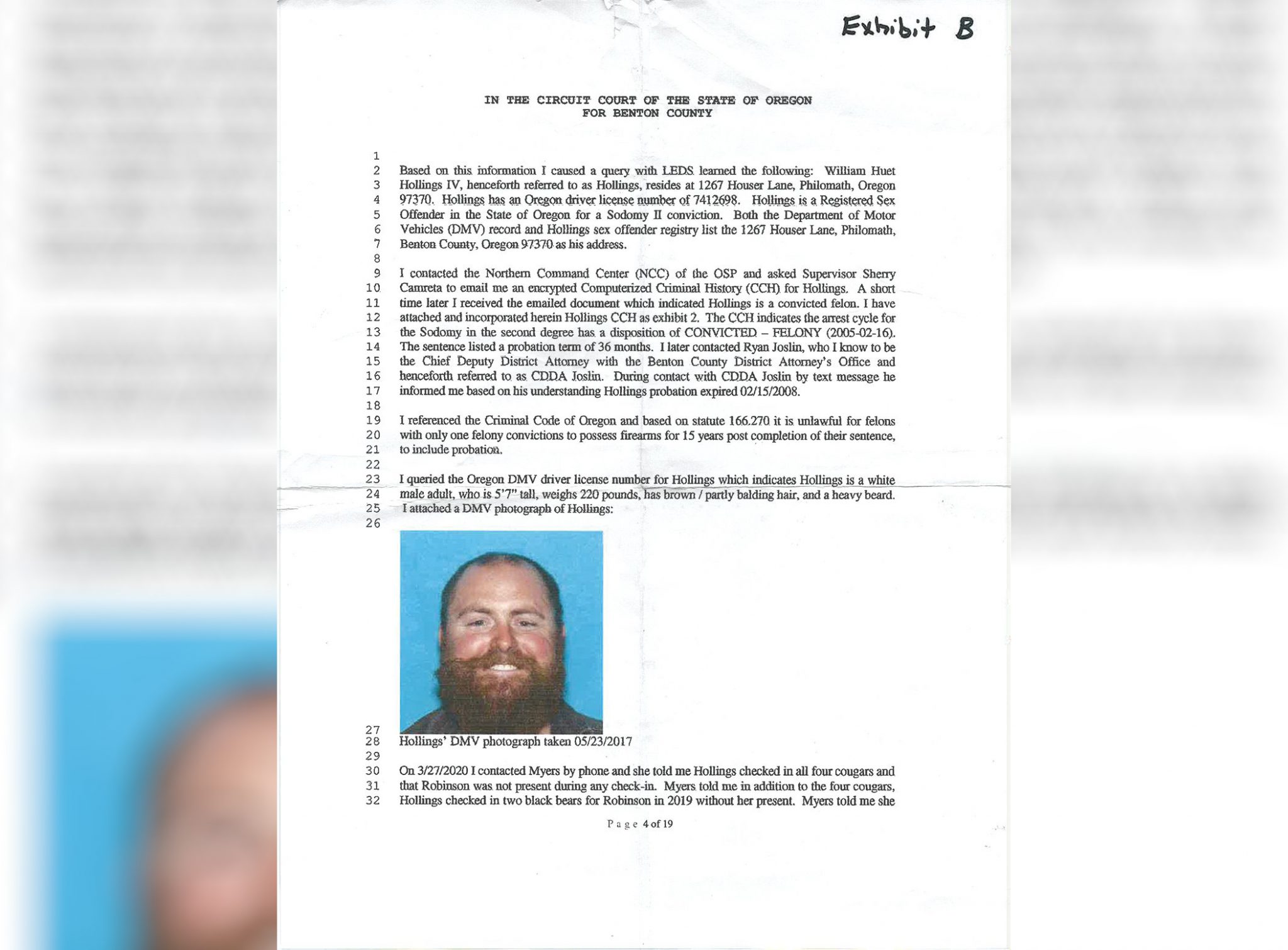 State police investigators, led by Sr. Trooper Jim Andrews, started building a case against the men after an anonymous call in March of 2020 led them to Hollings' ex-girlfriend, Shannon Robinson, who says she witnessed countless illegal activities during her 11-year relationship with Hollings.
Hollings was already under some suspicion for checking in two black bears with the Oregon Department of Fish and Wildlife, plus an adult cougar skull along with three juvenile cougar skulls the following week — all under Robinson's name. Robinson was never present, and Oregon regulations say it's illegal to kill cougars with spots or the adult female that is with them.
The state takes illegal hunting seriously and employs several tactics to catch wildlife poachers, including utilizing wild game decoys and game cameras. A state police Facebook post states that "poaching is not only theft from the hunting community, but from Oregon."
In a move to boost long-term wildlife conservation efforts, a 2019 legislative update changed poaching from a misdemeanor to a felony if committed intentionally or recklessly. A conviction could result in a maximum five-year prison sentence and a $125,000 fine.
When it comes to illegally killing animals, this isn't the first, or biggest, poaching ring Oregon has dealt with, but it's just as shitty.
Related: Elk Vs. Moose: Know Your Bulls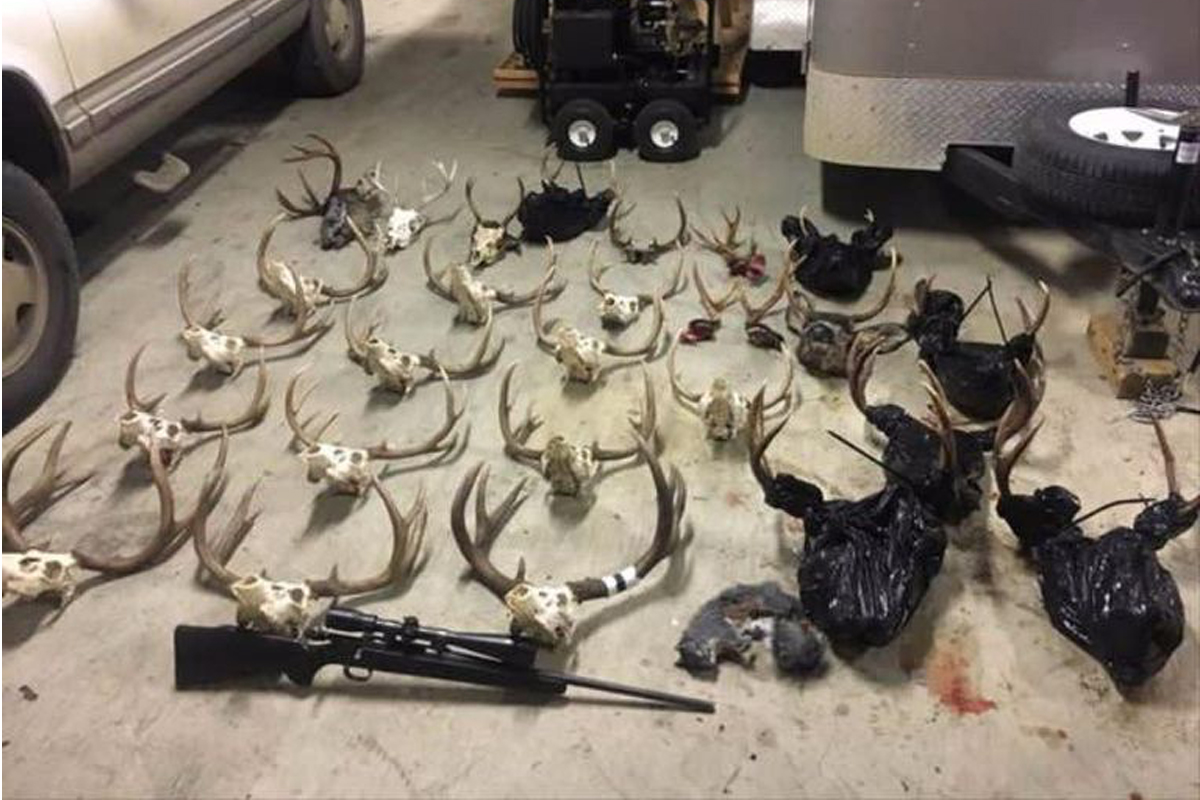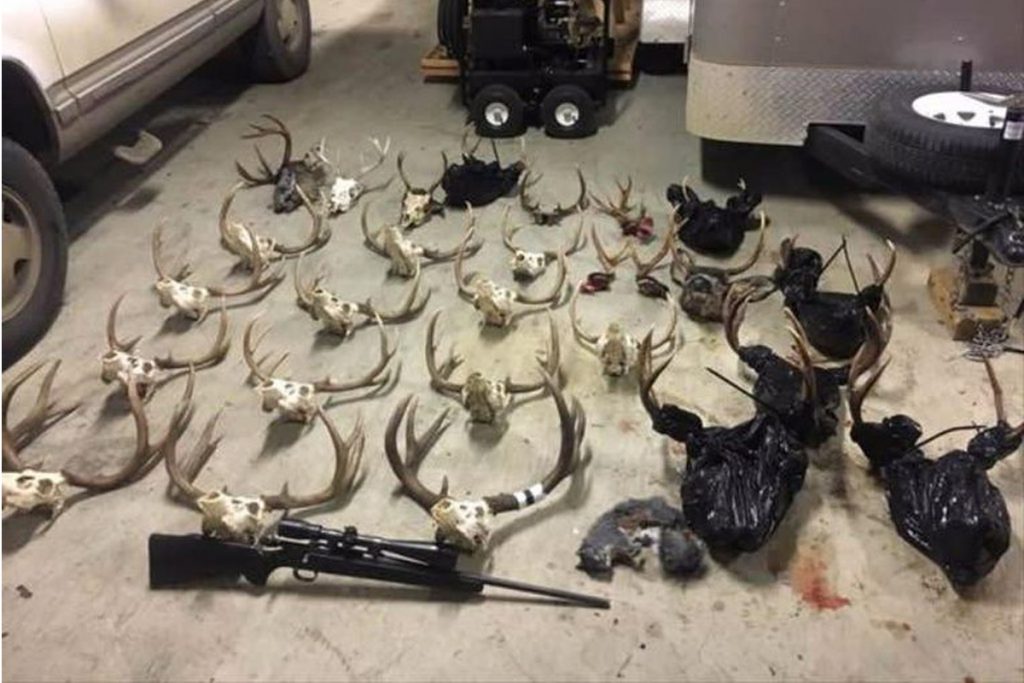 Robinson recalled finding at least 10 firearms in Hollings' house and truck, as well as deer skulls being boiled, freezers full of meat, and dozens of cell phone pictures of Hollings and his buddies with animals they had killed.
On the surface, none of the hunting-related details proved culpability. But the guns sent up a flare for investigators. Hollings had been convicted of a felony sex crime in 2005 and was therefore prohibited from possessing any firearm. That was cause enough for a warrant to search Hollings' home, vehicles, and electronic devices.
Police seized a Ruger .338 Magnum rifle, a spotlight, a suppressor, 400 rounds of ammo, and a five-point bull elk mount. They also grabbed an iPhone and an iPad to analyze pictures, cell phone calls, GPS tracking, text conversations — even messages Hollings had deleted.
The possession charge alone screwed Hollings, but it was the hundreds of text messages between him, Hamilton, and Lisenby that brought the hammer down on the whole poaching ring enterprise.
Related: Hunters Arrested for Squirrel Poaching After 471-Critter Missouri Hunt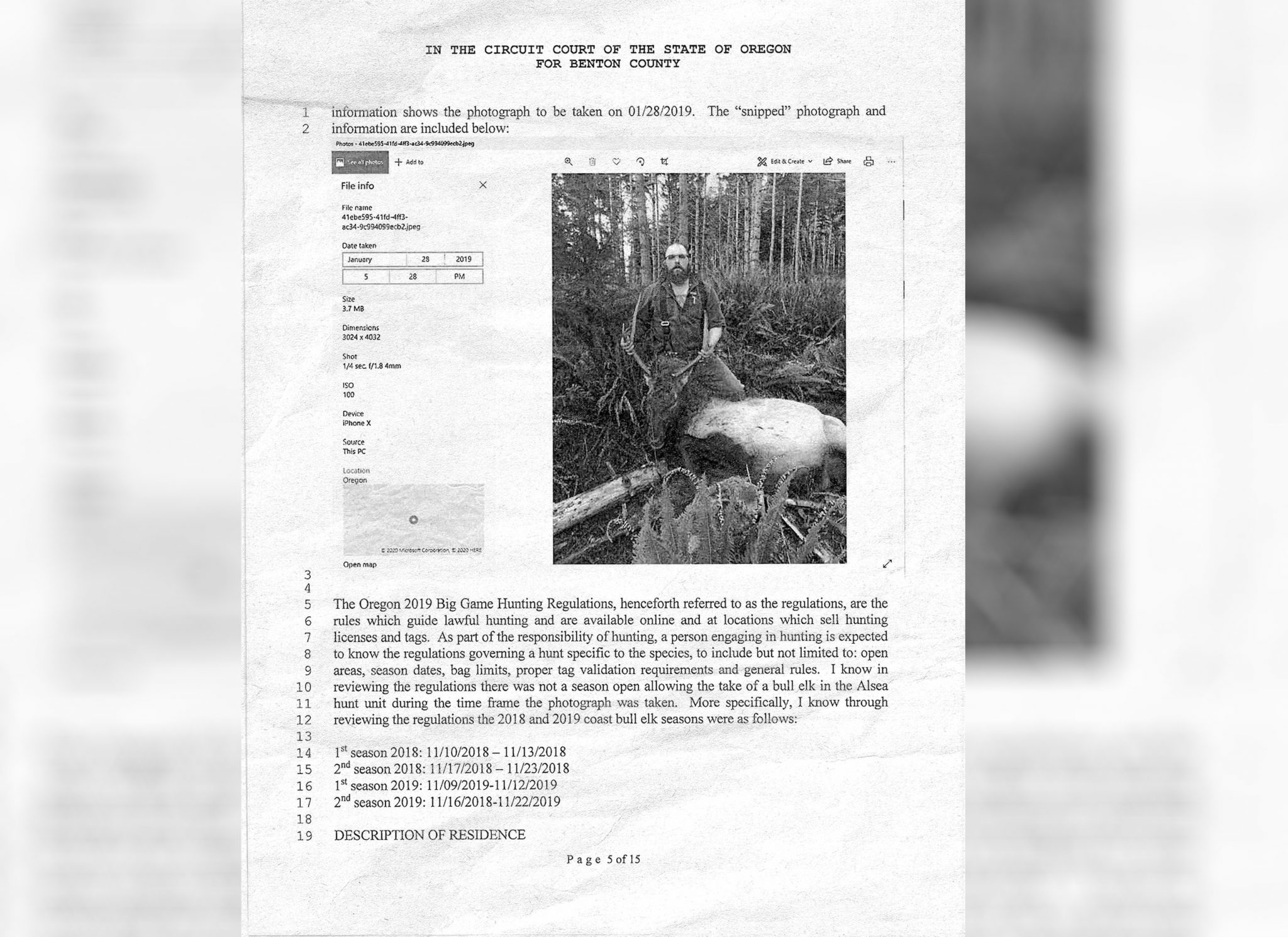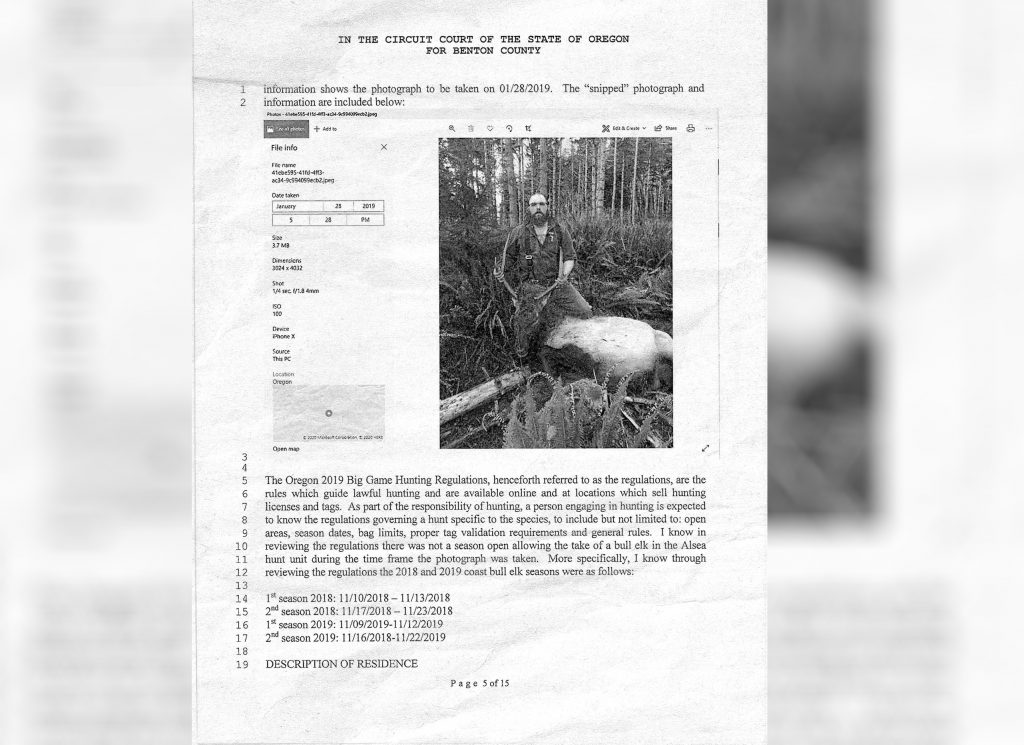 The bottomless well of incriminating information shared among the men dated back to 2018. One particular text conversation between Hollings and Hamilton from January 2019 also included a nail-in-the-coffin image of Hollings posing with a dead, 3 x 3 bull elk.
The data retrieved from the image showed it was taken on Jan. 28 at 5:28 p.m. and also included a GPS location. Elk season closed on Nov. 26.
Hamilton included a note with the image: "Fuck yea bro. wouldn't [sic] miss it for the world. You're a stone-cold killer."
Hamilton represented himself at his first trial and tried to explain that he and Hollings found the elk dead on the side of the road and had picked it up. The judge essentially nut-punched him for his story.
"You wouldn't miss what for the world, a roadkill?" the judge said. "You took a picture of your buddy posing with the elk. Actually, you provided the evidence that convicted him. It's not the first time vanity, I guess, or ego, has sunk somebody's ship."
Related: Mountain Goat in British Columbia Says 'Not Today,' Kills Grizzly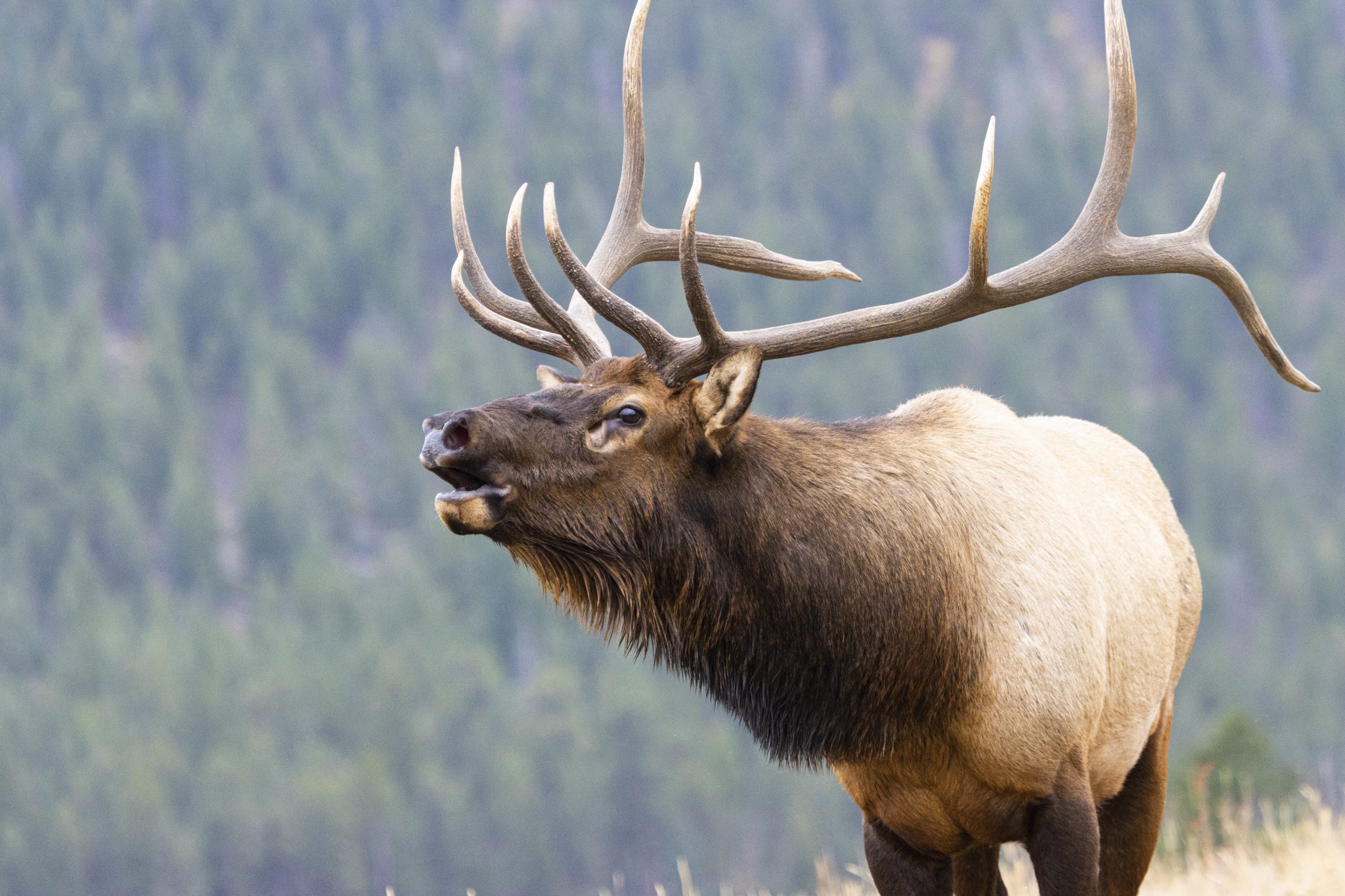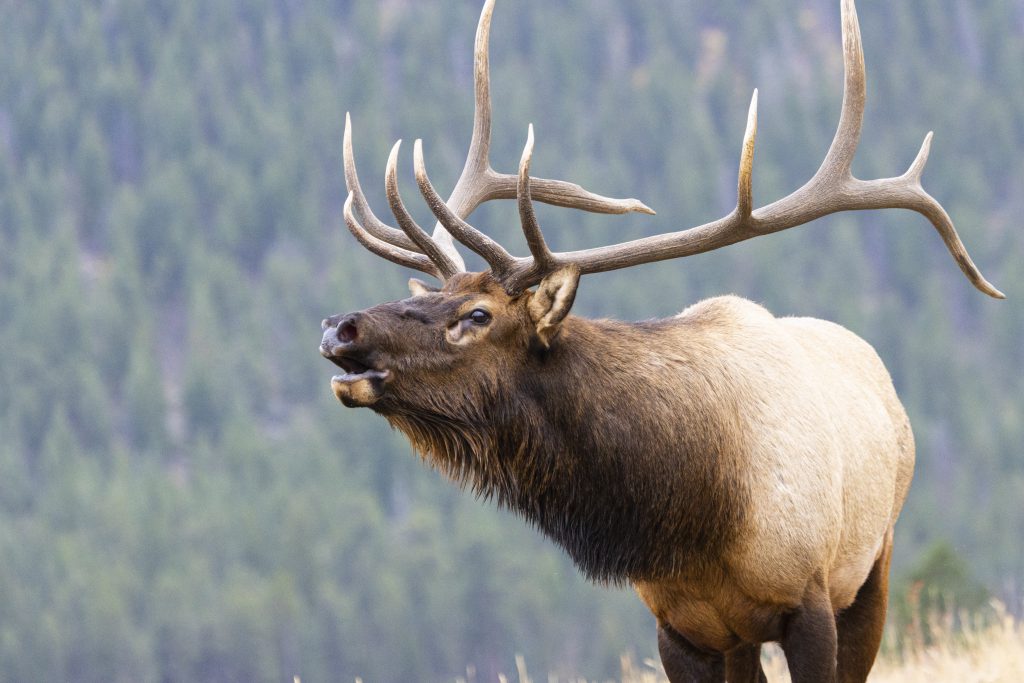 Hamilton was found guilty of a poaching charge, Lisenby was collared with the only felony poaching conviction of the group, and Hollings pleaded guilty to several charges, including felony firearms possession, misdemeanor poaching, illegal transfer of a tag, hunting during a closed season, and hunting without big-game tags. More trials are coming.
The three men have racked up $162,700 in restitution to the State of Oregon so far and will likely lose their hunting privileges and potentially serve jail time.
Read Next: Oregon Bill Would Ban Hunting, Fishing, Trapping, and Animal Agriculture