Ruger LC Carbine in 5.7mm
Semi-auto
20-round capacity
Uses same mags as Ruger-5.7 pistol
Weighs 5.9 pounds
Comes suppressor ready with a full-length optics rail
M-Lok slots for accessories
Folding, adjustable stock
MSRP: $979
The idea of having a pistol and a carbine that run the same ammunition has been around since the days of matching-chambered wheel guns and lever guns in the Old West. Having to deal with one type of ammo is attractive in many situations.
The concept has certainly been revived with the growing popularity of pistol-caliber carbines, or PCCs — many companies that endeavor to introduce a mass marketable PCC in 9mm, for instance, will make sure it uses Glock mags or can be adapted to use a number of popular handgun magazines. If you've been looking for such a pistol-carbine pairing for the endlessly provocative and speedy little FN 5.7x28mm cartridge — for whatever reason — Ruger has delivered with its brand-new LC Carbine.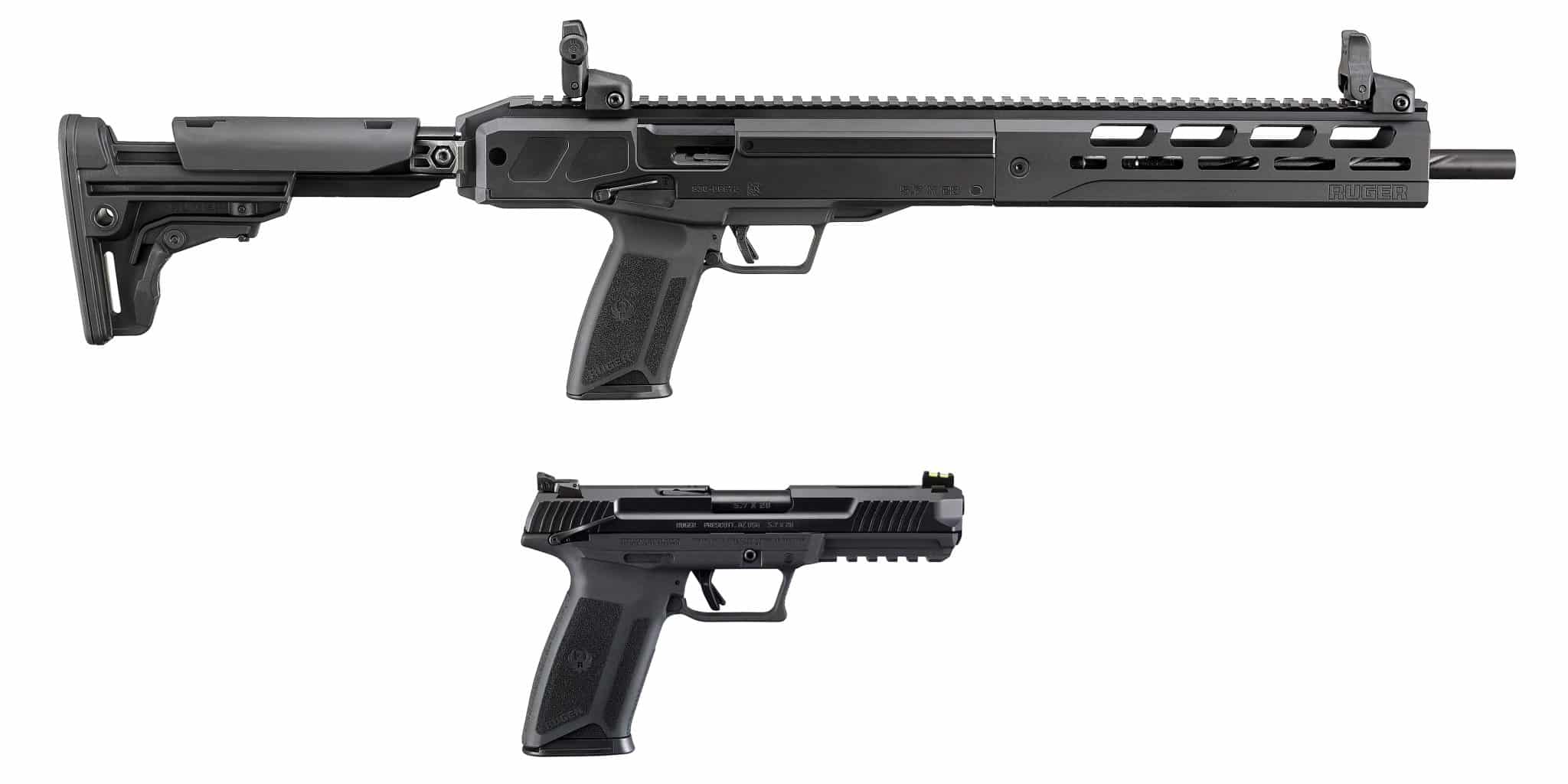 The Ruger LC Carbine uses the same 20-round steel magazines as the company's popular Ruger-5.7 pistol, which was the first affordable factory-made 5.7mm handgun alternative to the FN Five-seveN handgun, which was the only sidearm choice in that caliber for years.
If you're familiar with the company's pistol, you'll see at a glance that the new carbine looks like a Ruger-5.7 grip attached to a carbine upper, and that's kinda what this gun is. The magazines are inserted into the grip, like a handgun, which allows the carbine to have a bolt-over-barrel design, which should result in excellent balance and easy pointability.
"I can't describe how ergonomic the LC Carbine feels in your hands. You have to experience it on the range to really appreciate how it balances and moves. The controls are intuitive and conveniently located, and the lack of felt recoil makes it hard to put down," said Ruger President and CEO Chris Killoy in a release.

Standard features include a 16.25-inch barrel and a reversible side-folding stock that is adjustable for length of pull. It sports a full-length Picatinny top rail for attaching AR-style iron sights and practically any optic; the carbine comes with Ruger's Rapid Deploy folding iron sights.
The CNC-machined aluminum handguard features a row of M-Lok slots on either side and on the bottom for attaching additional accessories like weapon lights, laser sights, and forward vertical or angled grips. It also has multiple quick-detach sling sockets.
The fluted barrel features a nitride coating and comes threaded for accessories, including muzzle brakes, flash hiders, and suppressors. That fluted barrel is indicative of the carbine's biggest selling point: it's pretty lightweight, coming in at just 5.9 pounds.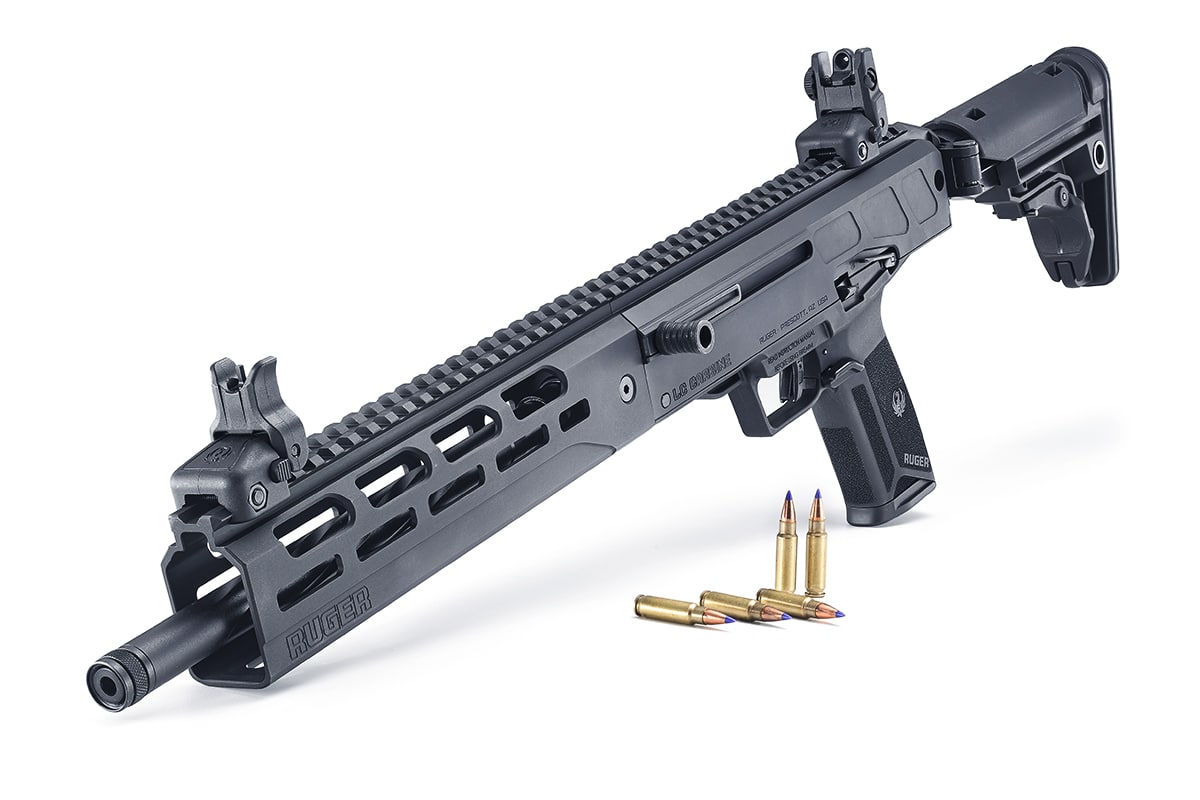 The controls are identical to the Ruger-5.7 handgun, including the trigger, mag release button, and ambidextrous 1911-style lever thumb safety. Plus, Ruger says the diminutive round fired through the carbine produces "felt recoil comparable to a .22LR." Indeed, an FN P90, which is chambered in 5.7mm, is a very soft-kicking firearm, especially with a heavier carbine-length barrel (the FN PS90).
The carbine also features a reversible-side charging handle, an ergonomic bolt release, and an extended, ambidextrous magazine release latch.
Ruger is also offering a capacity-compliant model for those in states with 10-round capacity restrictions and a state-compliant model with 10-round mags, a fixed stock, and an un-threaded muzzle right out of the gate.

The Ruger LC Carbine also uses the company's Secure Action fire-control mechanism, the same used by its companion pistol, which combines a protected internal hammer with a bladed-safety trigger. The stock trigger on the pistol version is excellent with a short, smooth pull, clean break, and positive reset, so there's no reason to think the carbine will be any different.
As for potential uses, it's good for anything the FN P90 is suited for but has way more optics and accessory options than that strangely proportioned bullpup personal defense weapon. You could conceivably use this carbine as a self-defense unit, varmint or small-game gun, pretty lethal squirrel killer, backpacking survival rifle, or even a home defense firearm with the proper accessories.
There really aren't that many 5.7mm carbines out there to even judge what they might be good for. The bullpup PS90, which is only a carbine so it can be sold as a rifle, and the CMMG Mk27 Banshee braced pistol are about all there is. There's the odd P50 "pistol" from Kel-Tec, but that's kind of its own thing and there isn't a brace or stock option.
The LC Carbine could be a hit, but with this price point and the current real-world price of 5.7mm ammo — that might be a reach.
---
Ruger LC Carbine Full Specs
Chambering: FN 5.7x28mm
Capacity: 20+1, 10+1
Barrel: Fluted, black nitride coated, threaded
Barrel Length: 16.25 inches
Twist: 1:9-inch RH
Thread Pattern: 1/2″-28
Overall Length: 28.70 – 30.60 inches
Weight: 5.9 pounds
Stock: Folding, adjustable length of pull
Length of Pull: 12.50 – 14.50 inches
Sights: Adjustable Ruger Rapid Deploy folding iron sights included
Receiver Material: Aluminum alloy
Receiver Finish: Type III hard-coat anodized
Compliant versions: Yes
MSRP: $979
---
READ NEXT – Springfield Armory Prodigy: New Double-Stack 1911 With a 26-Round Mag