The iconic Key West Southernmost Point buoy is a landmark that has attracted millions of tourists — some drunken, most sun-drenched — and generated a lot of cheesy photos since its official dedication in 1983. Two men participated in this longstanding tradition on New Year's Day in an unbelievably stupid and hilariously incriminating way that left the iconic buoy damaged and burned.
The still-unidentified duo took some candid pics while lighting a Christmas tree on fire next to the concrete attraction and posing for the stunt. The Conch Republic has a Southernmost Point live webcam that captured its own images of the perpetrators.
Papa Hemingway would've had both men by the scruff of their necks and bonked their heads together like coconuts. Of course, he might've raised a toast and thrown another tree on the blaze for good measure, depending on his mood and state, but who can really know.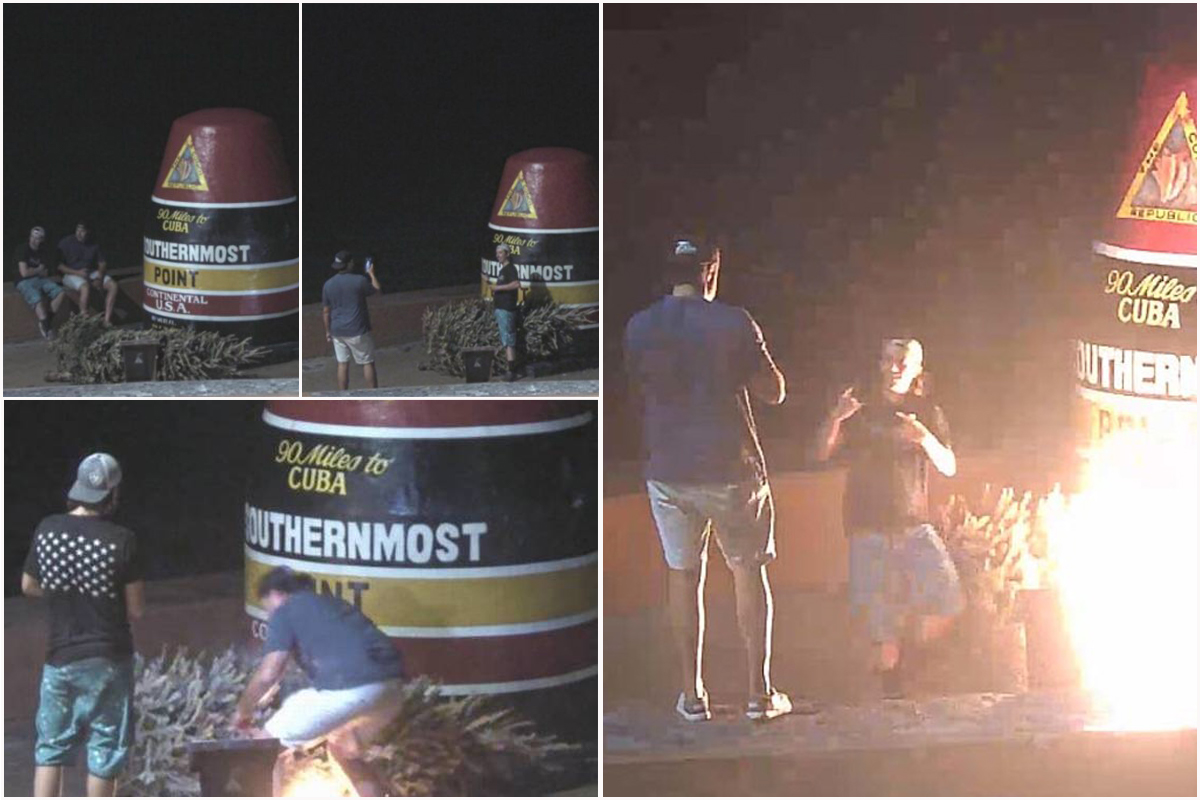 Unfortunately, the two tree burners are still in the wind.
The fire charred a large section on the face of the buoy, but Key West city officials said that the landmark, which isn't actually a buoy at all, will be restored by the end of the week.
Commissioned by the City of Key West in 1983 and painted by Danny Acosta, the 4-ton cement monument resembles a giant marine navigational buoy and reads: "90 miles to Cuba, Southernmost Point, Continental U.S.A." The beast is 12 feet tall and 7 feet wide.
Acosta helped restore the monument after it was damaged during Hurricane Irma in 2017.
The buoy was built to replace the classic original wooden sign that declared the spot the "Southernmost Point of Southernmost City, Key West, FLA."
In a video statement, Paul Menta, a Key West business owner and speaker of the house for the Conch Republic, and David Sloan, minister of debauchery for the Conch Republic, said they were livid that anyone could stoop so low as to vandalize the buoy.
"This really is a treasure," Sloan said, and Menta agreed with his sentiment.
"It really is," Menta said. "A year before this was dedicated, we seceded from the mainland, and then a year later, because tourists were actually stealing the sign, they put this thing in so that it could not be stolen, and I've never seen it disrespected like this," he said.
While the perpetrators are still at large, officials are hoping someone will come forward with information about the men.
To sweeten the pot, Menta offered a case of rum from his local distillery to anyone who can help police catch the vandals.
Read Next: Hemingway's Top 5 Hunting and Fishing Stories