As all hunters know, putting meat on the table requires patience, skill, know-how, and a healthy dash of luck. That formula isn't exclusive to human hunters. All of Nature's best hunters, the apex predators, possess these same traits.
Some of the Earth's best predators hunt in packs; some prefer to go it alone. Some use stealth and natural camo. Others rely on brute strength.
These aren't skills taught in an average hunter's safety course. However, each of the animal hunters mentioned below has a skill set human hunters should appreciate and respect.
---
Coyotes – Pounce and Pin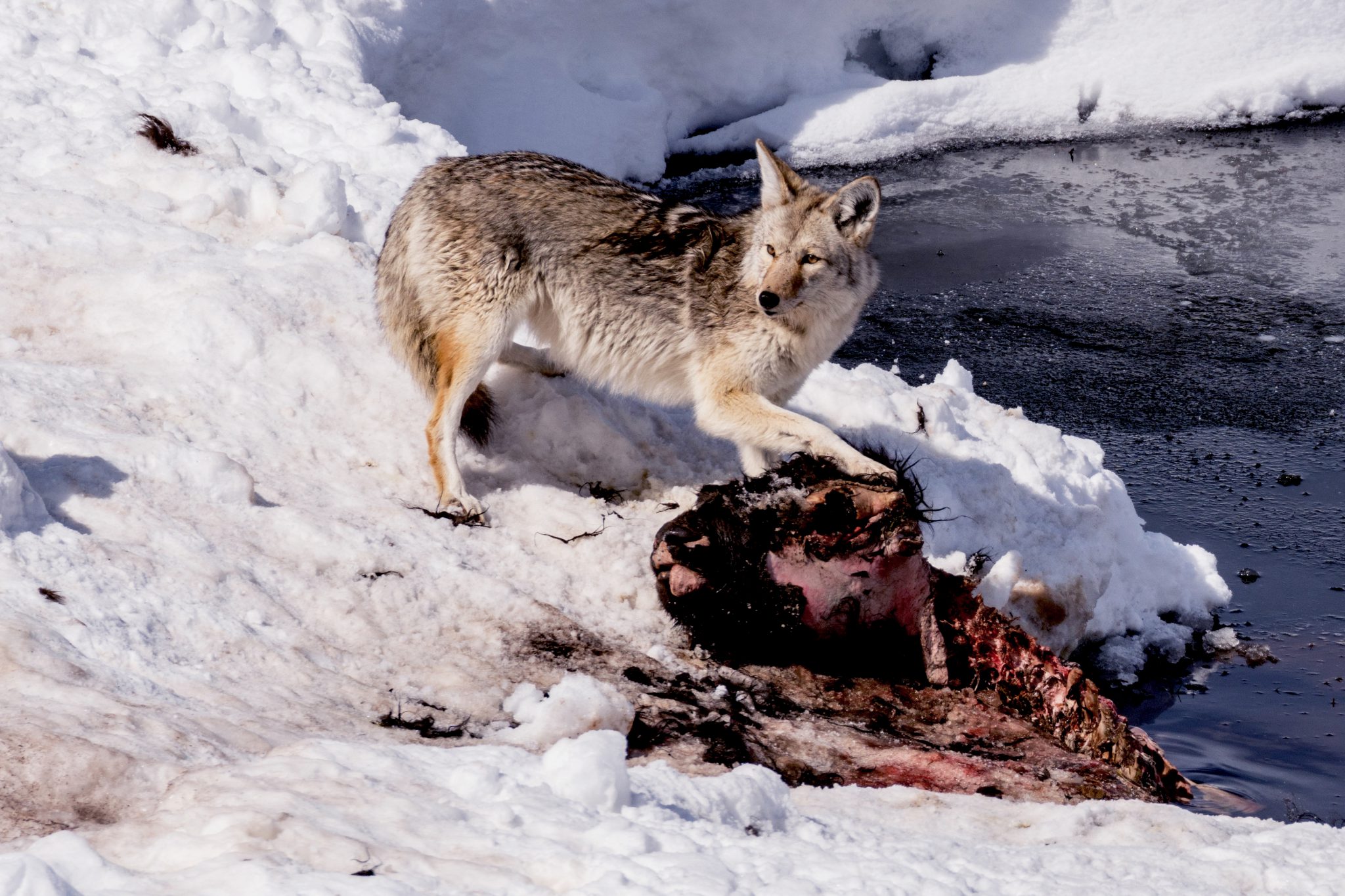 Fact Check: While coyotes aren't traditionally known as apex predators, according to the US National Center for Biotechnology Information, since apex predators have been extirpated from many North American regions, coyotes have become the de facto top predator in most ecosystems to which they belong. And with good reason, but more on that in a second.
Although childhood cartoons tried to convince us otherwise, coyotes are actually excellent hunters. They don't even need mail-order ACME rockets, anvils, boomerangs, speed skates, or birdseed to take their prey.
Unlike wolves, most coyotes don't often hunt in packs. Instead, most 'yotes prefer solitary hunting, although they may sometimes hunt with one good buddy.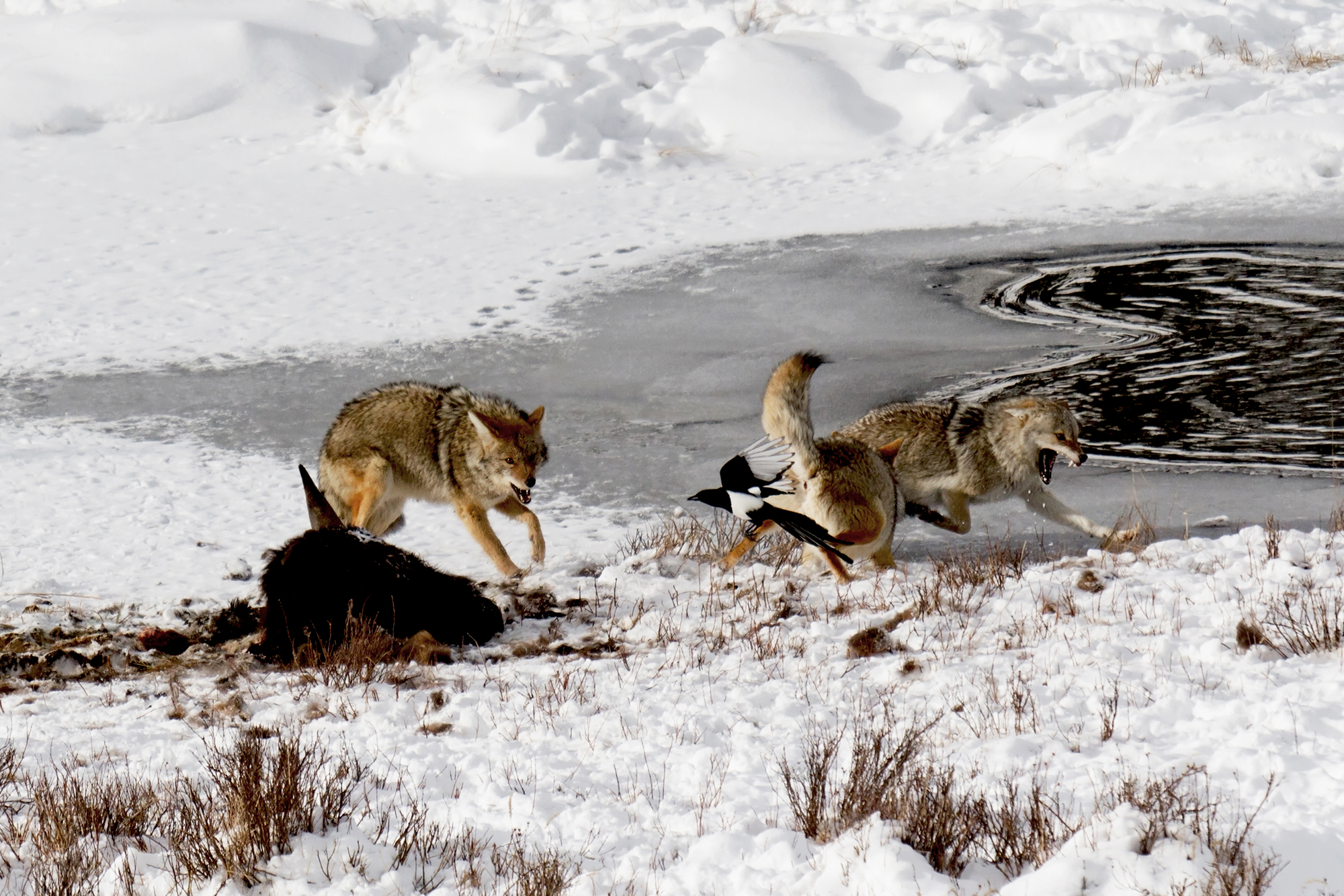 These wiry, nimble varmints have a distinct hunting behavior called mousing. When going for small mammals like mice, moles, chipmunks, gophers, and prairie dogs, a coyote will use his ears to locate his target and then spring straight up in the air pouncing on the critter, pinning it with his front paws.
These wily canines also are also unabashedly feed on carrion or whatever they can find. They're regular partakers of highway roadkill, dumpster snacks, and dead critters.
One of the things that landed coyotes on this list is also the thing that often lands them squarely on the nuisance species list – their adaptability. While many North American predators were dwindling in the late 1800s and early 1900s, the coyote actually thrived. Its adaptability allows it to flourish in almost any environment. As a result, 'yotes are continuously expanding their range, carving out habitat in rural, suburban, and urban settings and often competing with native species for natural resources while the animals that once hunted them are long gone.
Many areas consider coyotes an invasive species, and a good number of hunters consider it their duty to shoot them on sight.
RELATED – Coyote Hunting: Intense Scouting and Planning Pay Off
---
Gray Wolves – Wear 'Em Down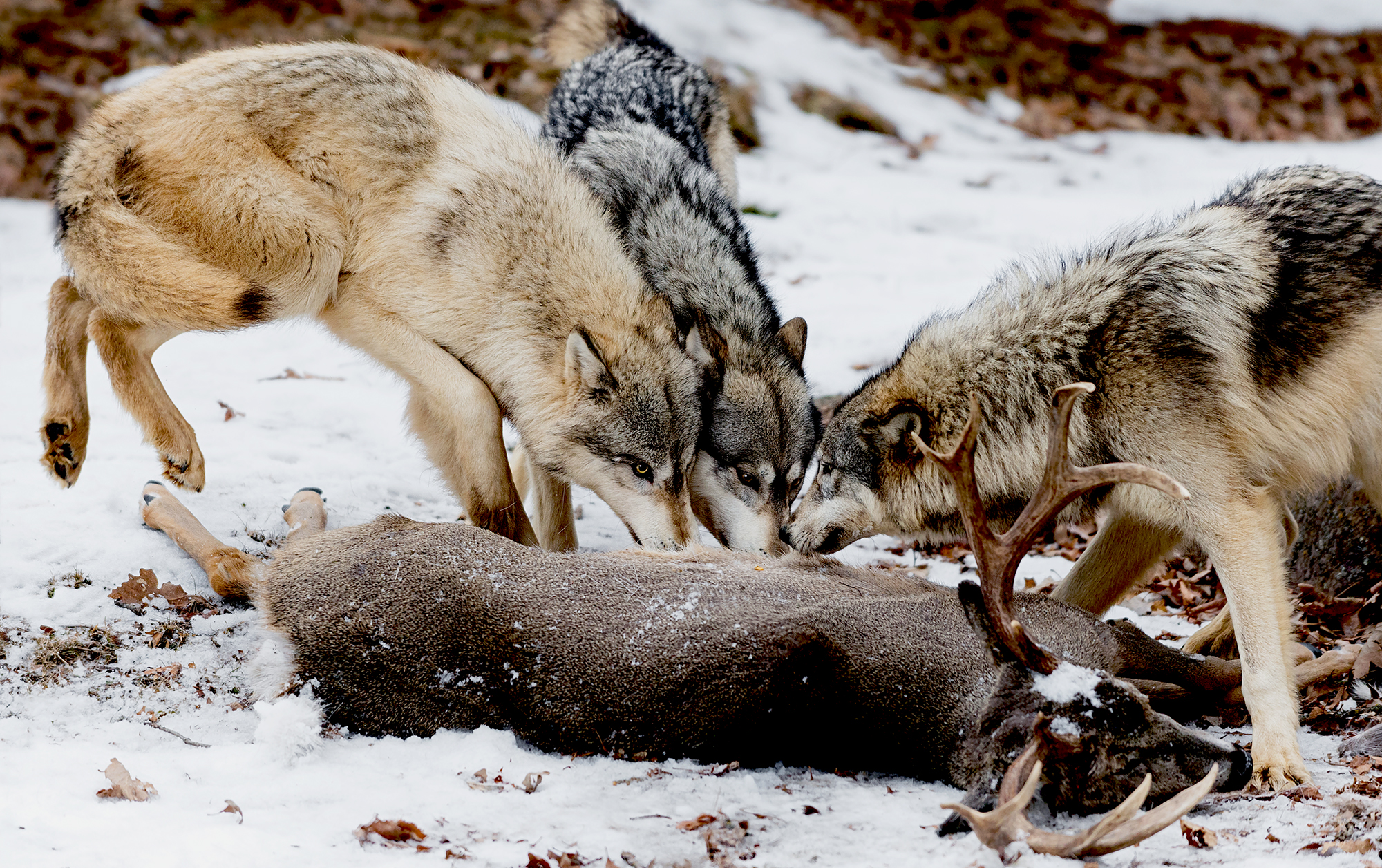 As far as predators go, gray wolves aren't really much to look at, relatively. They aren't particularly strong, they lack razor-sharp claws, and they aren't exactly speed demons. Wolves more than make up for any lack in power, speed, and natural weapons with intelligence.
By working together, a pack of gray wolves can strategically take down prey significantly larger than they are, including deer, elk, caribou, and even moose.
Although to casual observers a wolf hunt may look like a mob scene, it is actually a skillfully orchestrated group effort. A pack of wolves is way more organized than you and your hunting buddies.
A pack may pursue its dinner for several miles, attempting to exhaust the animal as much as possible before moving in for the kill. Often, faster members dart back and forth in front of the target to provoke panic and confusion making it less able to defend itself or flee further.
Then, a stronger pack member will move in to grab the animal's shoulder or flank. Once the animal is down, others swarm in, latching on to the animal's nose or neck to keep it pinned.
Wolves aren't known for expeditious or what we might call "ethical" kills. Their prey usually suffers, eventually dying from shock or blood loss before anything else. This is, in part, why humans' fear of wolves has been so prevalent throughout history, even though wolves very rarely target people as food; the thought of literally being eaten alive really adds an extra flourish to wolf attack stories.
RELATED – 'Alarming' Wolf Hunting Tallies near Yellowstone Not Alarming at All
---
Lions – Females Embrace Teamwork, Males Go Solo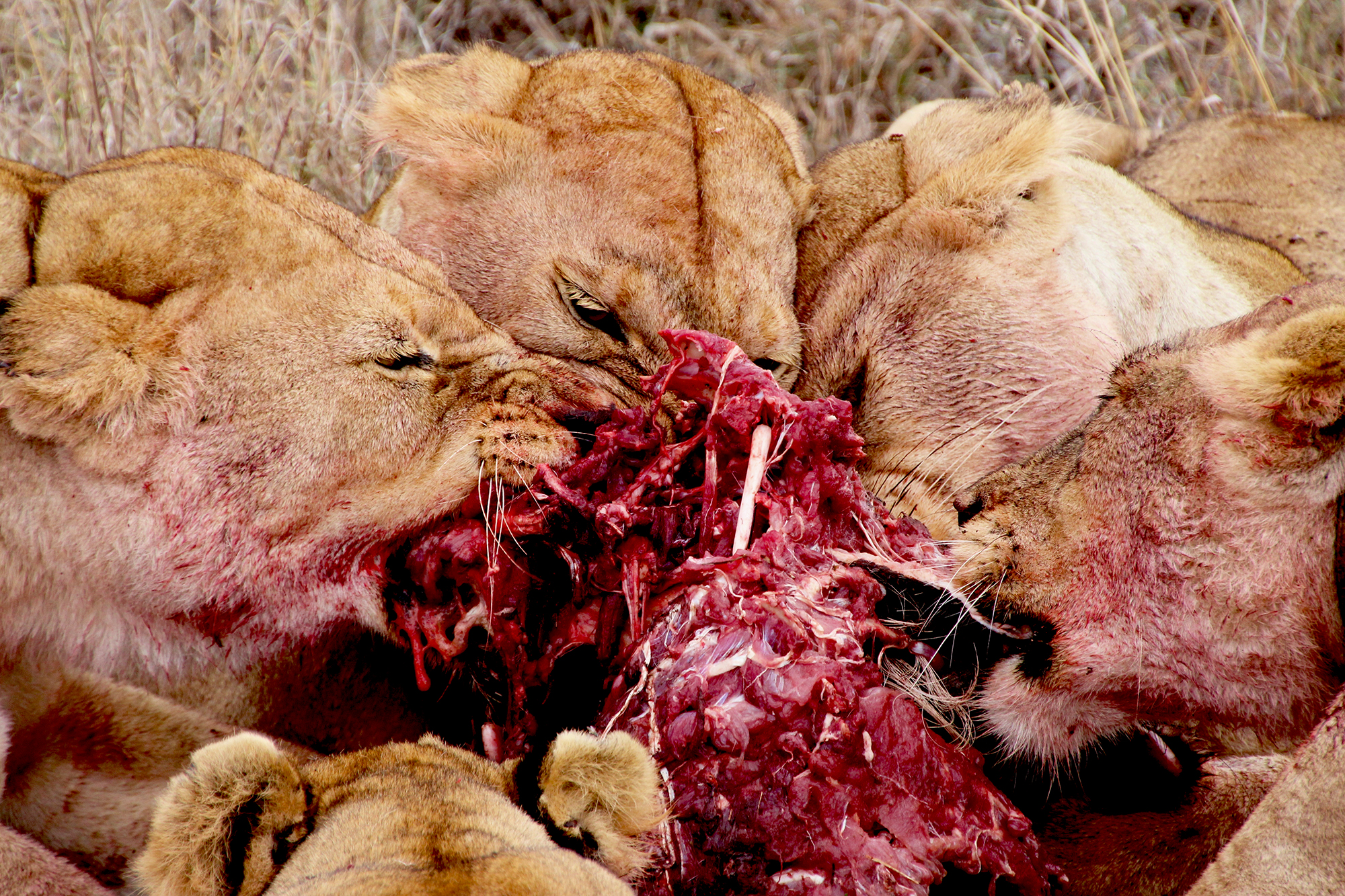 It isn't catchy show tunes that earned lions the "King of Beasts" title. (You'll also hear them called "King of the Jungle," which doesn't really make sense, since lions don't live in the jungle.) These big cats earned their place at the top of the food chain because they are brutally efficient hunters.
Although lions sometimes hunt alone, they are the only big cats that have mastered the art of teamwork. A cooperative hunt is usually carried out by a group of lionesses. They are lighter and smaller than the males, which gives them speed and stalking advantages.
A group of females will fan out to encircle their prey. They then drive the animal toward their buddies who ambush from positions of cover. When male lions hunt, they do it solo. They usually utilize extreme patience and wait in dense vegetation before springing on their prey from behind.
Lions are one of the few apex predators known to purposely snack on humans from time to time, which earns those particular animals the prestigious designation of "man-eater" — a major apex predator flex. When they set their minds to it, it's no surprise that lions have proven quite efficient at hunting down bipeds, though man-eaters are typically injured or hindered in some way from hunting normally. That inspires them to put humans on their menu. When unarmed, we're easy prey.
RELATED – 6 Crazy Facts about the Man-Eating Lions of Tsavo
---
Cheetahs – Stealth For Position, Extreme Speed Burst for the Kill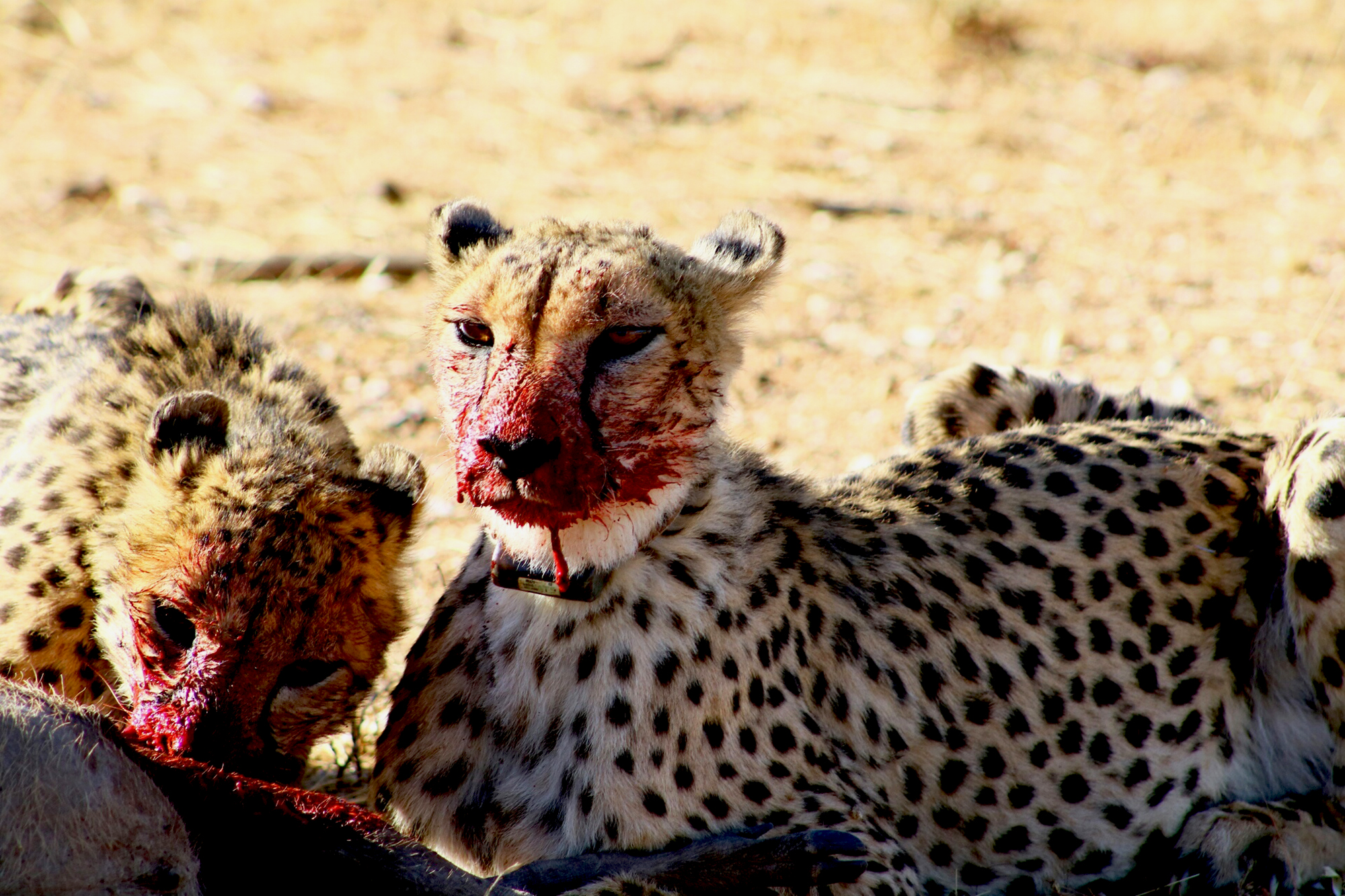 With a light build, long thin legs, and a highly flexible spine, cheetahs are built for speed. These agile cats can reach speeds up to 80 mph, covering up to 22 feet in a single stride. They don't even need to warm up. Cheetahs can go from 0 to 60 mph in 3 seconds flat.
Although cheetahs are excellent sprinters, they can't maintain peak velocity for very long. That means they have to creep in close and use their natural spotted camo to help them stay hidden before making the final sprint for the kill.
Cheetahs don't have a ton of body mass, so if they pounced on larger zebra, wildebeests, and gazelle it would result in one helluva wild rodeo ride. With only semi-retractable claws, cheetahs have a hard time holding on until the 8-second mark.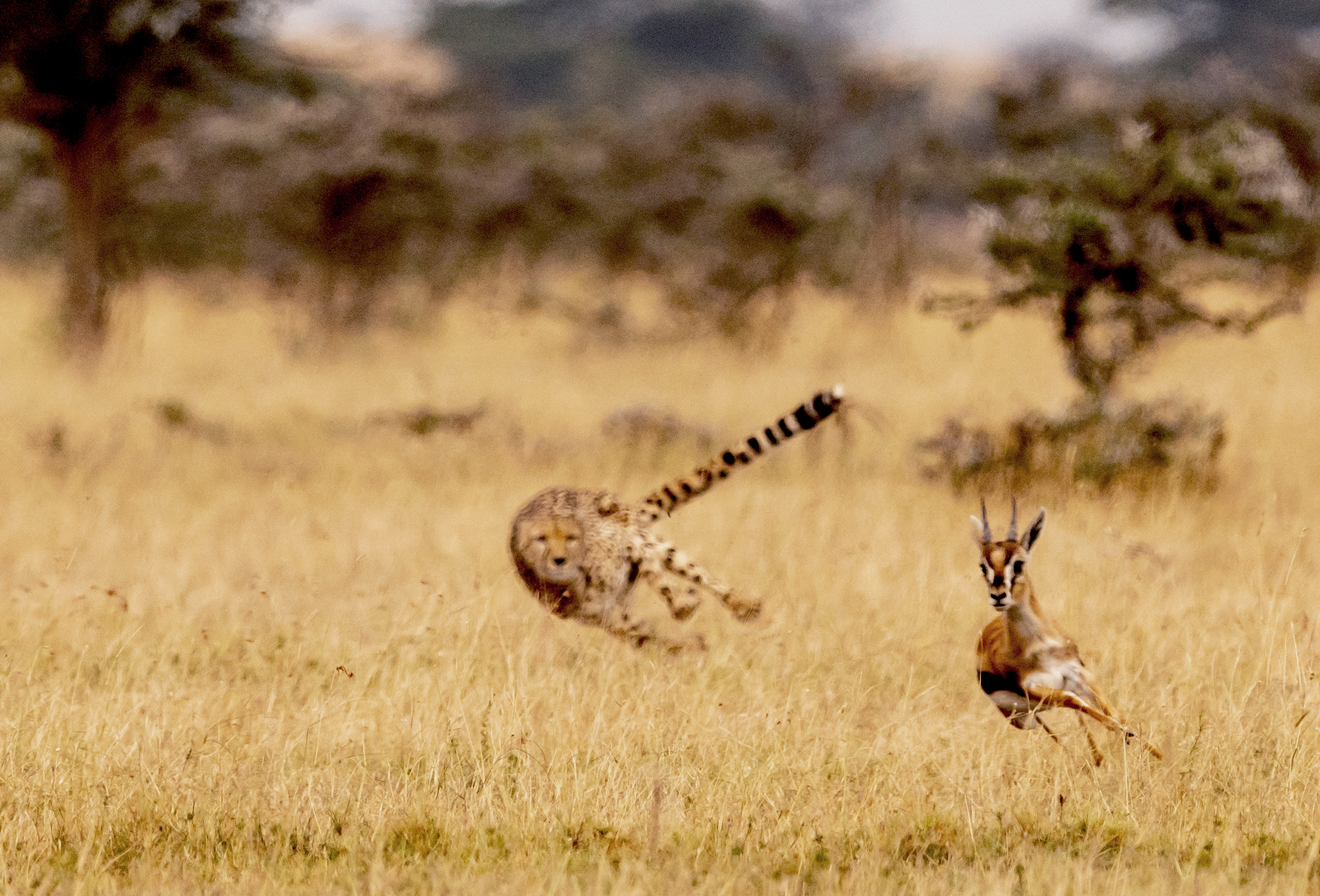 Instead, cheetahs use their paws to trip their prey. Once the animal is on the ground, the cat applies a viselike grip with its jaws on the animal's windpipe to choke it out.
Unfortunately, lions often use their superior size, power, and strength to snatch fresh kills from the smaller cheetahs who are also exhausted from the chase.
(Editor's note: If you start Googling around, you might find some folks claiming cheetahs are not apex predators because they're one of the smaller big cats and will often submit to lions or even hyenas rather than fight because they'd lose. However, nothing actively hunts a cheetah, and National Geographic categorizes all big cats as apex predators, and cheetahs are most definitely in the big cat family.)
RELATED – 8-Year-Old's Bear Dogs Saved After 100-Foot Fall Into WV Cave on Hunt
---
---
Orca – Coordinated Attacks and Ingenuity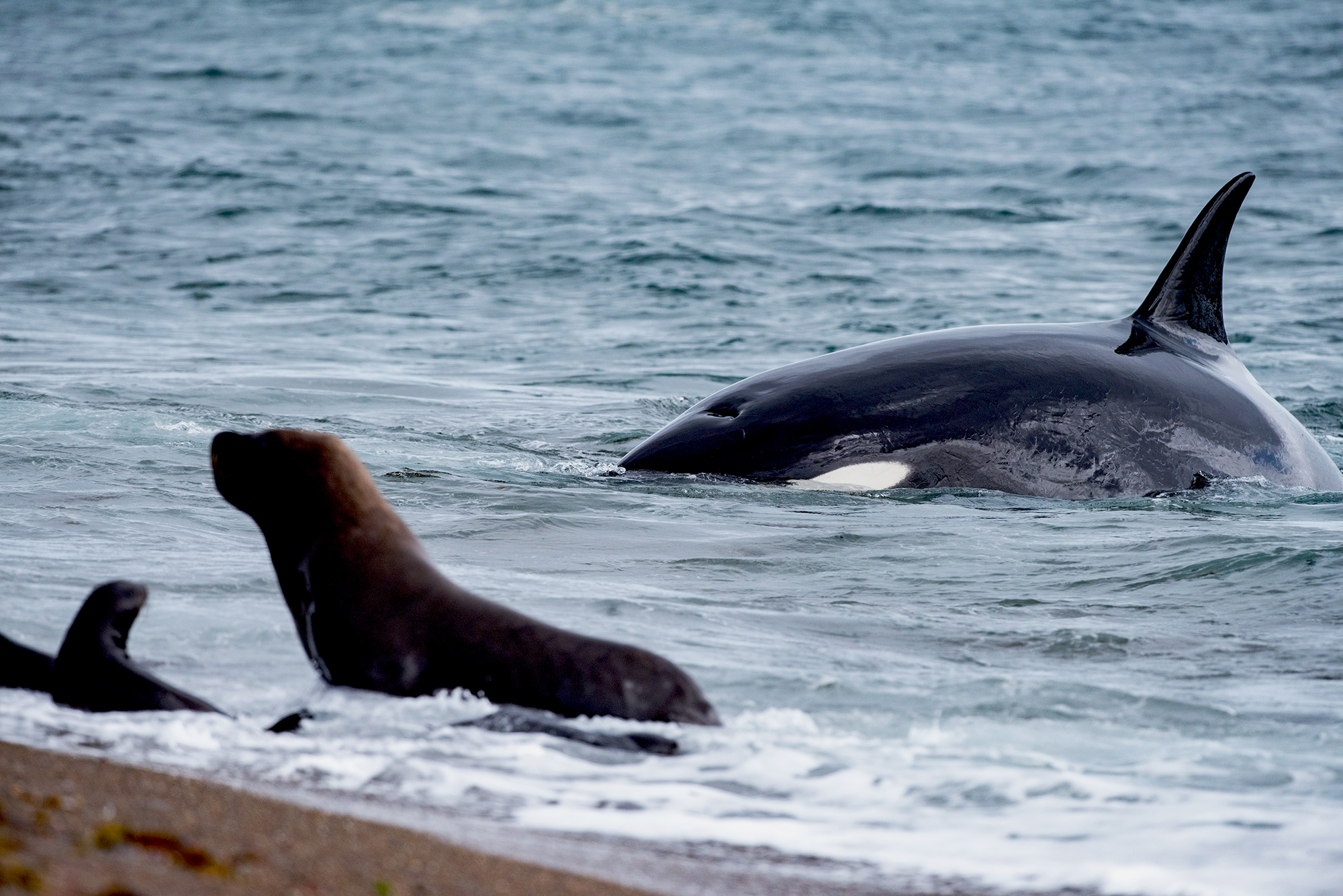 You don't earn the nickname "killer whale" without possessing some major hunting skills. And although orcas aren't actually whales (they're members of the marine dolphin family Delphinidae), they are definitely skilled killers. Their size, power, and intelligence have firmly cemented orcas a spot at the top of the food chain.
Orcas have developed two distinct ecotypes. The Northeast Pacific populations mainly hunt fish and transient whales feasting on marine mammals. Orca pods often work together, herding prey in highly coordinated attacks while using a complex language of clicks, whistles, and body movements to communicate.
Orcas have been known to create massive waves to knock sea mammals off floating ice into the water for convenient chomping. They have even mastered the dangerous strategy of breaching themselves to snag unsuspecting sea lions directly from the shore before wriggling their way back into the water.
RELATED – Grizzly Steals Kill from Yellowstone Wolf Pack – Again
---
African Wild Dogs – Speed, Endurance, and Numbers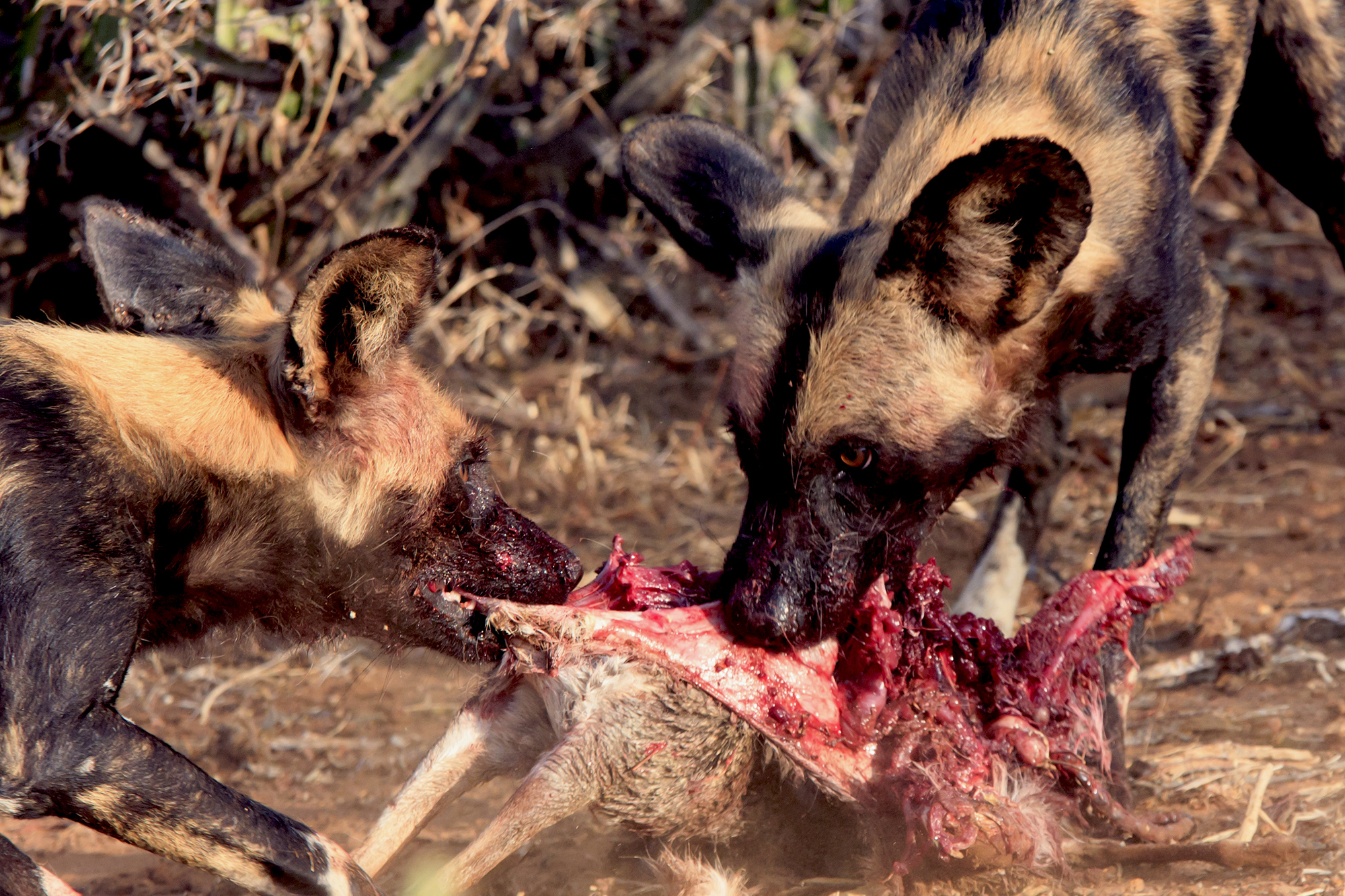 Although they might not look like it, African wild dogs are related to more familiar breeds of wolves, dogs, and coyotes. In fact, these sub-Saharan canines are the largest wild dog species in the world.
By working together, African wild dogs can bring down game nearly five times their size. They are incredibly efficient hunters, and with a 70% to 90% success rate, they are likely the most successful hunters on the planet, bar none.
For context: Cheetahs enjoy a 58% success rate, lions 25%, gray wolves a mere 14%, and human DIY archery elk hunters are lucky to succeed 6% of the time.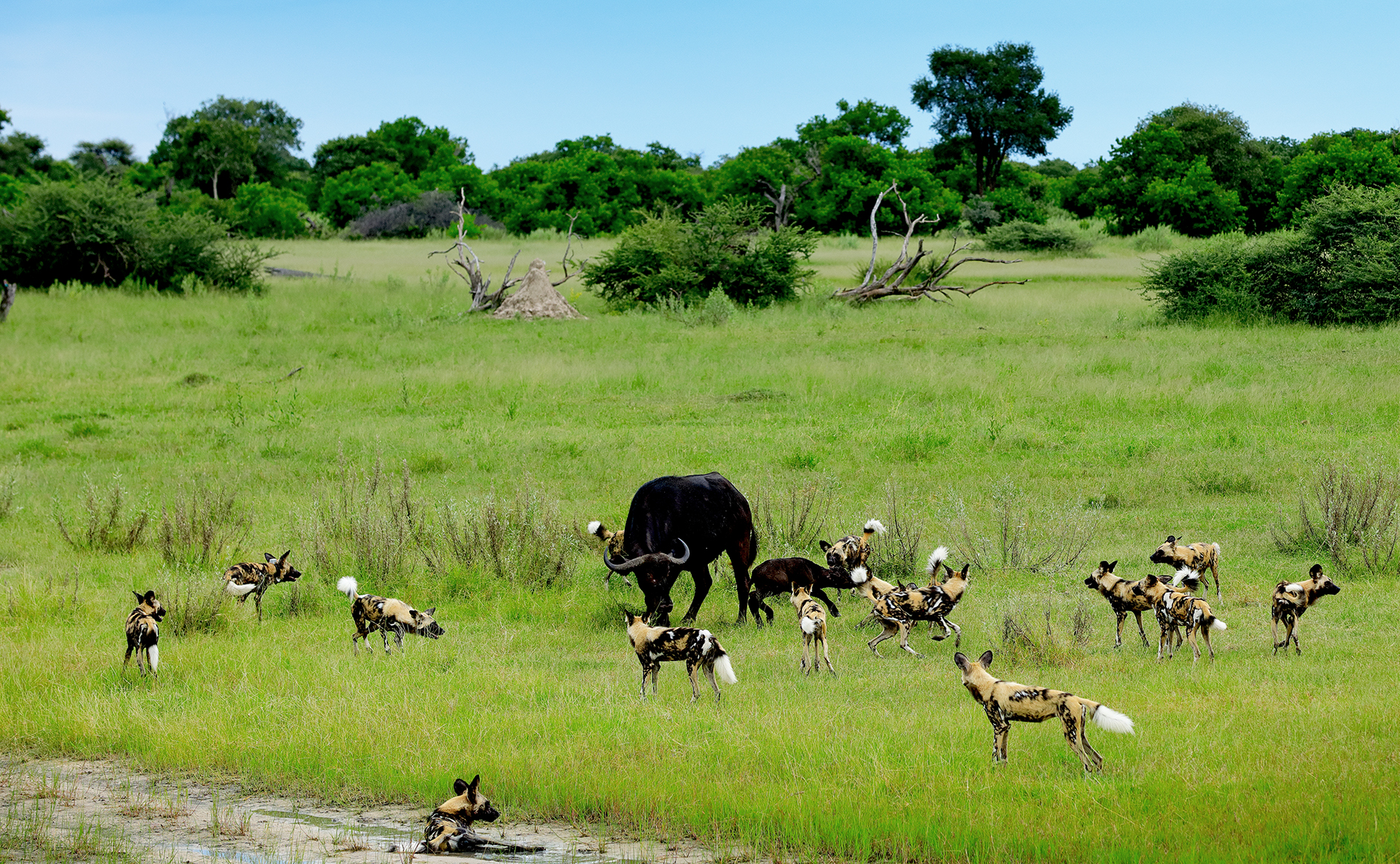 African wild dogs manage this level of success by keeping a detailed playbook that would put most NFL teams to shame. The dogs seem to tailor their attack strategies to specific animals, communicating with high-pitched squeaks that make a hunting pack sound like squeaking sneakers on a gymnasium floor.
African wild dogs are also fast-footed with a top speed of 41 mph. And they can maintain that speed for up to 60 minutes, which is long enough to force even the wild's highest-endurance athletes into the dirt.
RELATED – The 8 Greatest Hunting Dog Breeds of All Time
---
Bald Eagles – Grip and Grin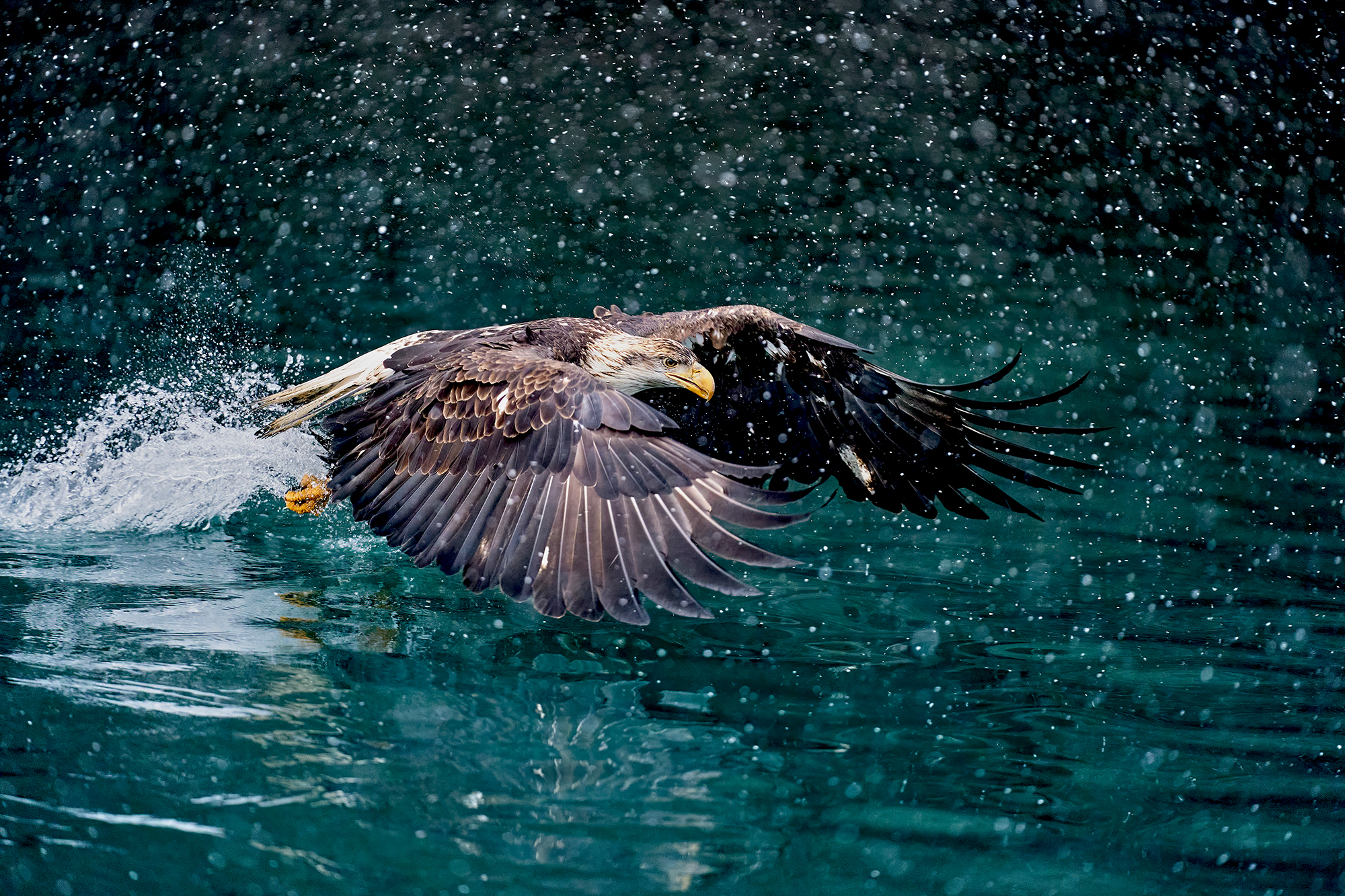 The largest raptors in North America, bald eagles are best known as the USA's symbol of freedom. Of course, these birds are also kick-ass predators, because we would never allow a vegetarian bird to serve as our national feathered representative.
These regal raptors were nearly wiped out by overhunting, deforestation, and dangerous pesticides. However, thanks to conservation efforts, the bald eagle was removed from the list of Threatened and Endangered Species in 2007.
The bald eagle of North America has a grip that's 10 times stronger than the average adult male human's, delivering a crushing 400 psi. They use that grip to constrict their prey, delivering a catastrophic chokehold that puts even the most talented UFC fighters to shame.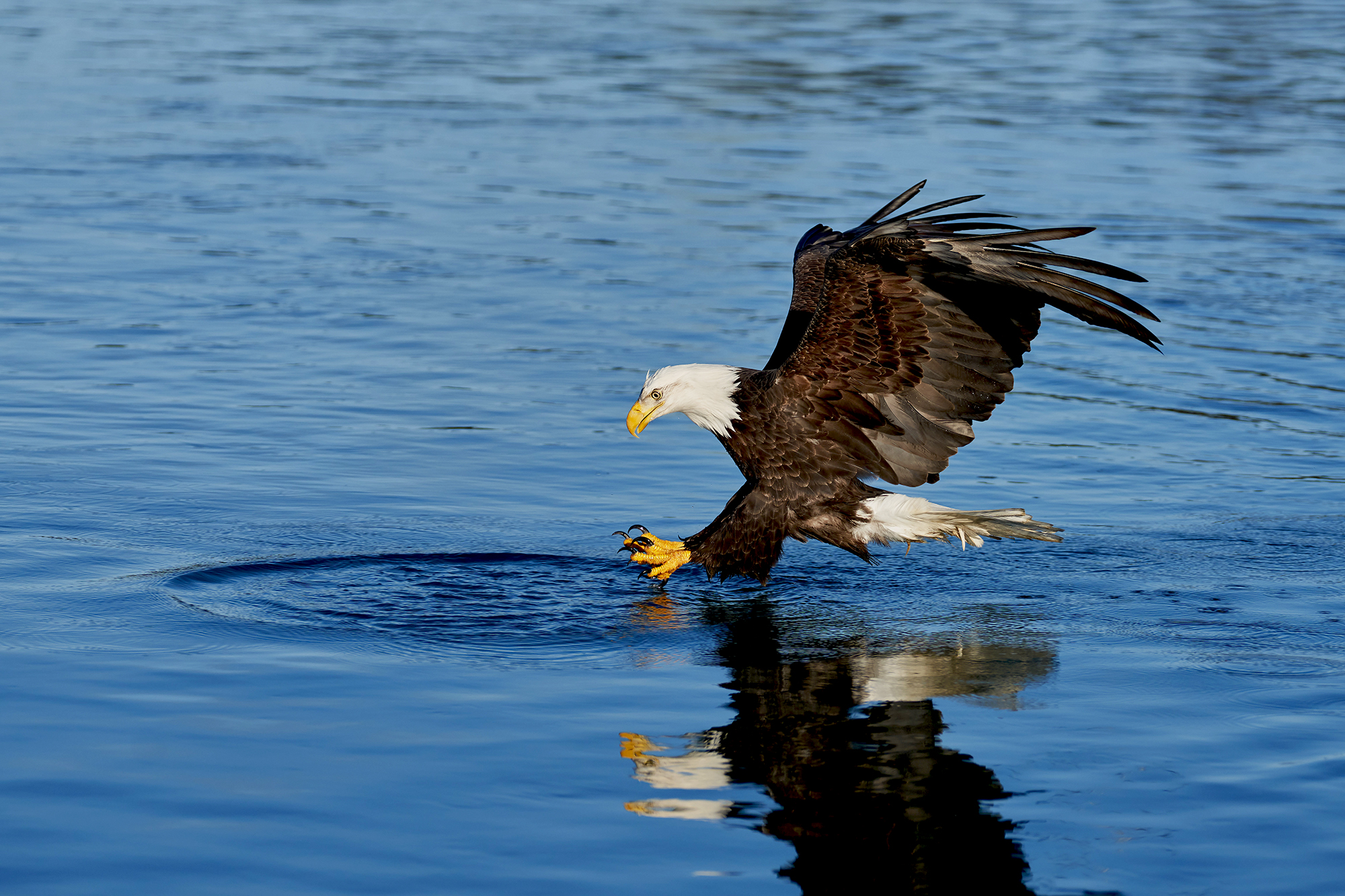 Although their talons are impressive, their eyes may be their best weapon. With excellent color vision and razor-sharp clarity, the bald eagle can spot prey more than 3 miles away. Although their eyeballs are about the same size as the average human's, eagle eyes are larger than the eagle's brain by weight. Eagles can also adjust the curvature of their eyeballs during flight to maintain a sharp focus on their prey.
Eagles are also known bullies, letting smaller predators do the dirty work and then making off with the spoils.
Although blad eagles are mainly pescatarians, they also occasionally mix up the menu with waterfowl, squirrels, rabbits, prairie dogs, and the occasional annoyingly yappy lapdog.
---
READ NEXT – Watch: Polar Bears Are Apparently Hunting Reindeer Now