The Glock 17 is getting old. The Austrian import first made its way to the US market in 1988, and as ridiculous as it sounds, that was 33 years ago. The original Glock pistol's use of modern polymers and its large ammo capacity and robust construction gradually reset the hard-to-move bar for duty-sized handguns.
But before all that happened, Glock began building a rep in American pop culture even before the company's first gun hit a US gun shop.
There were two big things that worked in Glock's favor right out of the gate. In the late '80s, the American war on drugs and the crack epidemic, and the gang violence that came with both, were on the upswing.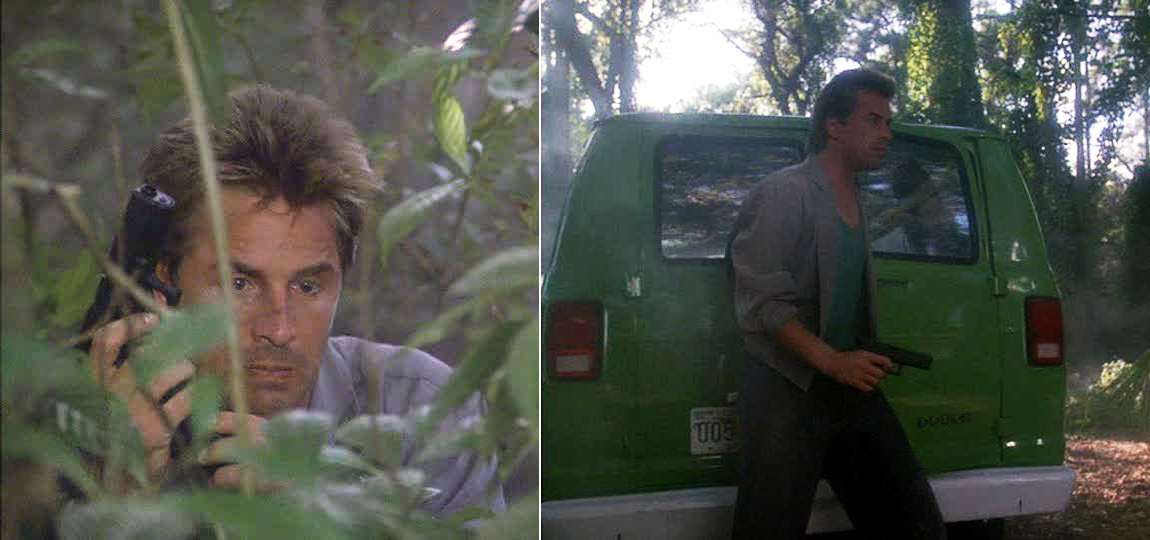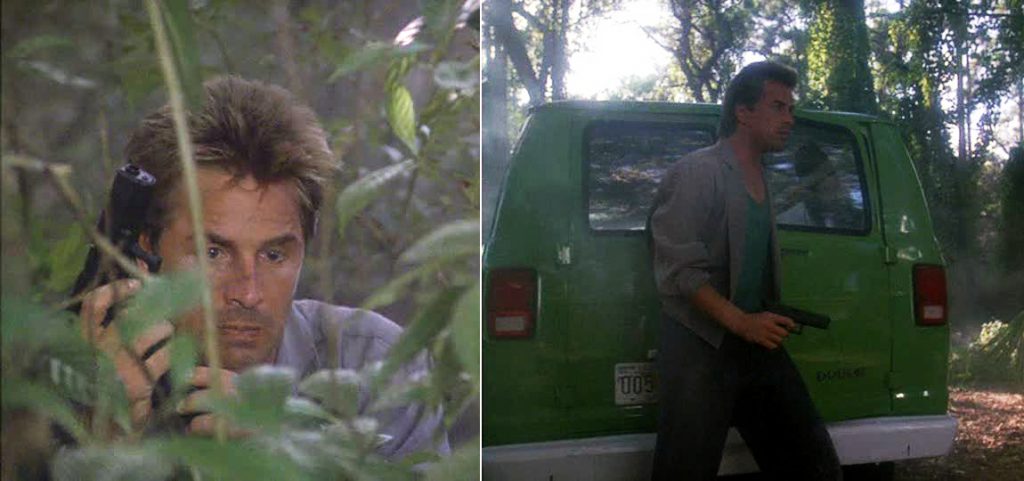 When the Glock 17 was accepted by law enforcement, it built credibility in the civilian market, but Glock's presence in Hollywood served to build brand awareness. The company worked to get their guns screen time in US media, which was smart because the Glock 17 didn't really look like any other gun out there at the time. Broader audiences noticed that it was different, even if they didn't know what it was.
The Glock 17 made its very first appearance in a third-season episode of Miami Vice, a show that was always big on featuring cool and cutting-edge firearms. The episode "Cuba Libre" first aired on Jan. 23, 1987: a full year before the Glock was available for sale in the US.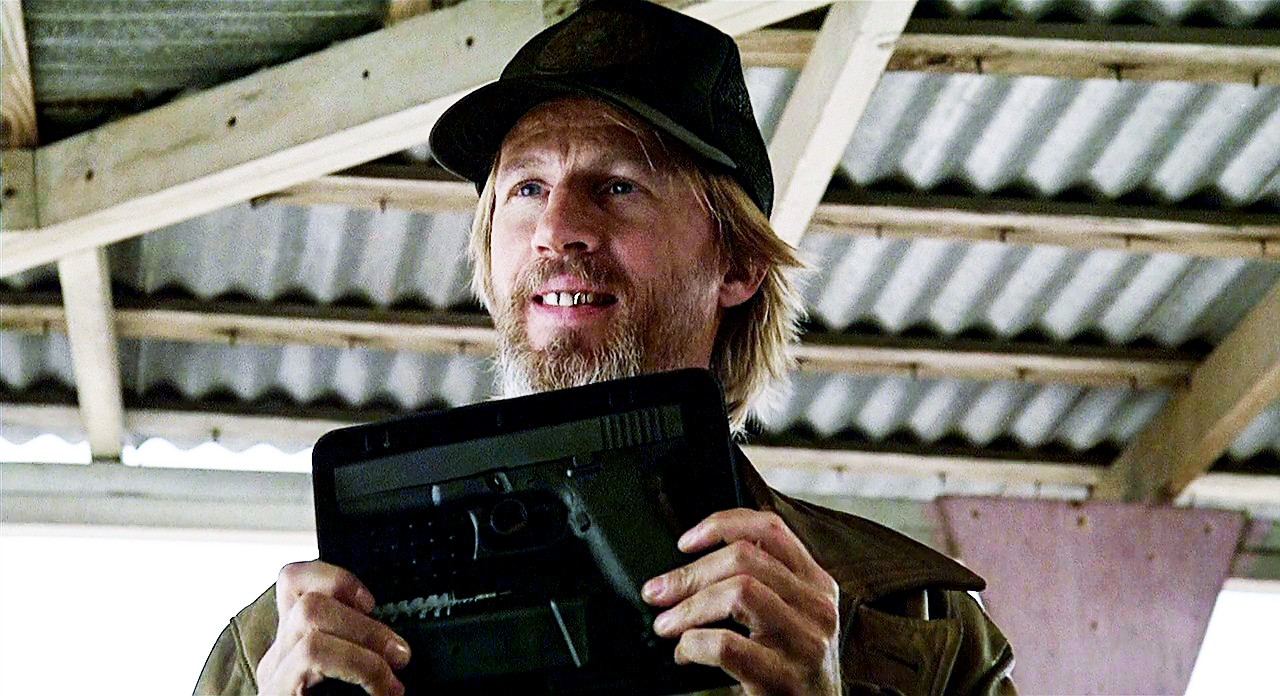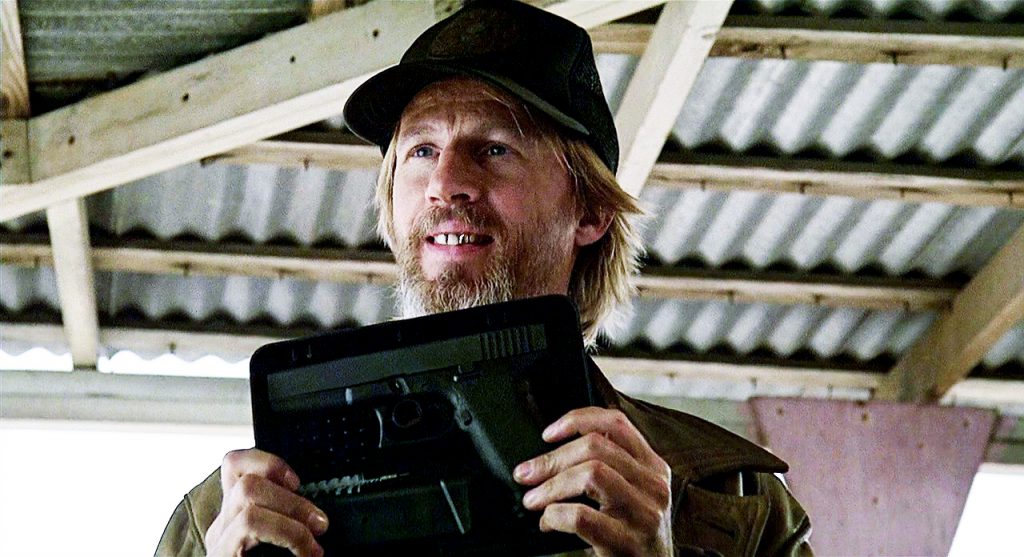 The first time the gun showed up on the big screen was in the hands of Mickey Rourke, starring in the largely forgotten Johnny Handsome (1989). He only uses it in one scene, but we get a great look at it when he buys it from a shady dude who shows the pistol off in the original "Tupperware" plastic case it came in. Johnny buys it along with, you guessed it, a Beretta 92F. That original case caused some PR problems for Glock.
A round plastic peg went inside the trigger guard in front of the trigger and held the gun in place. When somebody eventually and unwisely put a loaded and chambered pistol in its case, it was discovered that there was just enough room inside for the trigger to be pulled by that peg if the case were jostled hard enough or dropped the wrong way.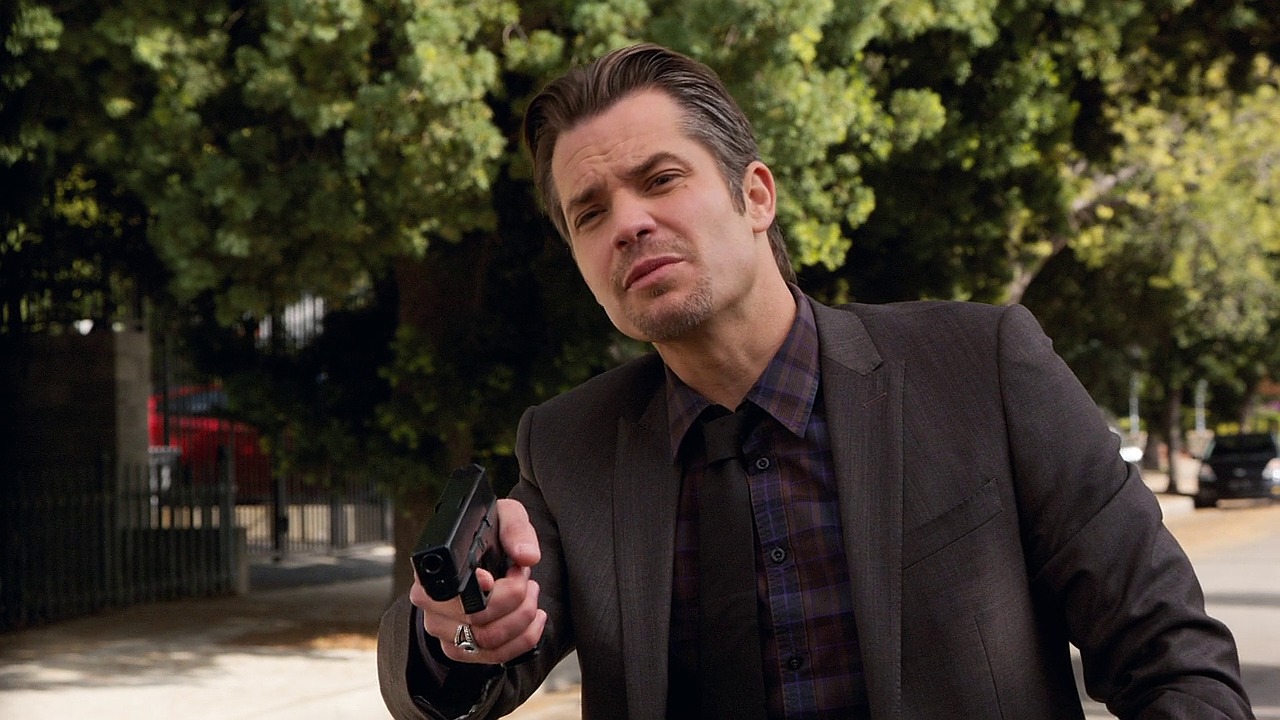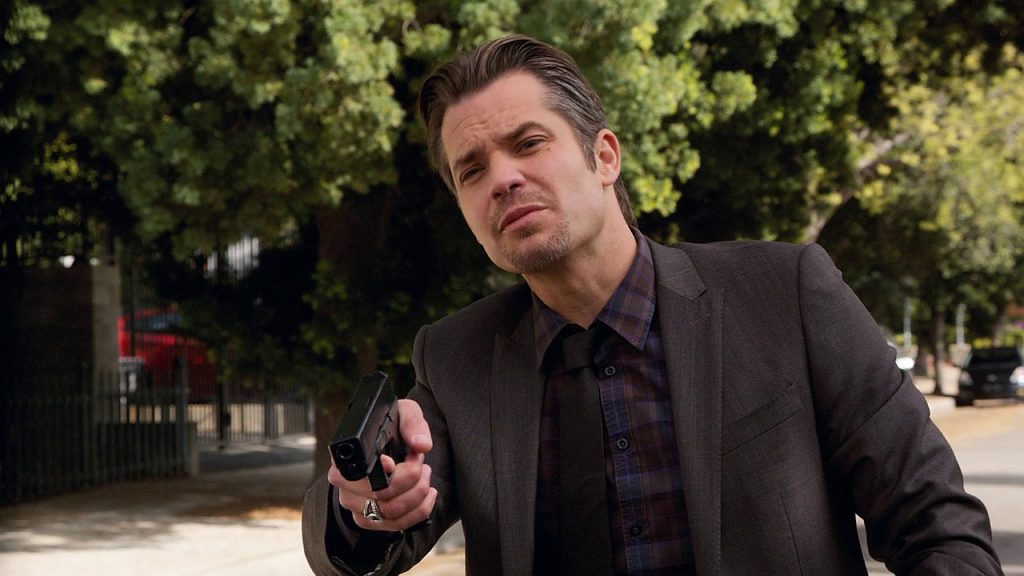 Glock added plastic borders in the case to prevent this from happening, but you can still occasionally find the OG cases on the used gun market.
And that brings us to the gun's infamous appearance in Die Hard 2 the following year and some more bad PR. But for Glock, almost all publicity was good publicity at the time.
---
Die Hard 2 (1990)
Director: Reni Harlin
Starring: Bruce Willis, William Atherton, Bonnie Bedelia
Moment: TIL There Are Porcelin Guns
RELATED: The Remington 870 Shotgun – 5 Most Badass Movie Moments
Glocks were basically brand new to the general American public in 1990 when Die Hard 2 tried to recapture the Christmas-time terrorist-fighting magic of the original Die Hard and came up a bit short. As such, the description of the Glock 17, the preferred handgun of the film's terrorists, delivered by John McClane (Willis), was accepted as truth by a whole lot of people who saw it. Anti-gunners of the day even latched onto it to spread some good old-fashioned fear and paranoia about the new porcelain handguns that could go right past airport security.
Here's the exchange in question between McClane and Carmin Lorenzo (Dennis Franz), the chief of airport police at Dulles International Airport, from the movie:
McClane: That punk pulled a Glock 7 on me. You know what that is? It's a porcelain gun made in Germany. It doesn't show up on your airport X-ray machines, and it costs more than you make in a month.
Lorenzo: You'd be surprised what I make in a month.
McClane: If it's more than a dollar ninety-eight I'd be surprised—
Not only is that some horrid fucking dialog, not one thing he says about the gun is right. It's aggressively incorrect.
First, the gun used by the terrorist in the baggage area is, obviously, a Glock 17. There has never been a "Glock 7" pistol, and there certainly wasn't one in 1990. Second, no component of the original Glock 17, nor any Glock pistol, has ever been made of porcelain. Third, Glocks are and always have been made in Austria, not Germany. Finally, they absolutely show up on X-Ray machines because they are mostly steel with polymer frames — and, y'know, the ammo made of lead and brass.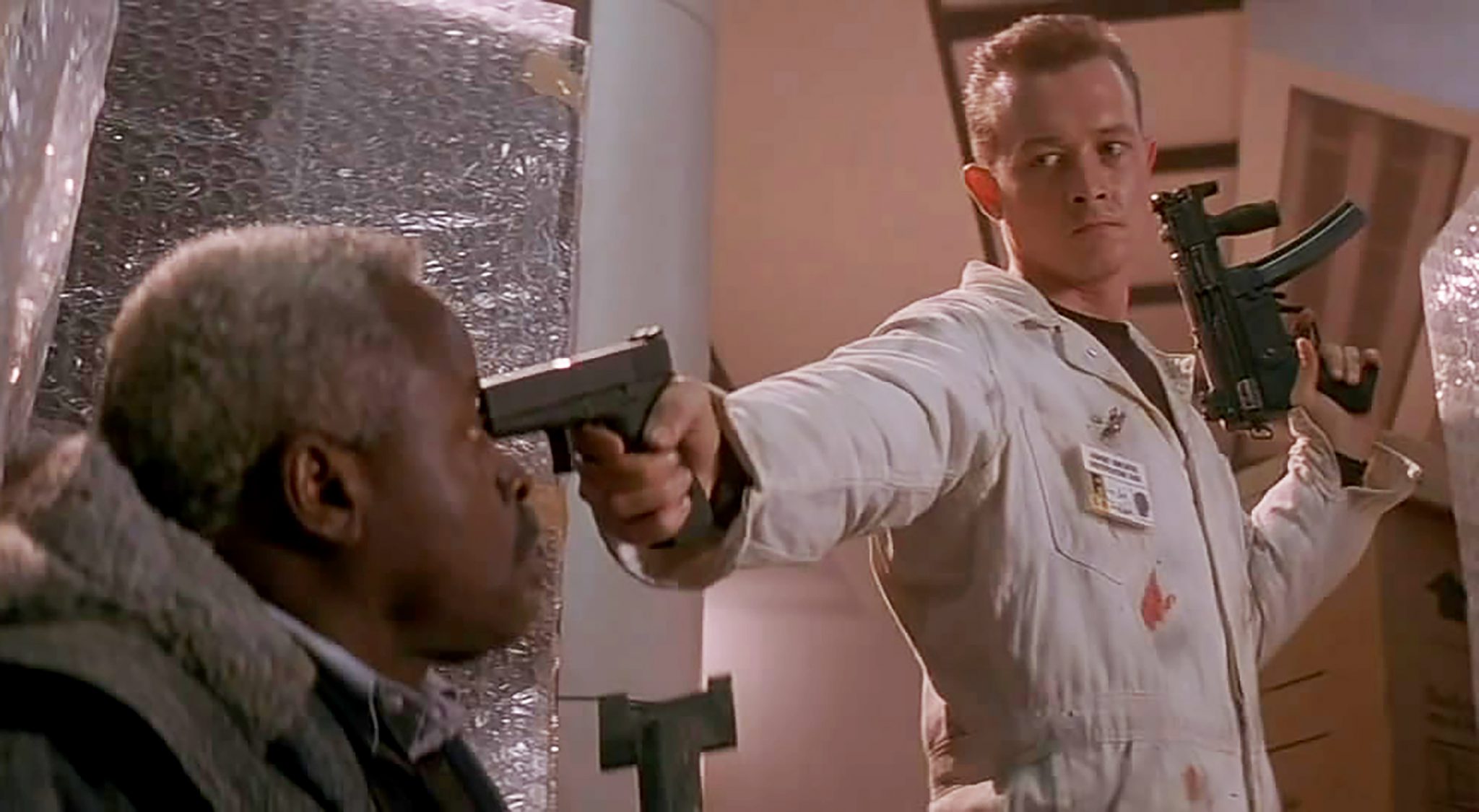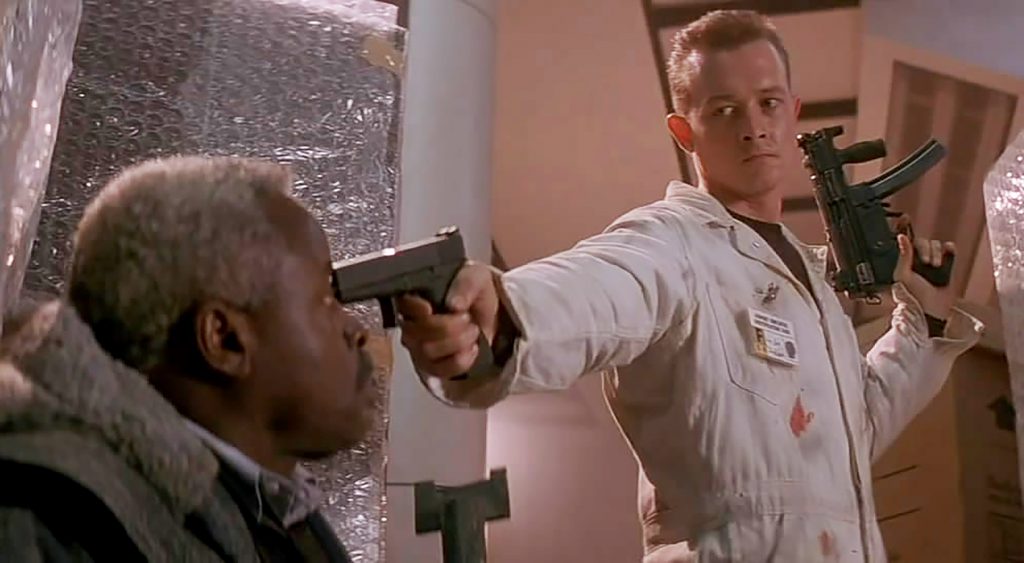 Also, in 1990, a basic Glock 17 cost about $550. To be fair, that's about $1,160 today, which is a hefty price tag for a handgun, but it's still a shitty insult. McClane's bogus screed will always remain the Glock 17's most infamous movie moment.
Even though the dialog got it wrong, Glock 17s were exactly what a very well-funded group of mercenaries with largely European hardware would use at the time. The other terrorist firearms include several H&K MP5 submachine gun variants. In the first Die Hard, the terrorists also carried almost exclusively European firearms, including guns from H&K, Steyr, and Walther. Even McClane carries an Italian-made Beretta.
RELATED: The 7 Best Guns in Clint Eastwood Movies
---
Belly (1998)
Director: Hype Williams
Starring: Nas, DMX, Taral Hicks
Moment: Black Light Gunplay Is So '90s Cool
When Belly came out, it was an instant East-Coast hip-hop classic. The fact that it was the first feature from music-video director Hype Williams and that it starred DMX, Nas, Method Man, and T-Boz didn't hurt.
The crime drama focuses on the life of two close friends, Buns (DMX) and Sincere (Nas), career criminals and New York City gangsters who come to a spiritual awakening via different routes.
In the unforgettably violent, black-light flooded opening sequence, Buns and Sin, along with two other guys, kill five people while robbing a nightclub.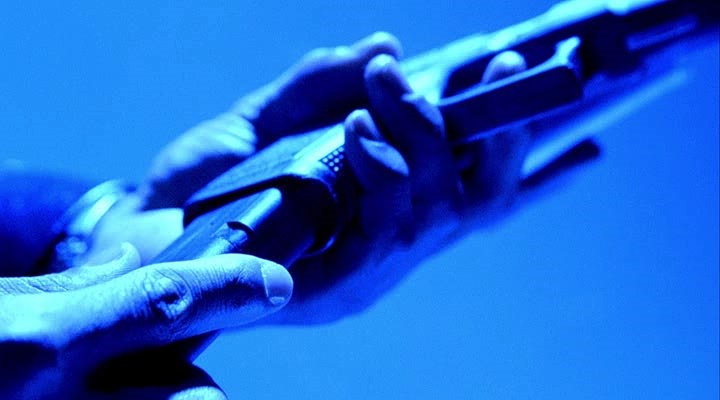 There of the robbers, including Buns and Sin, use distinctive (especially for 1998) Glock 17s with stainless slides and suppressors during the nightclub raid, which became a sought-after model that Glock produced for several years and recently brought back as an option on newer pistol models. Something about the stainless against the polymer frame just hit right.
Stock Glock 17 pistols are also used by a bunch of secondary characters throughout the whole movie, and they're riding in the holsters of all NYPD officers. While that's strange, it's not impossible. For several years in the '90s, NYPD officers could choose to carry the Smith & Wesson Model 5946, the Glock 17, or the SIG-Sauer P226.
In 2018, those choices expanded to the Glock 17 Gen4, Glock 19 Gen4, or the Sig Sauer P226 DAO.
This movie is wildly dated, but parts of it still hold up really well, and it's always been visually interesting. Also, the plot that centers on a new, potent form of heroin hitting the streets is super relevant in the era of street fentanyl.
---
Eraser (1996)
Director: Chuck Russell
Starring: Arnold Schwarzenegger, Vanessa Williams, James Caan
Moment: The Dude From Murphy Brown Gets Erased

When Arnold decided to use a gun in a movie back in the 1990s, it was a big deal. As his film career began to slope downward toward governorship, he starred opposite James Caan in Eraser as US Deputy Marshal John Kruger, a witness protection specialist who goes on the run with one of his assets after uncovering a conspiracy — because, why not.
The plot centers around some futuristic handheld rail gun tech that real tech is still far from catching up to, but Kruger carries a more conventional Glock 17 as his sidearm through the first leg of the film, including the awesome emergency fake-death-identity-swap in the beginning. The dude shows up with two bodies from the morgue in the trunk, takes out a mafia hit team, sets up a fake death scenario, burns the house down, and whisks the two protective-custody witnesses away like it's his job, cuz it is. Fuckin' Arnold.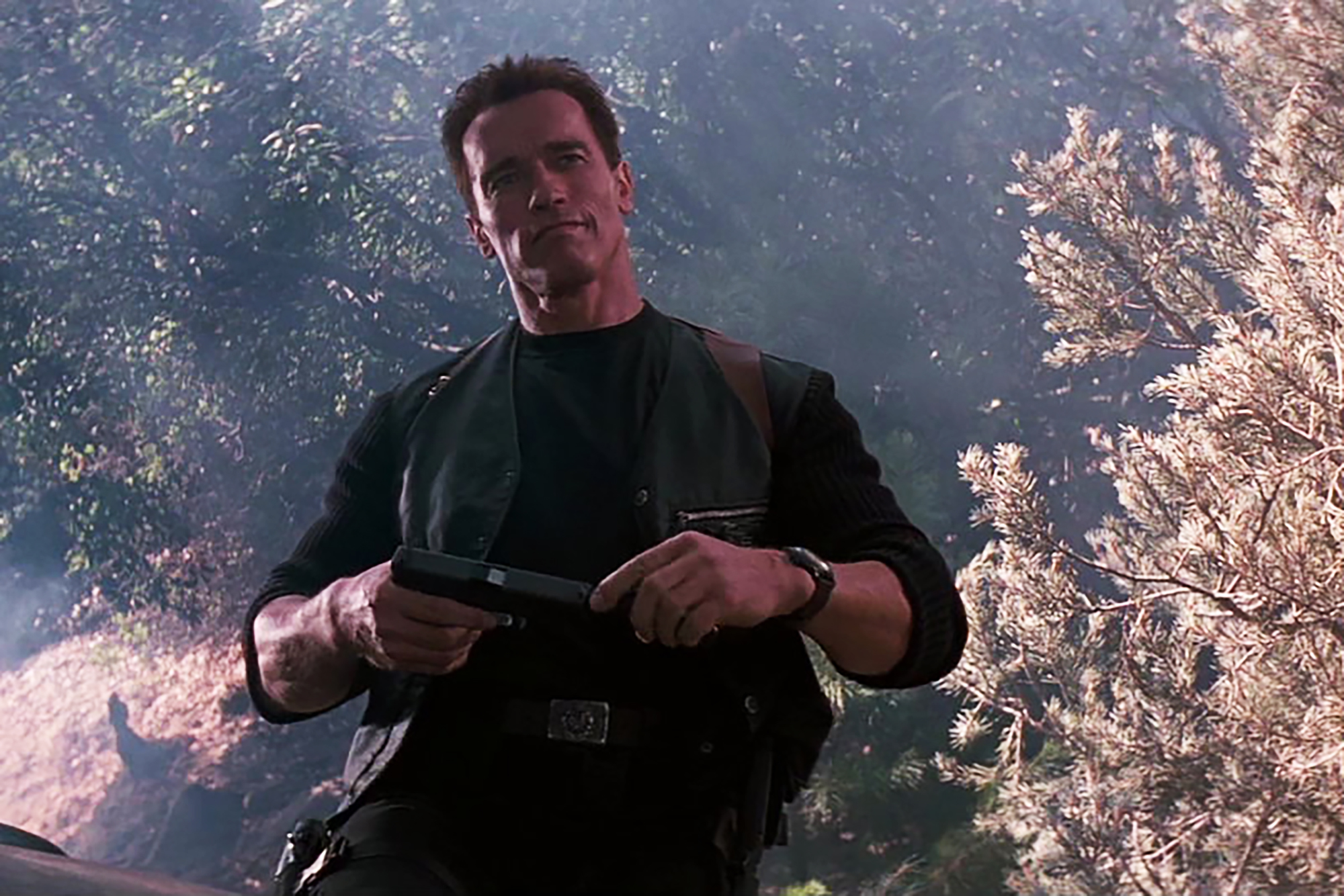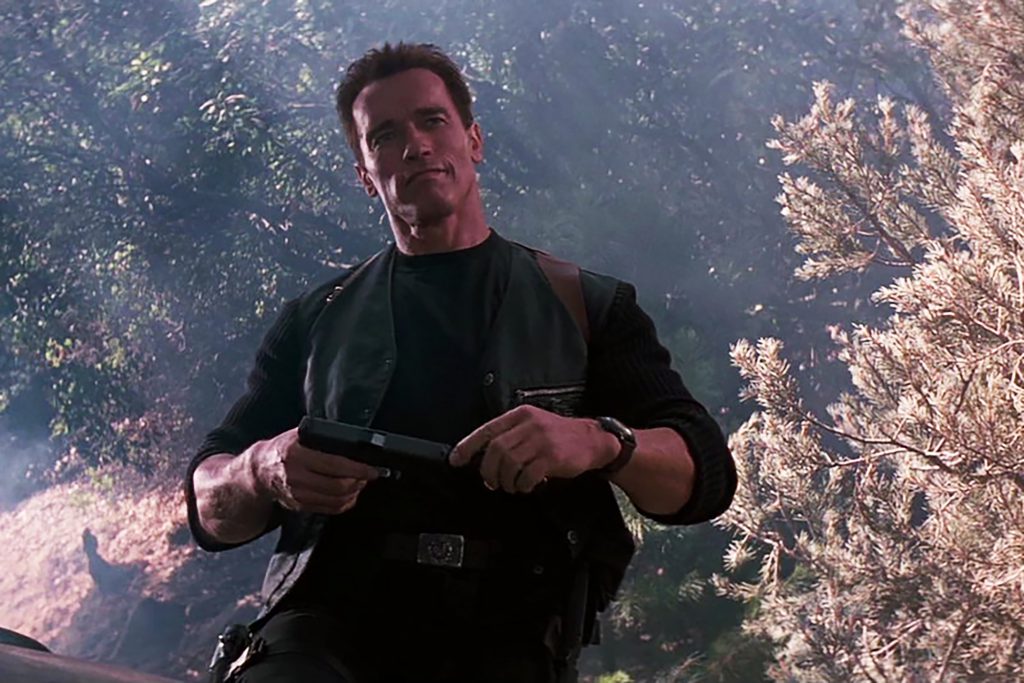 Instead of doing the movie trick of threading a fake suppressor inside the barrel, Kruger's pistol switches to a Glock 17 Pro with an extended threaded barrel when he needs to use a suppressor. While US Marshals indeed would have been carrying Glocks by 1996, it should be a .40 S&W Glock 22.
Unfortunately, the famous scene where Arnie shoots a painfully-CG crocodile in the mouth with a pistol doesn't feature his Glock. Instead, he's using one of his favorites: a Desert Eagle Mark XIX that he stole from Agent Schiff during the plane shootout.
It somehow has not run out of ammo after constant use and no reloading until a scene that requires the gun to only have two rounds left. One shot takes out the glass of the croc exhibit and several bad guys, and the second takes out the resulting pissed-off cartoon croc.
"You're luggage."
The one-liners were getting kinda bad by '96, and not in a good way.
Eraser wasn't actually the first time Arnold used a Glock on screen. In the classic True Lies (1994), he uses a Glock 19 as he's chased by guards through the snow after bouncing from the mansion party, but we never see it again after that initial sequence. His regular sidearm in that flick is a Ruger KP90.
RELATED: The Best Shotgun Moments in Westerns
---
Ronin (1998)
Director: John Frankenheimer
Starring: Robert De Niro, Jean Reno, Sean Bean
Moment: A Tricked-Out Longslide Gets to Shine
This cool heist movie (with an even cooler car chase) includes one of the only on-screen appearances of the Glock 17L, the original a longside competition version of the Glock 17. Its barrel and slide are a bit longer than the G34, and it came out first. Glock still makes this pistol but only produces a limited number every year.
Ronin features a Glock 17L as Gregor's (Stellan Skarsgård) sidearm throughout the movie. This flick was made way before milled slides and red-dots became the norm for pistols, but that wasn't going to stop Gregor from tricking out his pistol and using it as a sort of sniper pistol, even though the sight isn't magnified.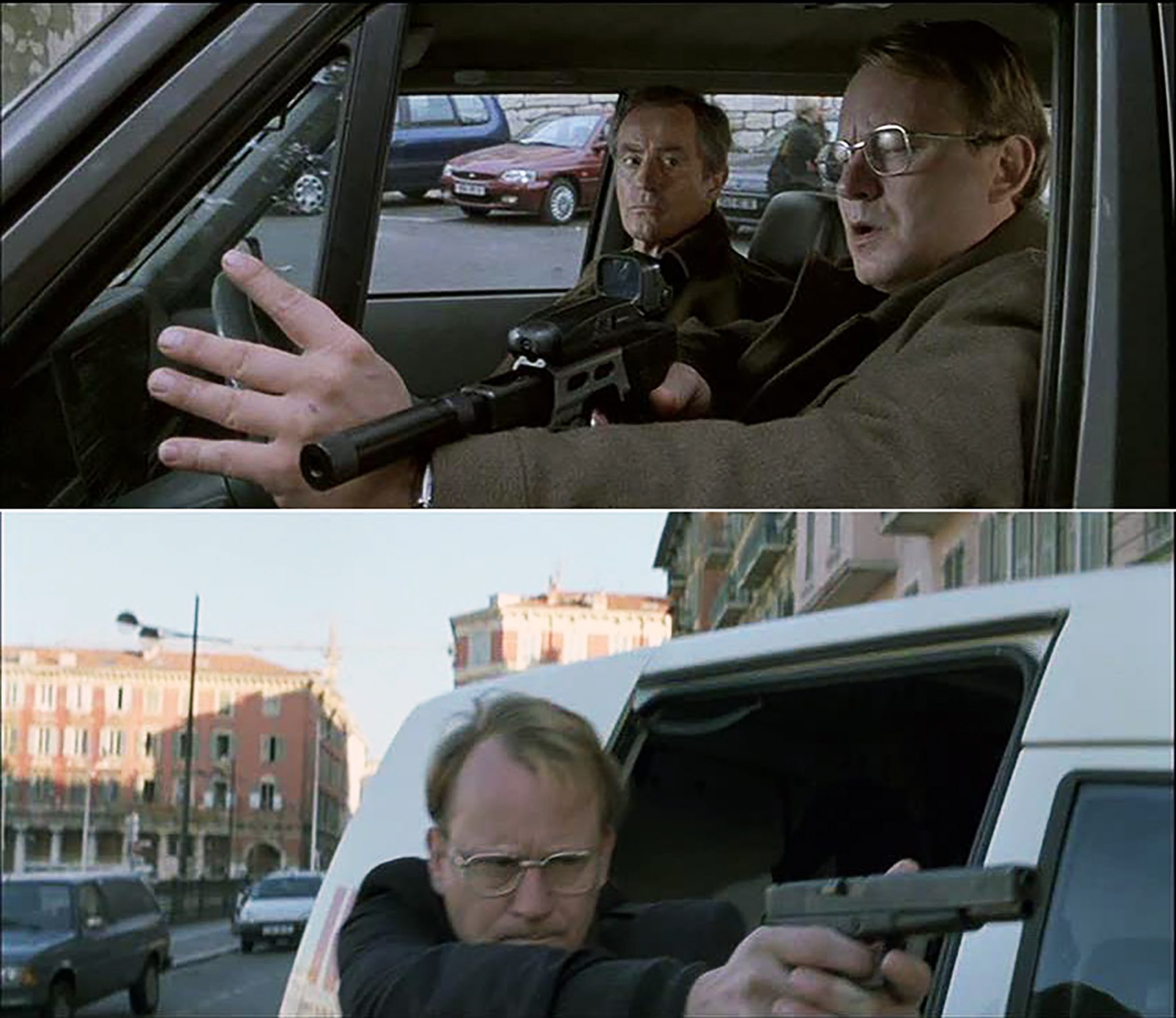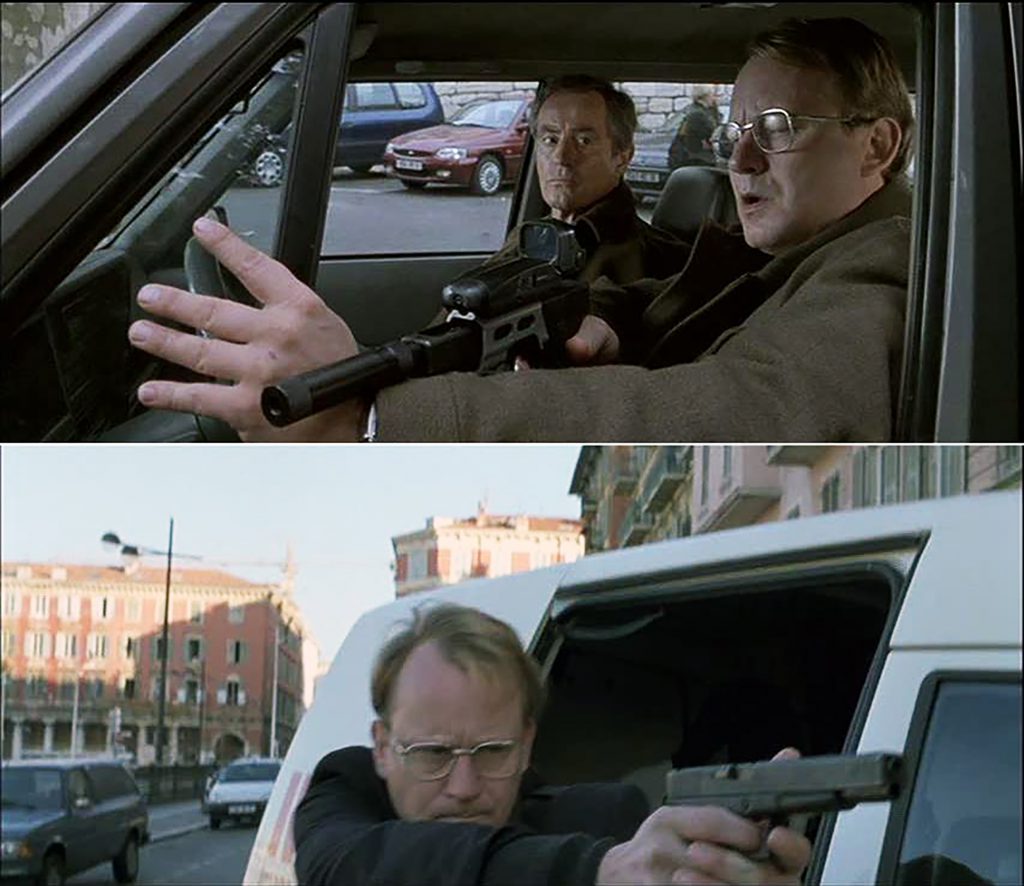 His gun has no fixed sights so a claw mount can be attached for a Bushnell HOLOSight 400 sight. The gun is also fitted with a suppressor, making it even longer, and a 20-round magazine from a Glock 18. We also see Gregor use the pistol once before he steals the case without the sight and suppressor attached and with what looks to be a flush magazine, but it has no iron sights.
While it's extremely common to see a suppressed Glock with a red-dot sight on top and an extended mag these days, this movie was one of the first times audiences saw a handgun tricked out this way, and it no doubt planted some gun-building seeds of creativity.
---
The Dark Knight (2008)
Director: Christopher Nolan
Starring: Christian Bale, Heath Ledger, Aaron Eckhart
Moment: G17 With a Fun Switch
While there is a pistol that's basically a full-auto version of the G17, the Glock 18, that's not usually what you see in the movies. The Glock 18 was developed at the request of an Austrian counter-terrorist unit with the coolest name ever, EKO Cobra. It was actually made at first to test the Glock's internal components under the high stress of automatic fire.
The G18 was originally produced in 1986 as a machine pistol with a lever control switch on the left side of the rear of the slide with semiauto and full-auto positions. The gun often used an extended 33-round magazine but would accept any Glock 17 mag. The Glock 18 has only ever been offered for sale to military and law enforcement entities.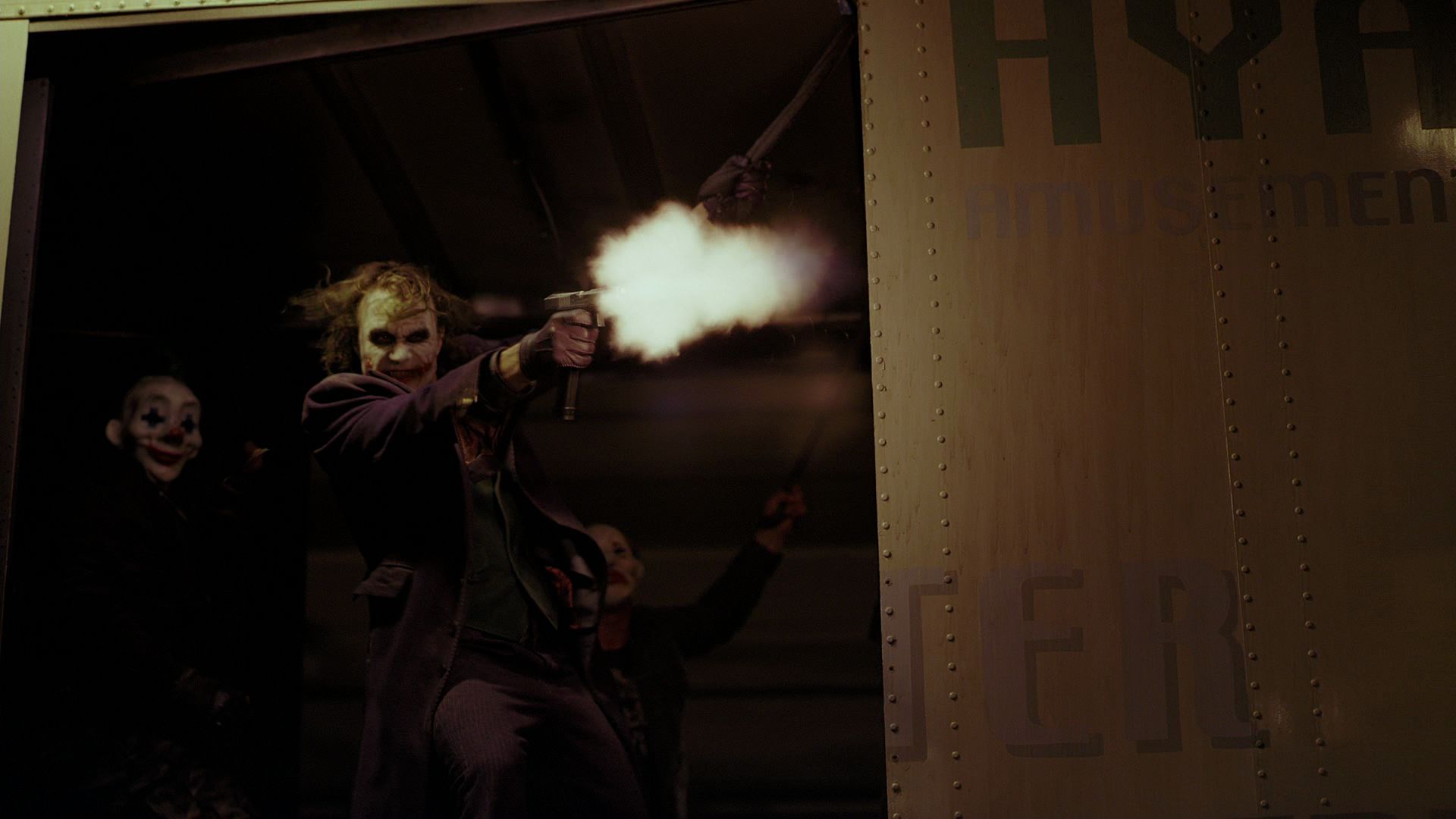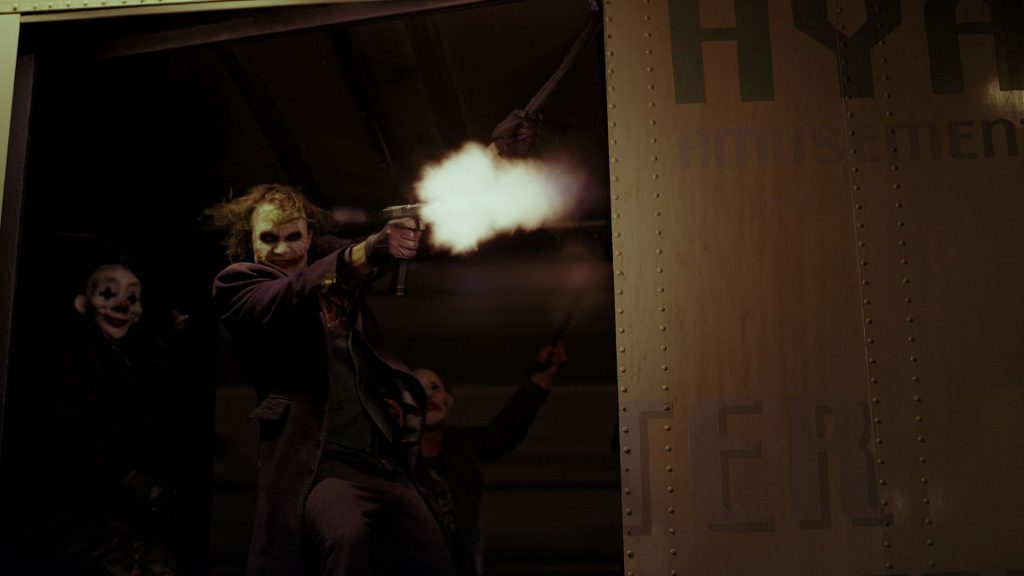 That said, a few movies have used real Glock 18s, like The Matrix Reloaded (2003) and Terminator 3: Rise of the Machines (2003). But in its most famous appearance, the G18 is actually being played by a Glock 17.
The two-toned pistol with the stainless slide the Joker (Ledger) uses throughout The Dark Knight, including in the famous bank robbery sequence in the film's IMAX-optimized opening, is distinctive and cool as hell. And it can only be fired in full auto.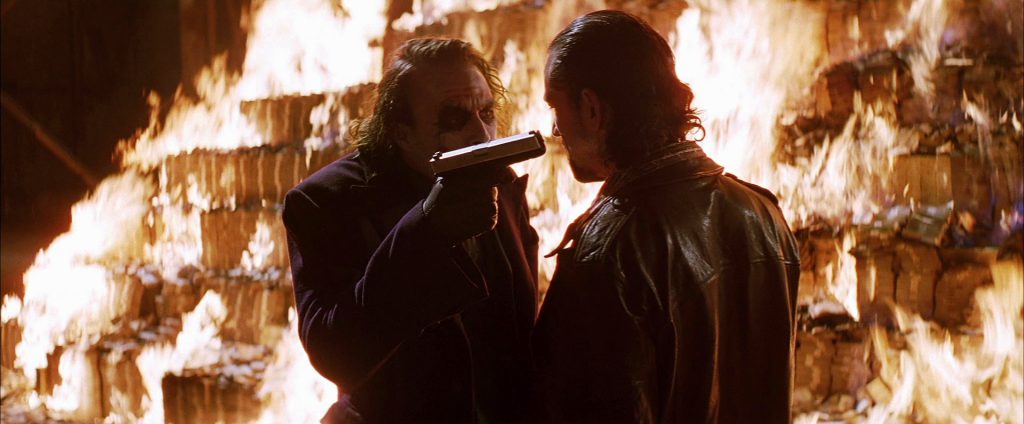 The slide has no selector switch, indicating it's a Glock 17 that has been converted to full-auto fire. Some G17s with this modification will have a switch on the backplate, but this gun doesn't have that either.
The Joker usually uses his gun with the Glock 18's standard 33-round extended magazine, and from the sound of the pistol firing, it's absolutely needed for the gun's high cyclic rate (the sound was modified with the report of an M137 Minigun). This same pistol was used in Mr. & Mrs. Smith (2005).
---
Man on Fire (2004)
Director: Tony Scott
Starring: Denzel Washington, Christopher Walken, Dakota Fanning
Moment: Dimpled Primer of Fate
RELATED: Muzzleloaders in Movies – Hollywood's Coolest Smoke Poles
We should all be glad that Denzel Washington managed to work in a few action movies between Oscar-nominated performances. Some people who were fans of the original version of this flick from 1987 starring Scott Glenn weren't thrilled with this remake. I don't get it. The original is boring to me and too low-budget to have ever been done right. The Tony Scott version of this vengeance quest is just all-around better, plain and simple.
When the film starts, John Creasy (Washington) is an alcoholic, PTSD-ridden, suicidal mess of a former "CIA SAD/SOG" operator bouncing from one dangerous freelance security job to another. He visits an old friend in Mexico (a stellar little performance from Christopher Walken) who hooks him up with a cake bodyguard job looking after the daughter of a prominent Mexico City businessman. He's told it's mostly a formality so that the family can get kidnapping insurance.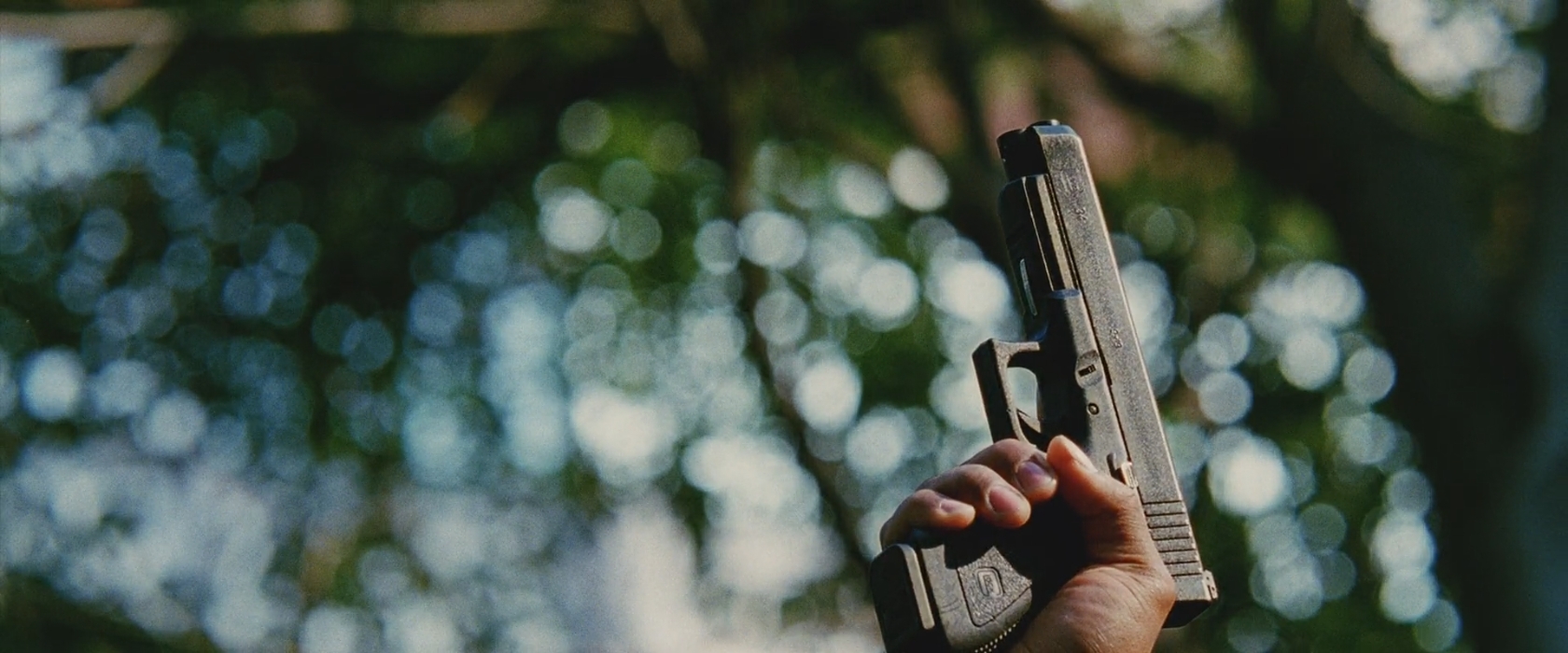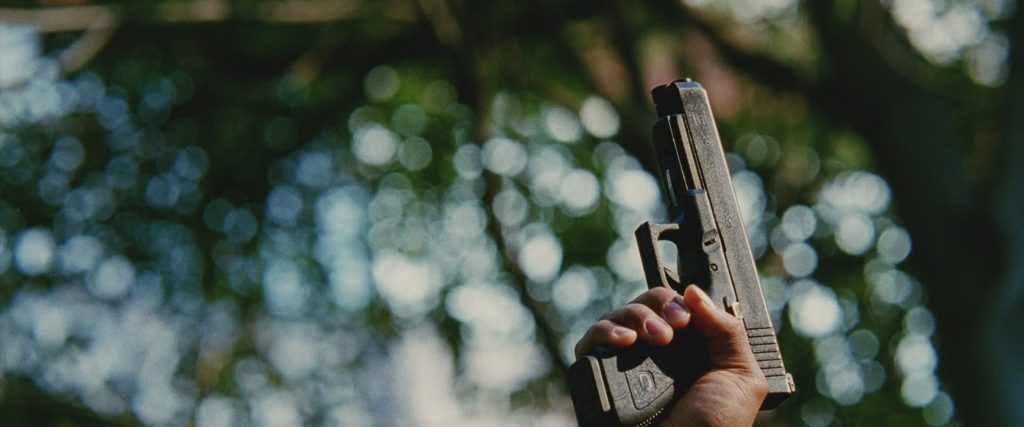 Not long after he takes the job, he gets super hammered and decides to finally end it all. He chambers a round in his Glock 34 pistol, puts it to his head and pulls the trigger. Nothing happens. He ejects the round and sees a dimple on the primer, but for some reason, the round didn't discharge. Creasy takes this as a second chance, quits drinking, and takes his job seriously, forming a bond with the young girl he's protecting, Lupita Ramos (Dakota Fanning).
Of course, kidnappers come for Lupita, but Creasy is too outnumbered to protect her. He takes a couple of bullets, but he also uses his Glock 34 to take out three bad guys before passing out.
The G34 is the longside competition version of the Glock 17. Other than a longer barrel and a contoured slide the pistols are the same. Pre-Gen5 models also had cuts in the slide to lighten it for more reliable cycling. Creasy carries the pistol strong side in an OWB Kydex holster with a double mag pouch on his left side.
If you look closely, and you're a Glock fan, you'll notice during the attempted suicide scene, the gun has a Gen 2 frame without an accessory rail, finger grooves, or a thumb rest during the attempted suicide scene. Later, it has a Gen3 frame, which is how the G34 originally came from the factory.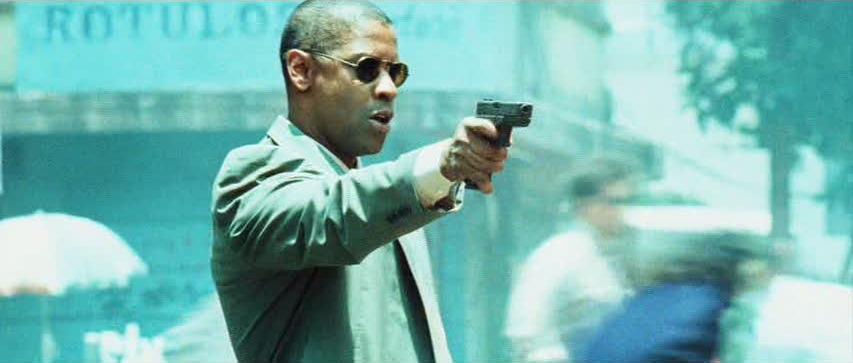 We can assume that the Glock 34 was taken by authorities after the kidnapping. When all indications say Lupita has been killed by her kidnappers, Creasy sets out on a violence-soaked quest to take out Lupita's murderers. He carries a stock Glock 17 Gen3 pistol, which is what he's holding in some versions of the movie's poster.
When he discovers Ramos' involvement in his own daughter's kidnapping, he gives him his Glock 17 with no mag and chambers the "dud" round from his suicide attempt with the G34, which he's been carrying in Lupita's diary.
Creasy: "They say that a bullet always tells the truth. It never lies. It didn't work for me, Samuel. But, maybe…maybe it will work for you. I'll pray for ya."
This time, the primer works.
---
The Fugitive (1993)
Director: Andrew Davis
Starring: Harrison Ford, Tommy Lee Jones, Sela Ward
Moment: A Dam Leap of Faith
RELATED: 7 Great and Criminally Underrated Westerns
You could call this the Glock 17's first big role. It's certainly the first movie where its minimalist, boxy appearance was front and center for more than a few seconds at a time, and The Fugitive was a huge success. The G17 was the preferred sidearm of the Deputy US Marshals in the movie, who are chasing down the titular Dr. Richard Kimble (Ford) in this big-screen adaptation of a popular 1950s TV show.
After being convicted of his wife's murder, Kimble escapes custody during a prison bus crash and stays on the run until he can prove his innocence — but getting away in the first place wasn't so easy.
Deputy Sam Gerard (Jones) is an unflappable investigator, but he makes a bonehead move when chasing Kimble through the massive drainage pipes of the Cheoah Dam as authorities are closing in. Instead of holding onto the cables running along the wall on a slippery decline like Kimble did, he decides not to put down his Glock or his flashlight and falls on his ass into the dark, knee-deep water.

Gerard's gun goes flying, and as he splashes around looking for it, we see it has landed right at Kimble's feet. He picks it up and holds it on Gerard as water drips heavily on a slide that was so square and different from the ubiquitous Beretta 92FS that you couldn't help but notice it.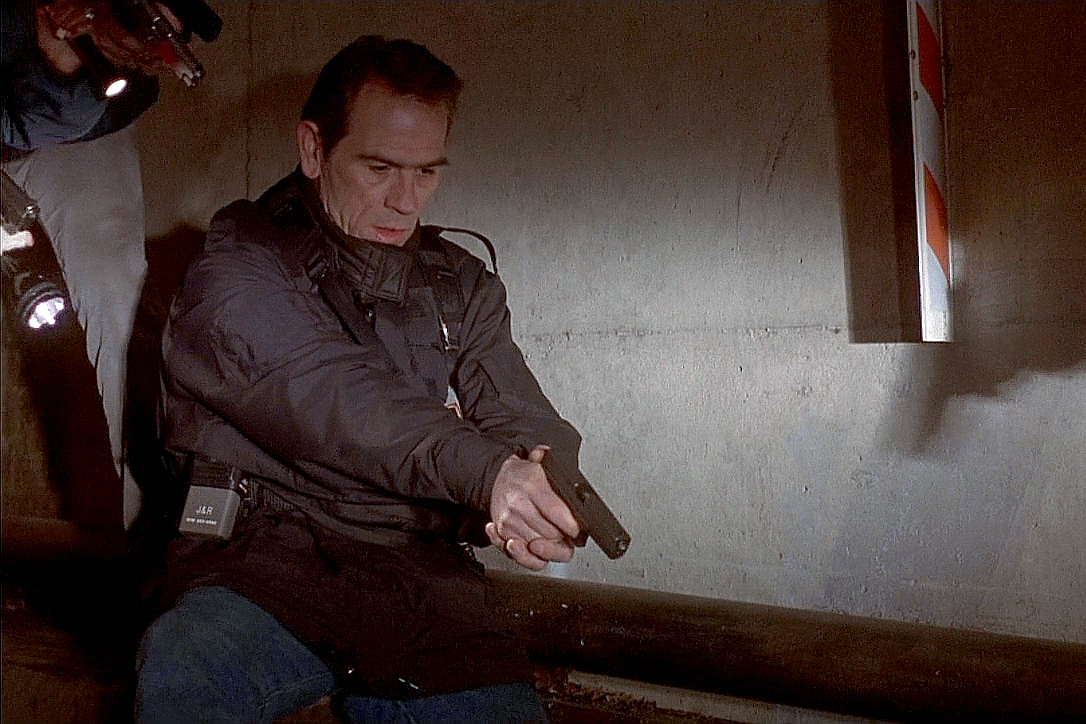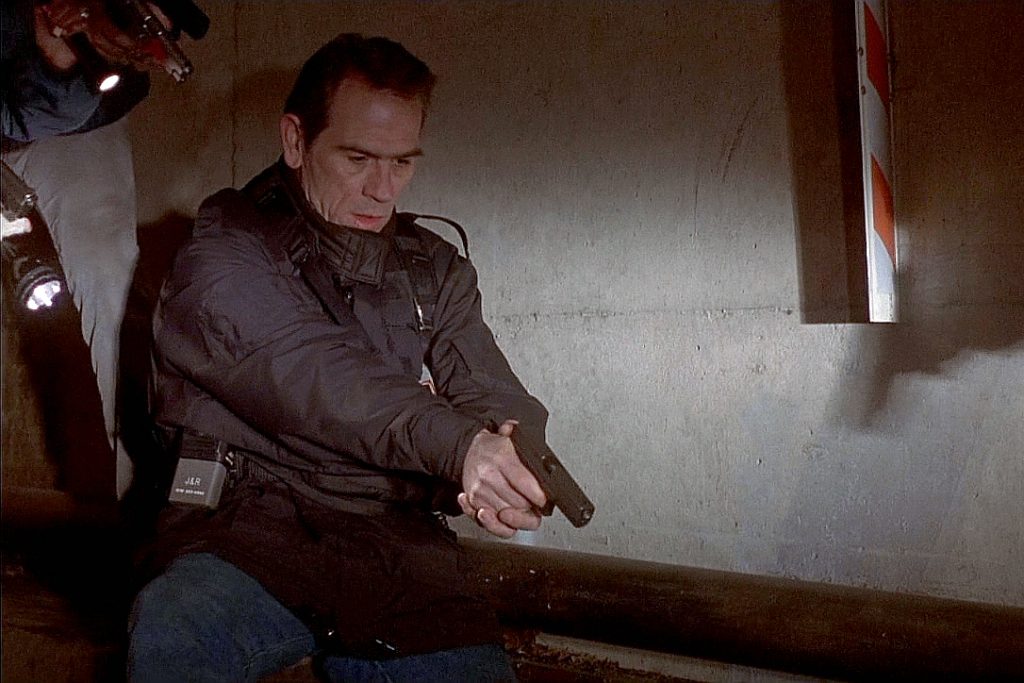 Kimble: I didn't kill my wife!
Gerard: I don't care!
Kimble doesn't shoot because he's not actually a bad guy. As he heads through the pipes toward his famous "The guy did a Peter Pan offa this dam right here" moment, Gerard opens a Velcro flap in his jacket to reveal a holstered backup Glock 17 — and the chase continues. Even if the pistol wasn't identified by name in the dialog, the gun's clean, minimalist, and totally modern look caused a lot of people to notice it in this movie.
What they didn't notice was how fucking horrible Richard Kimble's lawyers are! The next time you watch it, ask yourself, "How the hell did he even get convicted?"
The film's less-than-stellar sequel, U.S. Marshals (1998), made a big point of mentioning the Glock name and Gerard's love for the brand and equal disdain for Robert Downy Jr.'s Taurus PT945, but by then, everybody knew what a Glock was. Instead of the G17, the Deputy Marshals all carry .40 S&W Glock 22 pistols in this movie.
---
Wind River (2017)
Director: Taylor Sheridan
Starring: Elizabeth Olsen, Jeremy Renner, Graham Greene
Moment: Bear Spray Drug House Ambush and Oil Field Shootout
RELATED: Analyzing Alec Baldwin's Movie Set Shooting Story
This movie is an underrated, underpublicized gem. If you haven't seen it, you absolutely have to. US Fish and Wildlife Service tracker Cory Lambert (Renner) carries a Ruger Super Blackhawk and a Marlin 1895SBL for most of the movie, and a bolt gun when needed, which is appropriate for his line of work.
The film's other protagonist is the somewhat green FBI agent Jane Banner (Olsen), who carries an agency-appropriate Glock 17 as her primary sidearm.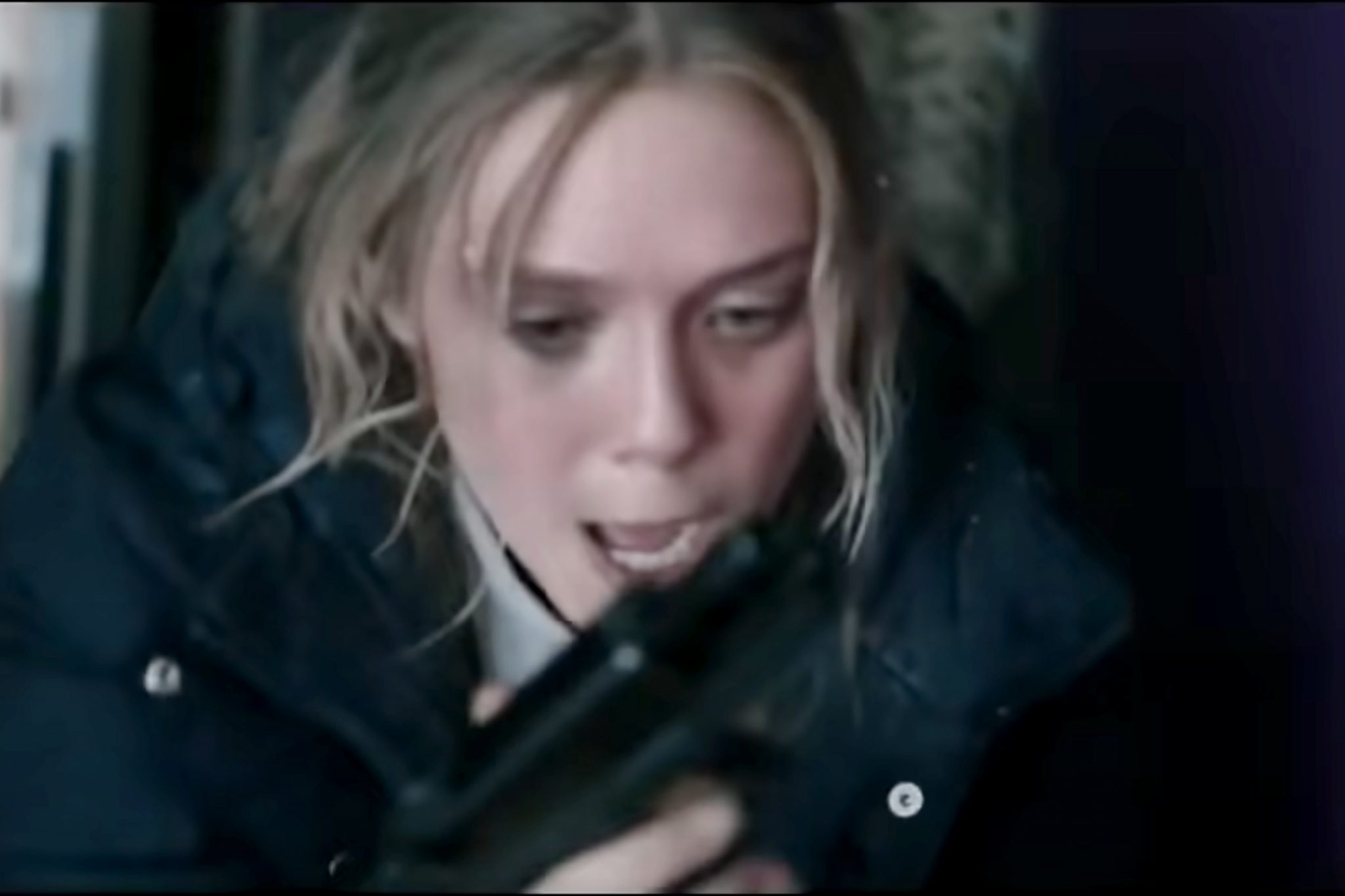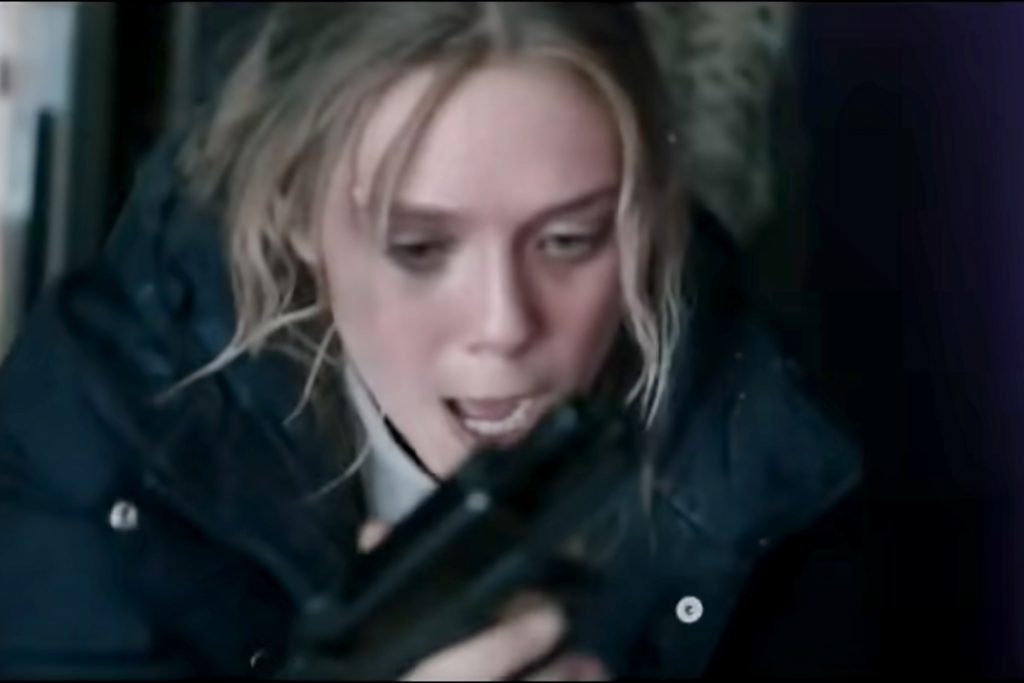 It's obvious that Olsen got a decent degree of weapons training for the film, and from her grip, reloads, trigger discipline, and the way she moves, it looks like she took it seriously. The movie also takes its gunplay seriously, and it has some of the most accurate shootouts and hunting scenes in recent memory (even if the impact of Lambert's .45-70 rounds is a bit cartoonish).
The first time Banner uses her Glock is to draw down on a methhead in a drug house after he blasts her and the local sheriff with a canister of bear mace and retreats to grab a shotgun. She chases him into the house, half-blind, and comes out on top.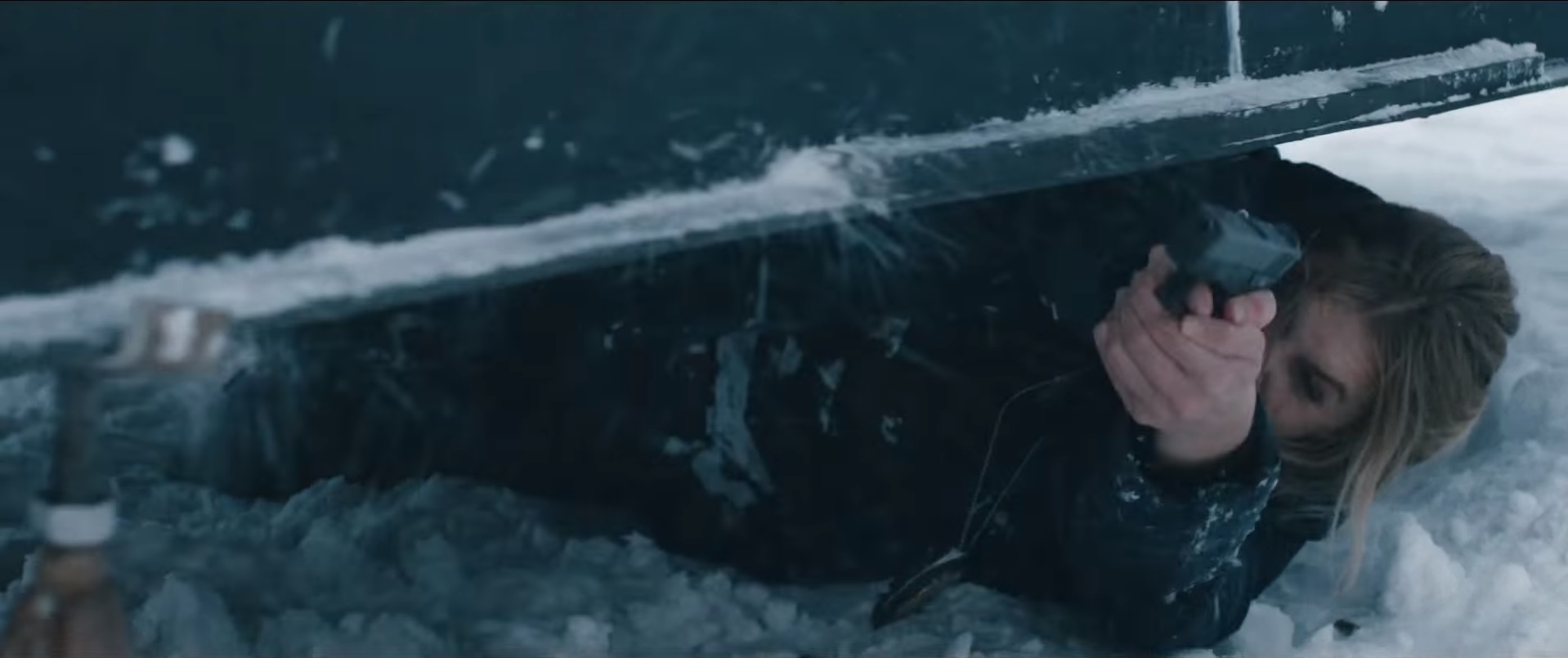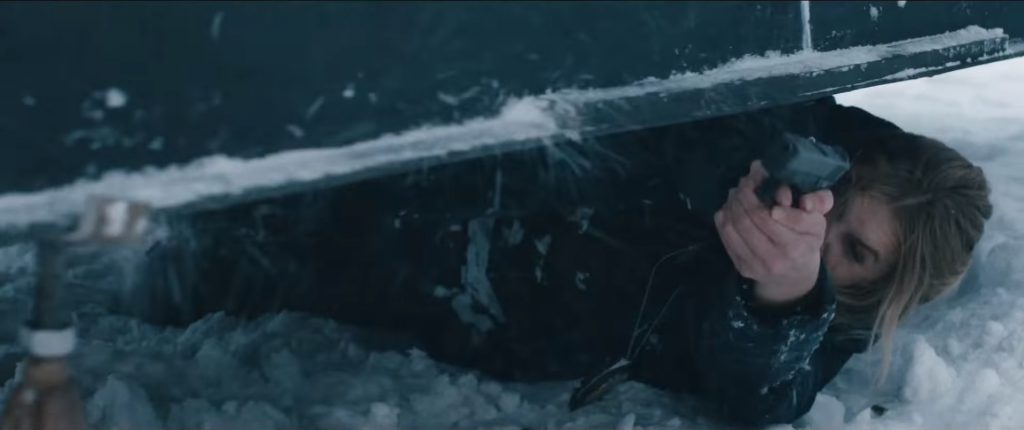 The second time she fires her Glock is during one of the best shootouts ever put on film. When a group of cops, the sheriff, and Agent Banner, show up at the security personnel trailers on the drilling site, the perps are cornered, and they fight back.
Banner takes a shotgun blast to the vest through the trailer door and is on her back for the rest of the fight. She shoots effectively and reloads from her back after being wounded, and as soon as she's able, she crawls beneath the trailer for cover while Cory does some long-distance work with his scoped Marlin.
Then she fires a final shot at the last fleeing bad guy, who is a remarkable piece of shit, and clips him, making it easy for Cory to track him down for an incredibly satisfying ending.
---
Mad Max: Fury Road (2015)
Director: George Miller
Starring: Tom Hardy, Charlize Theron, Nicholas Hoult
Moment: Sandy Glock Fight
RELATED: Davy Crockett: The Silver-Screen History of a Frontier Legend
This smash-hit sequel/reboot of the Mad Max film series Mad Max: Fury Road was quite different from its predecessors from the '70s and '80s, but many feel it's the best installment. One thing that's the same, however, is the overall scarcity of working firearms and ammunition in the dystopian hellscape the characters inhabit.
One of the many weapons stashed on Furiosa's (Theron) War Rig is a Gen2 Glock 17 hidden in an ornamental skull on the side of the trailer. When the rig comes to a stop in the desert, Furiosa and Max (Hardy) throw down, and she goes for the pistol.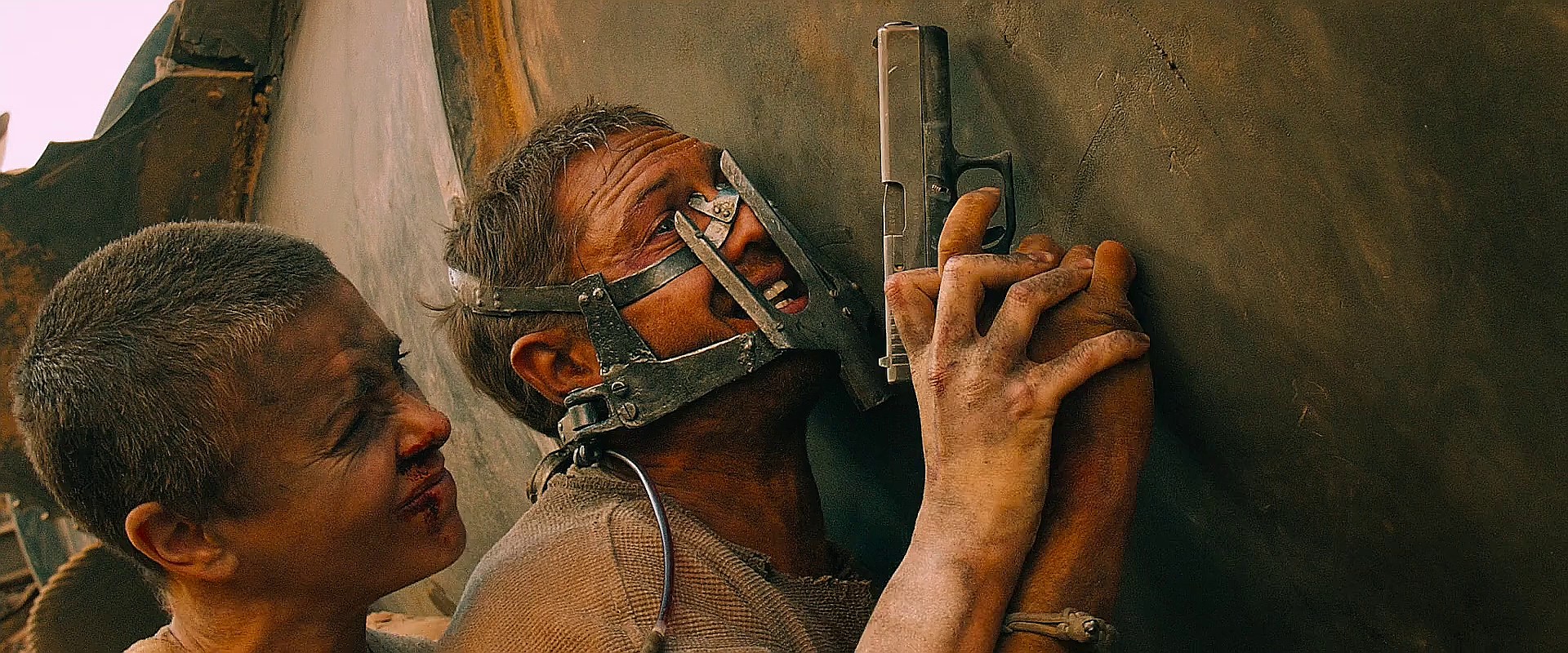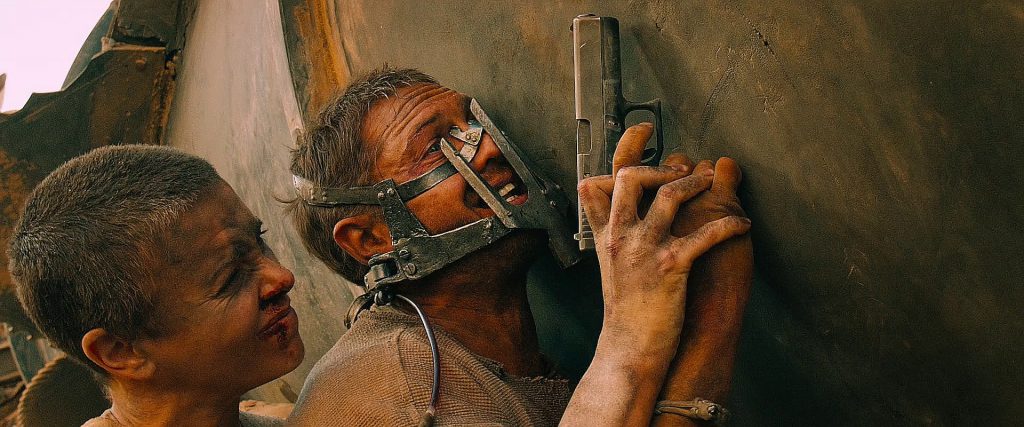 They struggle over the gun in an epic balls-out fight. At one point, the pistol's magazine is ejected into the sand. Furiosa still tries to shoot Max with the chambered round, knowing the G17 doesn't need a magazine to be inserted to fire. When Max finally gets the upper hand, Nux inserts the magazine for him, just to be a bro.
The three end up in an uneasy partnership for survival, and Max uses the gun a few times during the ensuing high-octane chase through the wastelands, which is the rest of the movie, actually. Furiosa gets her Glock back when they face off against the Bullet Farmer.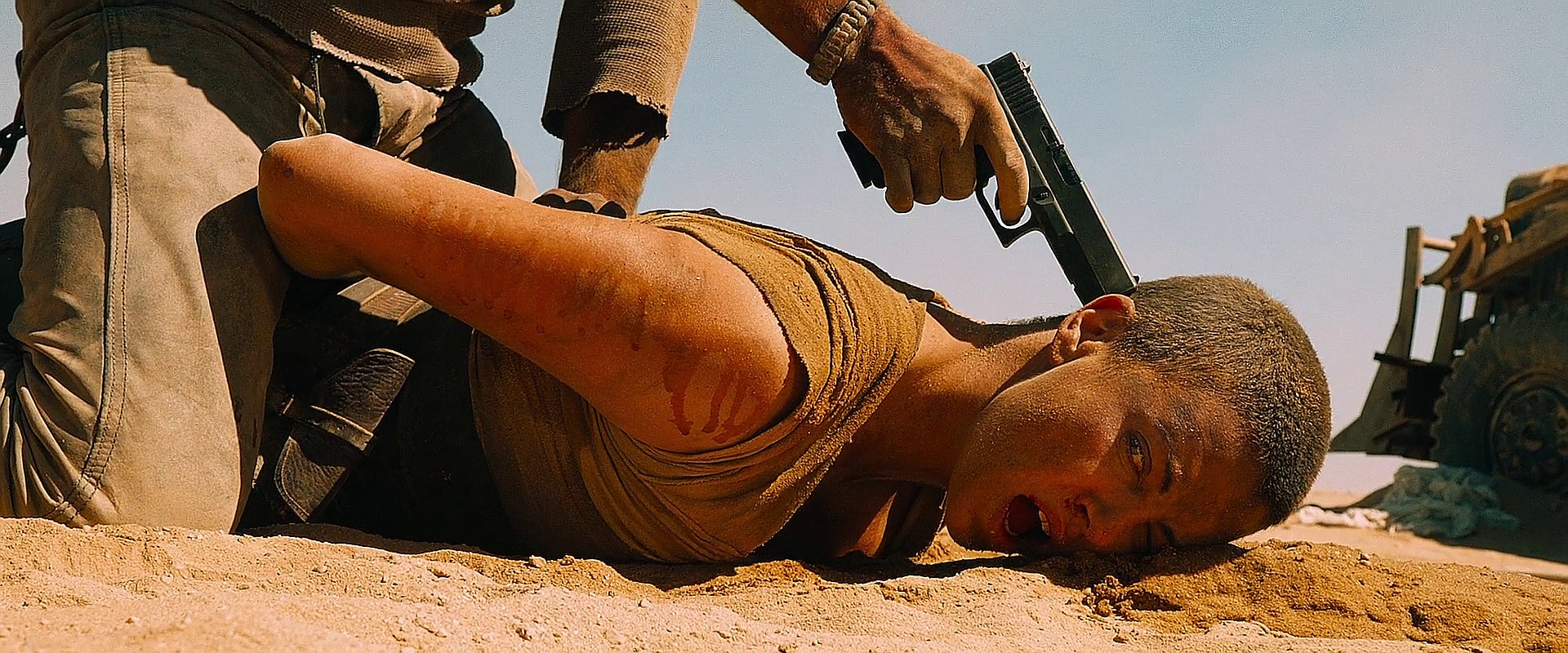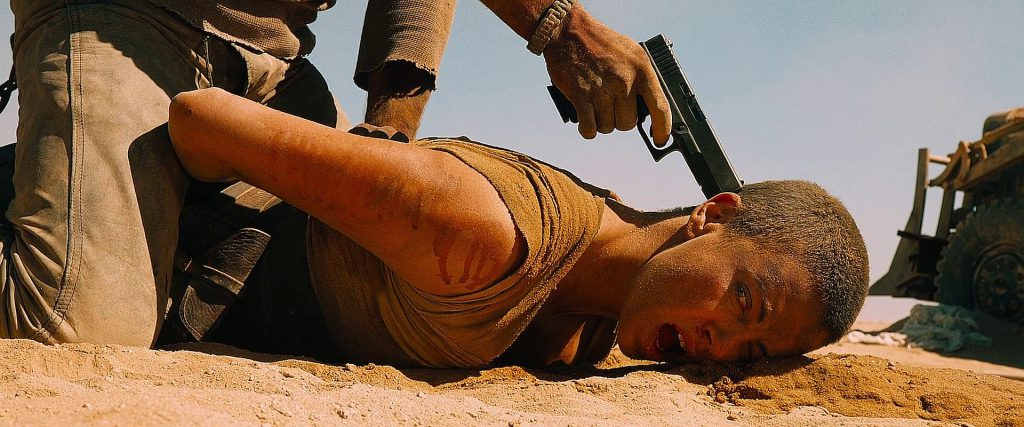 Gun nerd alert: for a brief moment, the Gen 2 Glock17 becomes a Gen3 model. When Max puts the gun to Furiosa's head, you can clearly see the slot on the accessory rail. This is likely because the gun is put to Theron's head in the shot and is probably a different non-firing prop gun.
---
John Wick: Chapter 2 (2017)
Director: Chad Stahelski
Starring: Keanu Reeves, Ian McShane
Moment: Glock-Hopping Gunfight
RELATED: 'The Continental' Will Deliver 3 John Wick Prequels
The John Wick films are the coolest gun movies of the 2010s, without a doubt. In the original movie, John (Reeves) carried a badass H&K P30L pistol with a custom barrel-mounted compensator. It looked distinctive without being overly customized, but it wasn't the only gun he carried.
During the epic Red Circle nightclub shootout, the first gun John draws in the Russian bathhouse is his backup pistol that he carries in the small of his back, a Glock 26, the abbreviated, subcompact version of the Glock 17 and Glock 19 pistols. He uses it until he gets a moment to draw his primary firearm.
The second film, John Wick: Chapter 2, sees the character trade in his German pistols for an Austrian model, sort of. Once John gets to Italy, he goes shopping at the SoSommolier'shop, a front for an organization-affiliate gun dealer. Wick chooses a highly customized Glock 34, specifically, the TTI Combat Master Package model from Taran Tactical Innovations. He also carries a custom TTI Glock 26 as his backup gun once again.
But one of the underrated and coolest gunfights in the second movie is the Glock-hopping gunfight. Wick walks into the lion's den armed with nothing but a Kimber 1911 with one 7-round magazine. It runs dry fast, but not before he takes out several bad guys and grabs one of their fully-loaded Glock 17s.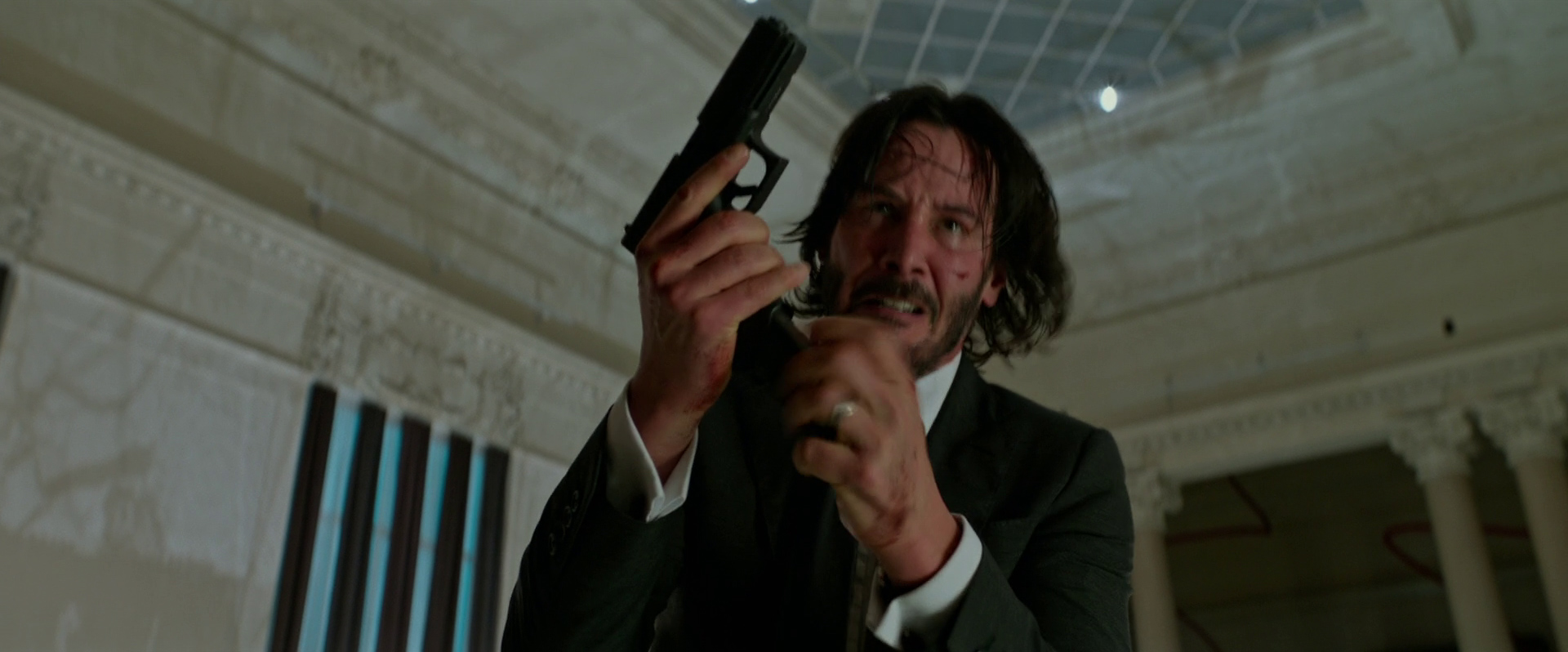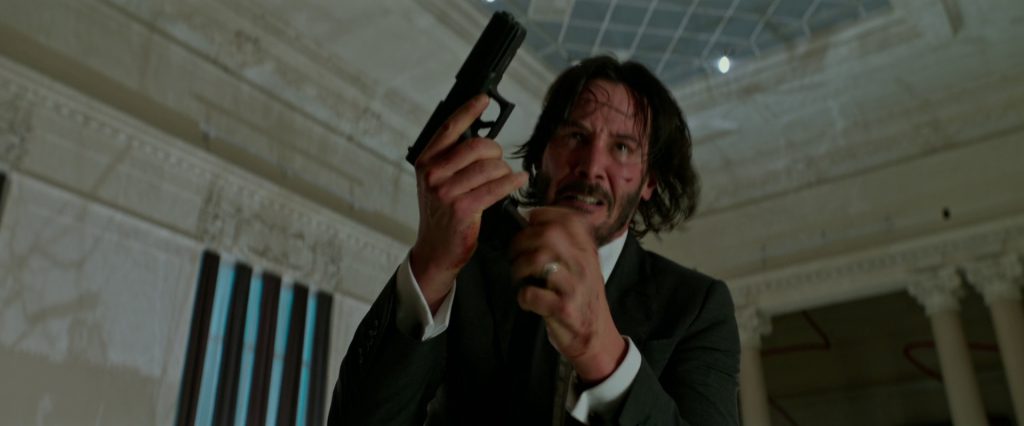 They all have Glock 17s, and that's how the whole gunfight goes. Wick stacks bodies until a Glock runs dry, then he picks up another one. It's over-the-top hilarious and deeply badass.
While Wick uses several Glocks in the third movie, his primary firearm is the uber customized TTI STI 2011 Combat Master pistol in 9mm Major.
Read Next: The Mossberg 500 Shotgun – Best Movie Moments