My son, Cam, had a pretty short list of what he wanted out of our trip to Alaska. 
"I just want to see one bear," he said. "If nothing else happens and I see a bear, I'll be happy."
Running a jet boat back down the Naknek River toward camp after a day of catching pink salmon and pike on fly rods, Cam got what he asked for.
I spotted a healthy 2-year-old brown bear making his way down the shore and our guide throttled down the outboard to an idle, drifting at the same pace as the bear only 50 yards away.
When the guide told Cam that it was a young bear, maybe half the size it would be in maturity, my 17-year-old's response fit his lack of real-life experience with these apex predators perfectly.
"Wait, you mean that's not even a big one?"
---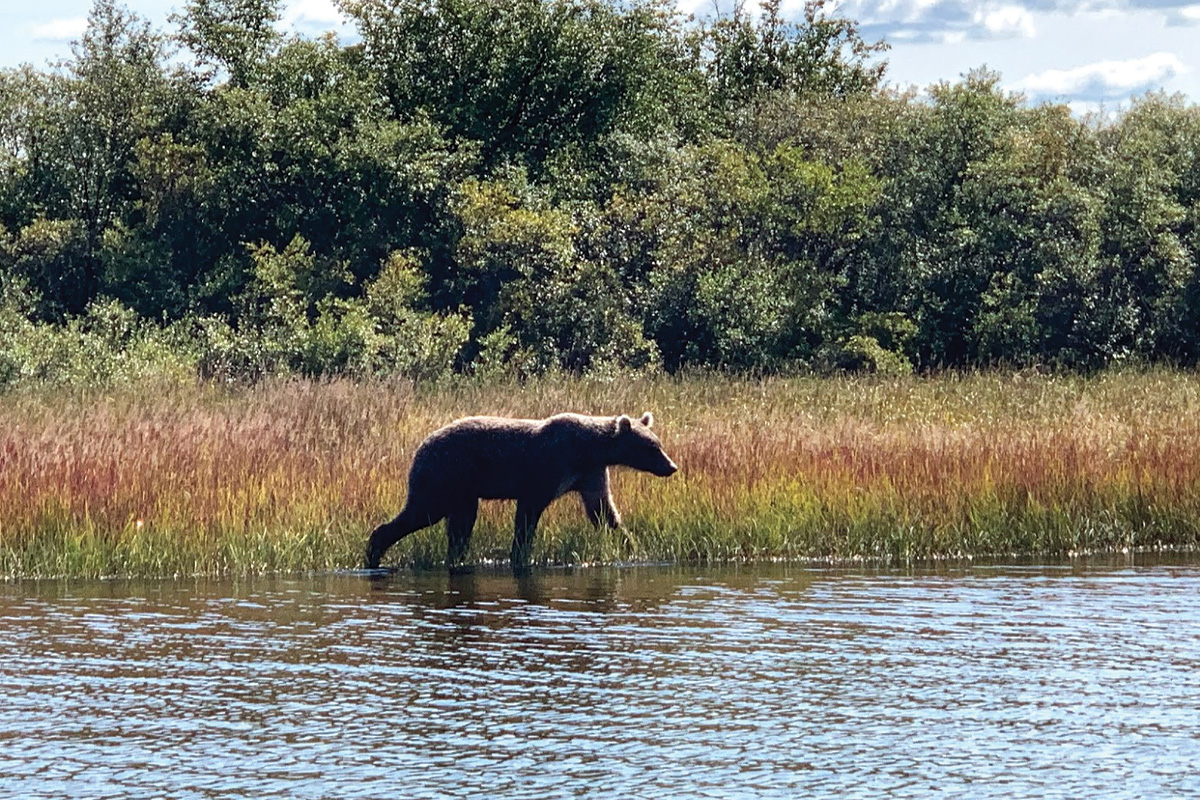 Cam and I traveled to the Bristol Bay region of Alaska in mid-August 2020 for four days of epic salmon and trout fishing. His sister was originally supposed to join us, but COVID restrictions and an early start for her college classes changed those plans.
This was a last-hurrah trip meant to soak in a little more time after they graduated high school and before they started their own respective next chapters. Honestly, we were lucky to have been able to make the trip at all given the state of air travel at the time.
Heading to the pristine, remote salmon fishery that is Bristol Bay — a place that had consumed a significant part of my professional life as I advocated with countless others for its protection from North America's largest open-pit gold and copper mine — was a pilgrimage of sorts for me.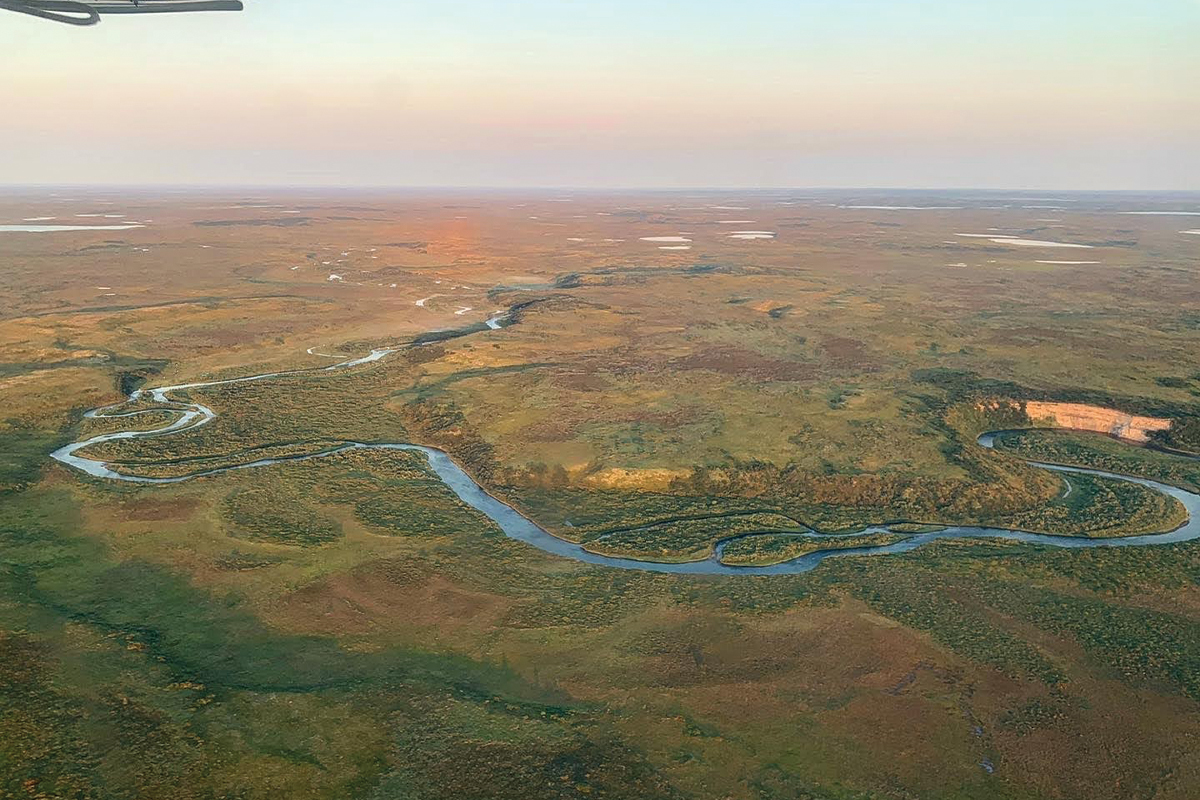 But to travel there with Cam made it a profound journey on so many levels.
Of course, expecting that the value or importance of a trip like this would hit the same for a 17-year-old as it would for his dad is just stupid. I mean, Cam loves to fish — and is good at it — but catching lots of fish only goes so far toward holding a teenager's attention.
Then along came that young brown bear — the first that I'd ever seen in the wild as well — and I knew everything from that point until we were wheels down back in western New York was going to be icing on the cake.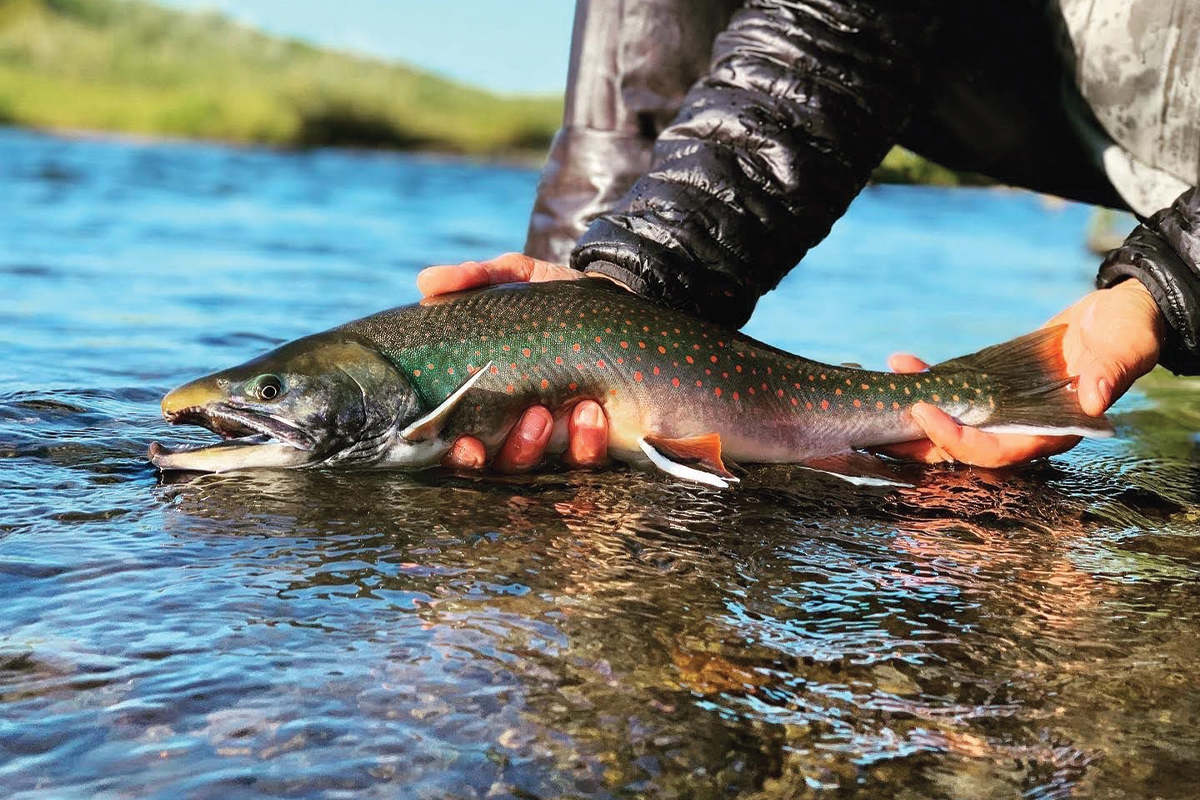 At dinner, we talked about pink salmon and the first-ever pike he caught and how angry it looked. We talked about the bald eagles way up in the trees along the river and how far away the mountains really were in spite of how big they looked while we jetted across Naknek Lake.
Sammy Hagar was there with his family, too, so we talked about our favorite Van Halen tunes a bunch.
Of course, we talked about the bear but quickly ran out of words to describe just how cool it was to see him. We just sat with the memory of all that fur and muscle moving effortlessly along the water's edge.
My heavily-guarded optimism took a hike. We went to bed exhausted at 9:30 p.m. while there was still plenty of light in the sky.
---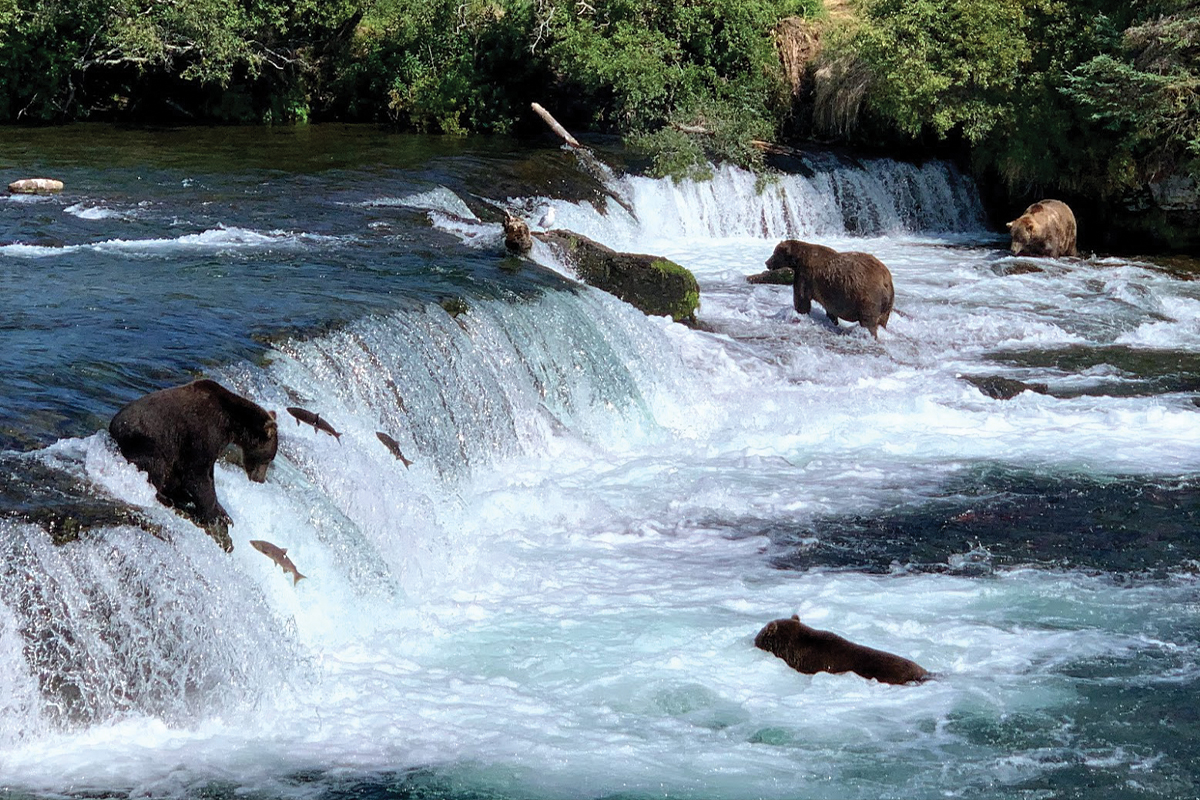 On our second day, we piled into another jet boat and made the 45-minute run from the lodge to Brooks Camp in Katmai National Park and Preserve. Brooks Falls, just about a mile upriver from the camp, is one of the most heavily visited sites in Alaska by bears who show up to eat sockeye. Consequently, it's also a popular spot for tourists who show up to watch the bears.
During their spawning run, sockeye push up to the base of Brooks Falls after a 60-plus mile journey from the northeastern crook of Kvichak Bay, up the Naknek River, through Naknek Lake and Brooks Lake.
Voracious rainbow trout from Brooks Lake follow them to gobble eggs and the flesh of fish that have spawned and died, or that have died by bear. Sockeye don't really eat once they're in spawning mode, so we were after those big rainbows.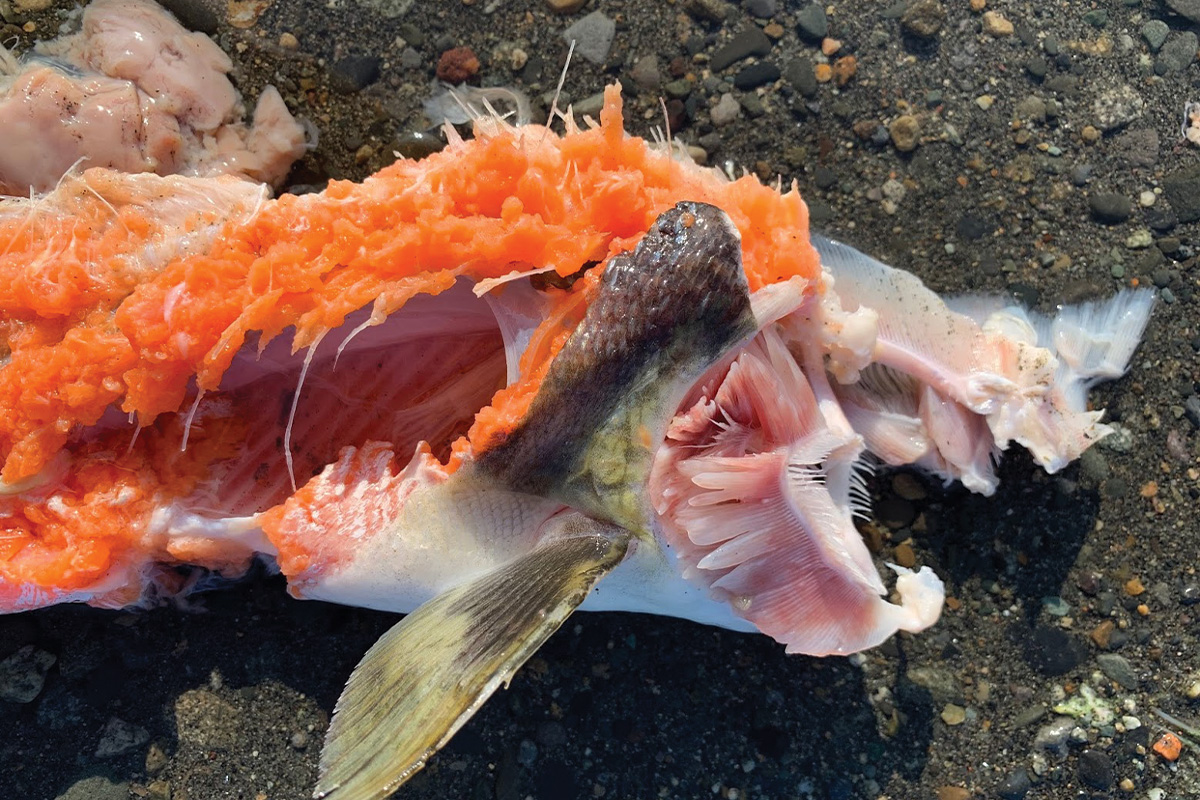 Since COVID had crushed tens of thousands of summer adventure plans, but not ours, the three of us essentially had the place to ourselves. After the park ranger showed us a mandatory bear safety video and administered a short quiz, we waded into the river and immediately started catching fish.
As if on cue, a brown bear walked out of the spruce and into the river upstream of our spot. We reeled in our lines, backed out of the river, and gave the bear 50 yards like the video said we should. After he passed, we reclaimed our spots.
This fluid and flowing Alaskan waltz between bear and angler became second nature as the morning passed. For long stretches, I stopped fishing and just watched Cam move confidently with the guide into and out of runs as bear after bear made their way downstream.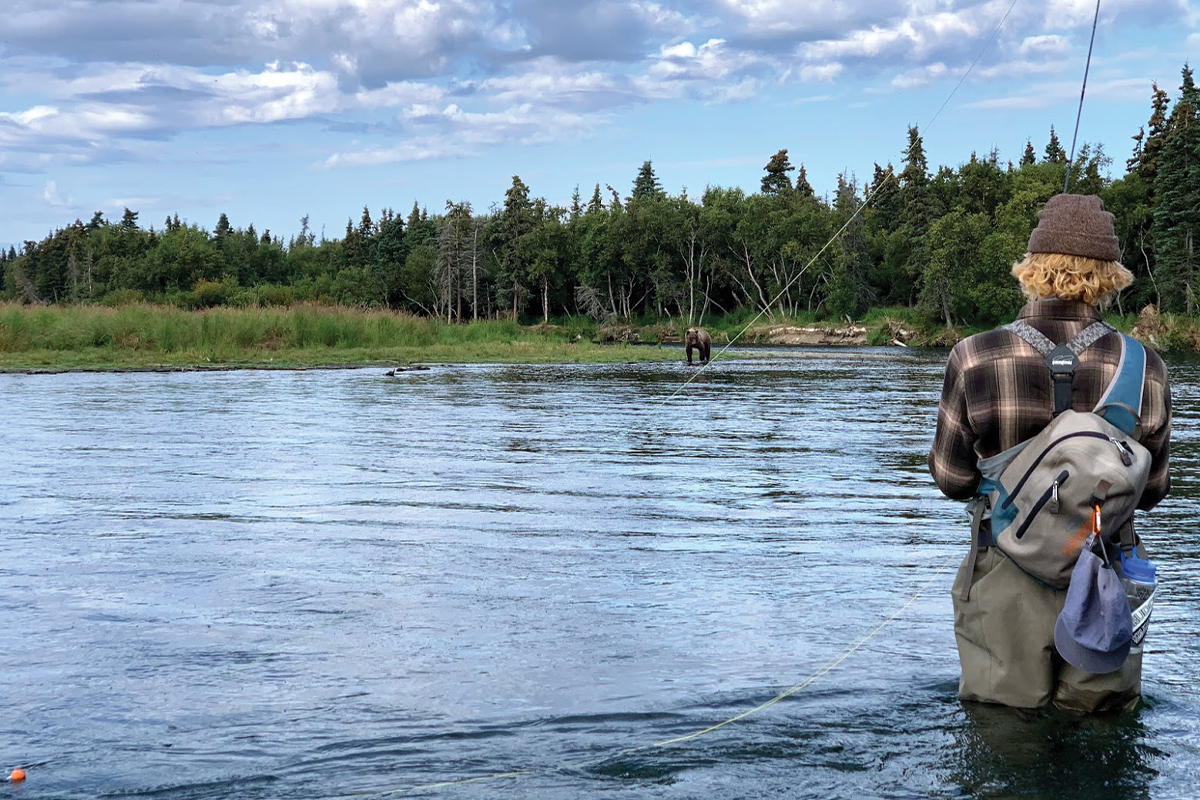 After lunch, we followed the trail to a viewing platform at the falls themselves. Eleven bears, including two sows that were each over 900 pounds, occupied various spots in the pools and whitewater below the falls. One sat in the rushing water at the top swatting at sockeye that jumped near him. He caught and ate three in the short time we were there.
As silently as we stood there, every second of the beautiful, raw reality that was playing out in front of us was cataloged in our minds and memories. I leaned on the railing trying to reconcile just how unimportant our presence was to the bears, and yet how important our presence there was to Cam.
We fished and caught fish and waltzed with bears the rest of the afternoon, and made it back to the lodge just in time for a steak and mashed potatoes dinner.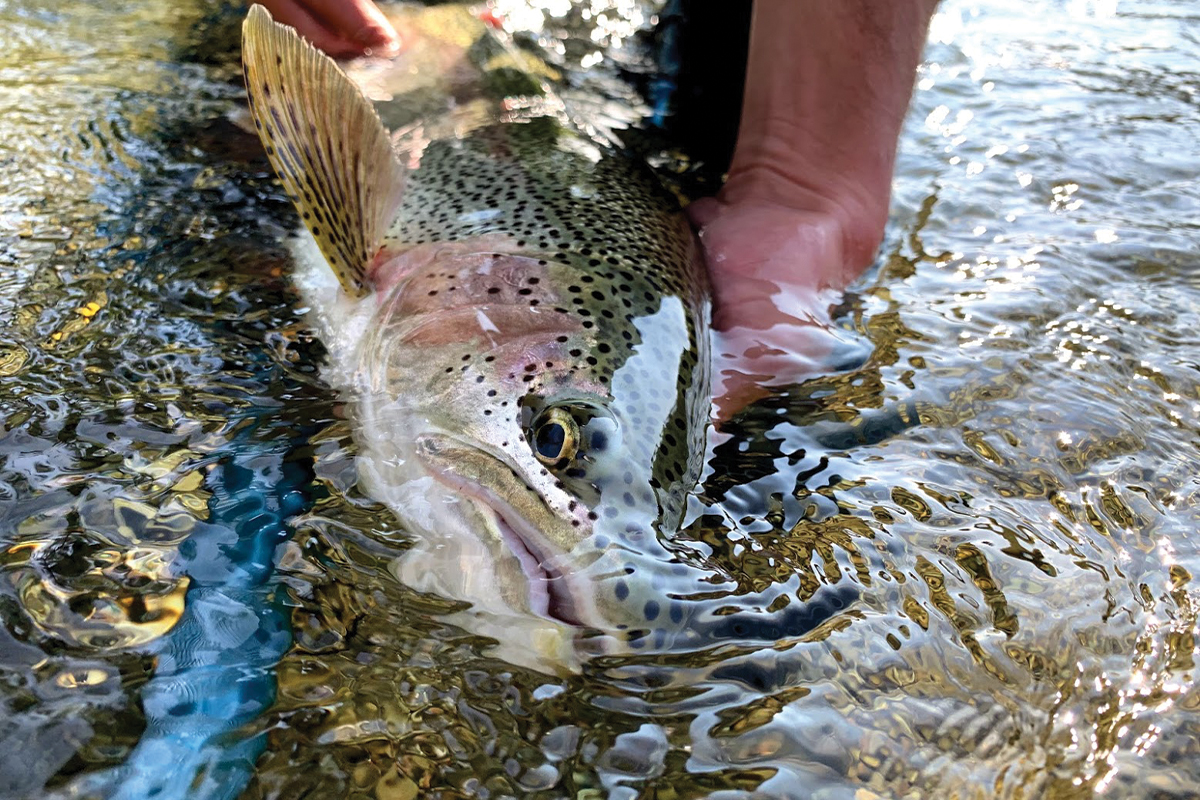 In the almost two years since that trip, Cam has brought up different parts of the adventure a handful of times: catching pike, taking a float plane to a tundra lake, Sammy Hagar telling us about a fish he caught, seeing the giant bears at Brooks Falls.
"Remember those bears? I mean, that's like Nat Geo, but we were there," he'd say.
Cam now lives in Salt Lake City and I'm still in western New York. He called me recently on a new phone after destroying his old one while skateboarding.
"Hey dad, could you send me some pics from Alaska?" he asked. "I lost everything on my old phone and I want to make sure I have those."
Those photos are priceless keepsakes as we grow older and our memories fade with time: a full-color resuscitation of each moment and validation of our presence in that place. Even in the absence of photos, the indelible mark of our time in Alaska is only a "remember when" away.
---
READ NEXT – A Father's Day Lesson: When the Bass Aren't Biting