Chene Gear is a young waterfowling gear company out of Memphis, Tennessee, that began with waders: the base of every hardcore waterfowler's gear list. This summer, the company is celebrating its one-year anniversary.
As part of that celebration, Chene launched a new collection of performance apparel in July to accompany their leak-free guarantee waders. The company has also doubled down on its conservation support while giving back to its customers.
Chene is buying and giving a federal duck stamp to every customer who purchases their flagship waders in 2022.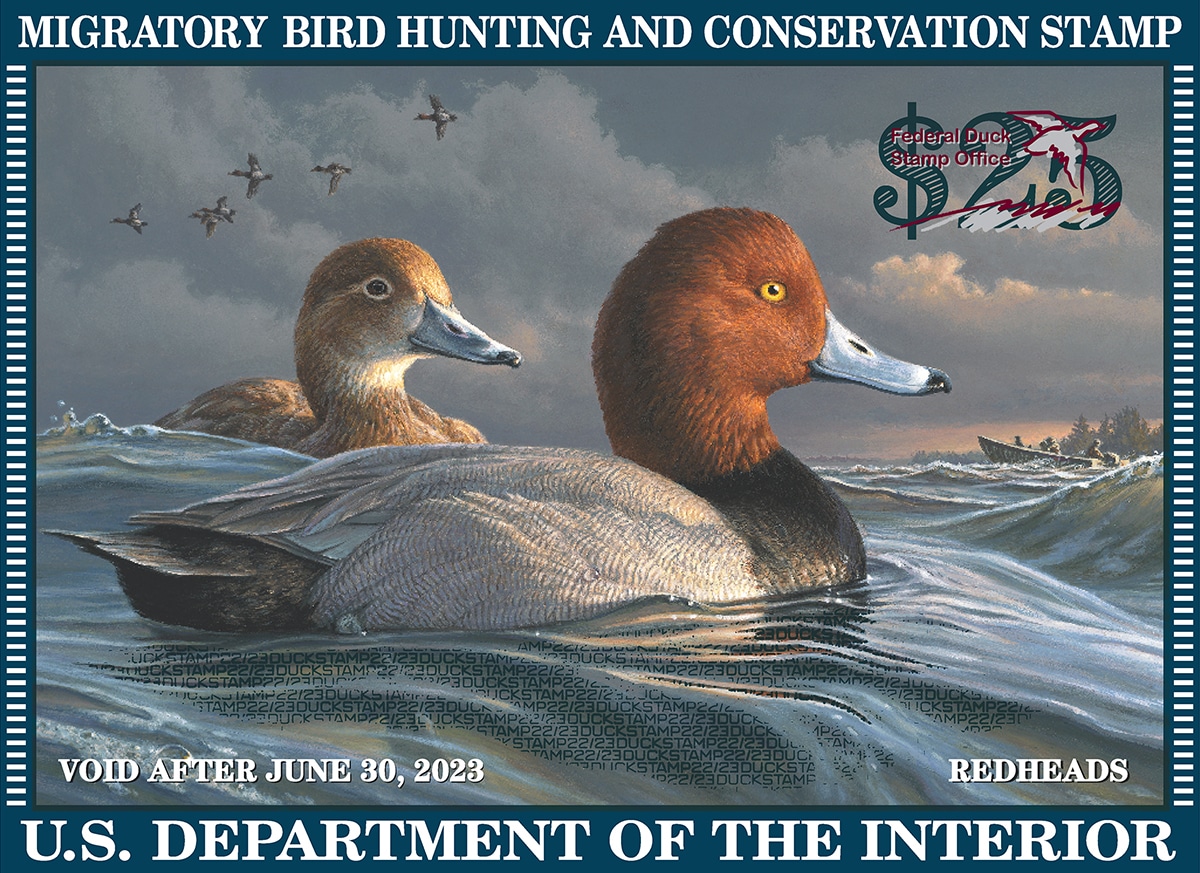 Federal duck stamps are conservation revenue stamps bought primarily by waterfowl hunters who require them to hunt waterfowl legally once they turn 16. They're also bought and collected by a small but important percentage of the non-hunting public, so anyone can contribute to conservation efforts by buying them.
Plus, duck stamps also serve as a free pass into any national wildlife refuge that charges an entry fee. Nearly all the proceeds go toward conserving habitat for birds and other wildlife, so a fair share of birders, photographers, and other outdoorsy folks buy Duck Stamps, too.
According to Ducks Unlimited, about 1.5 million federal duck stamps are sold annually. Since 1934, duck stamp sales have raised more than $1 billion for wetlands conservation. According to the US Fish and Wildlife Service, 98 cents of every dollar spent on each $25 stamp goes directly into acquiring vital habitats and has contributed to more than 6 million acres being acquired since the program's start.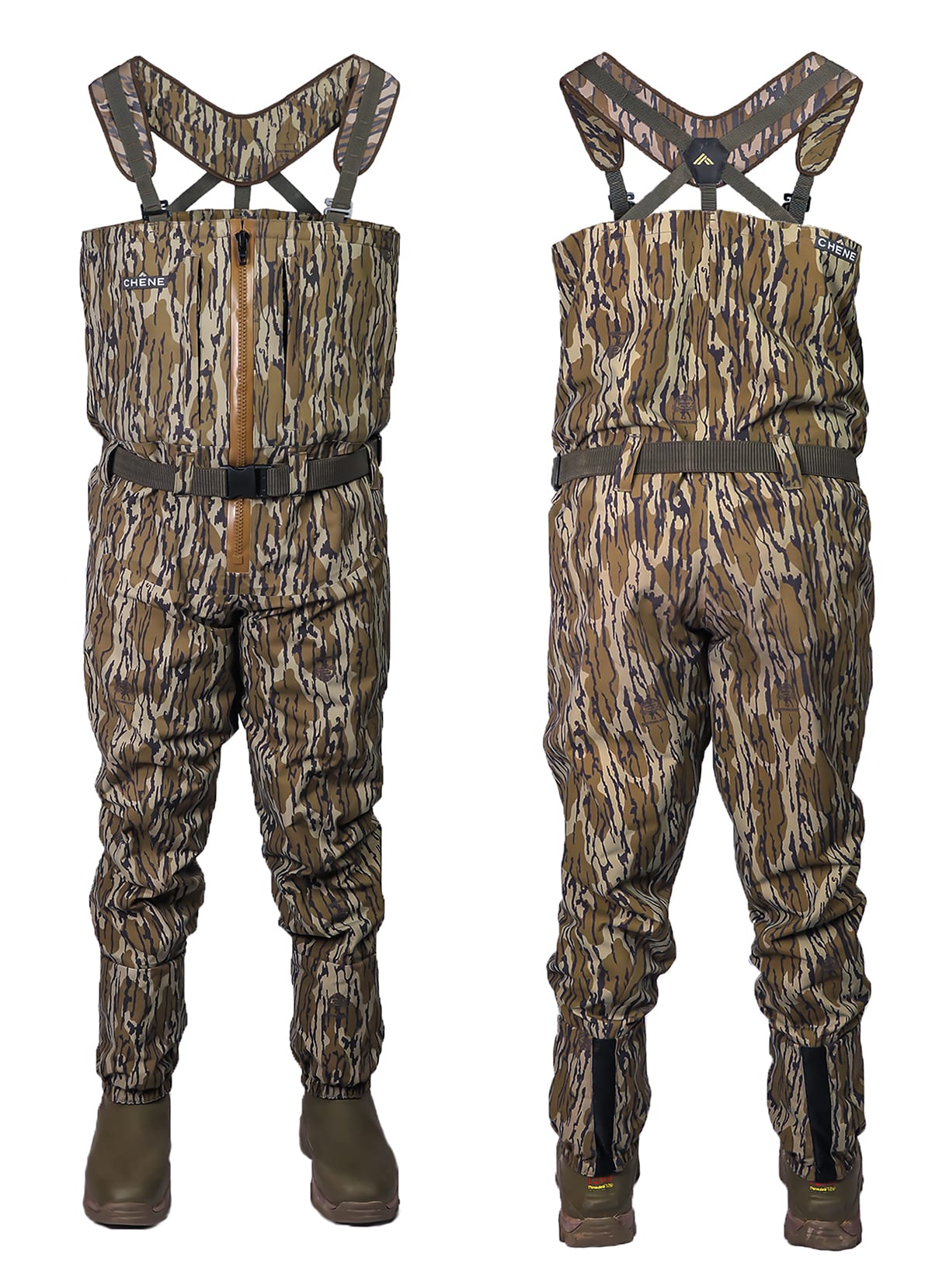 Chene Gear is both giving back to conservation and saying thank you to their customers with the Duck Stamp purchases.
"Quality habitat is the foundation to a healthy waterfowl population, and the duck stamp program has a stellar record of protecting the wetlands vital to ducks, geese, and countless other species of wildlife," said Jeff Jones in a release; he's Chene's co-founder and chief product officer.
"We want to support this crucial mission by giving a portion of every wader we sell back to these special animals," he added.
Not only is Chene purchasing federal waterfowl stamps for customers who purchase their waders, but they're also encouraging them to purchase a stamp for someone else to bolster the pay-it-forward spirit and continue to support the conservation of the birds they love to hunt.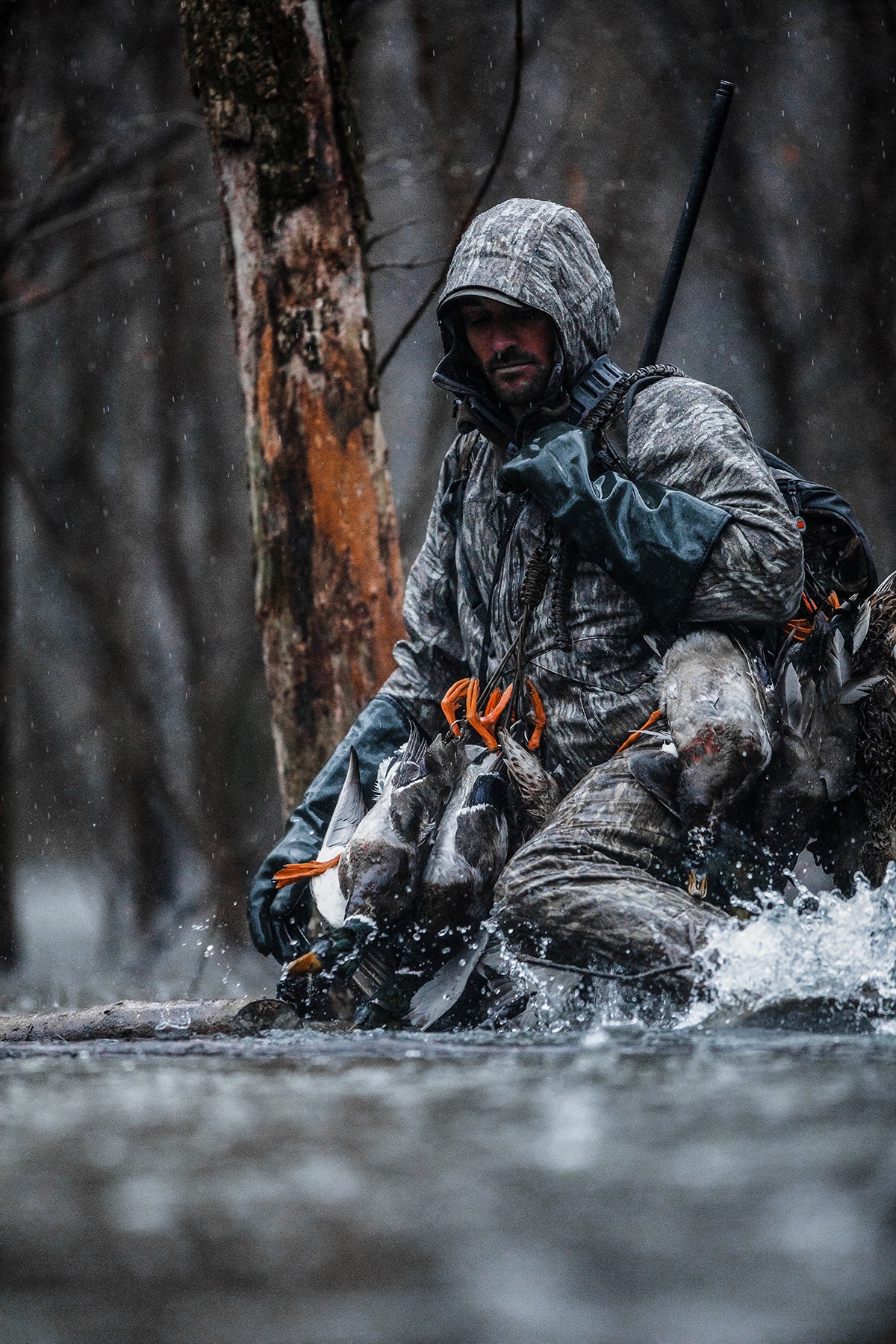 RELATED – Bear Attacks, Bear Hunting, Bear Brats, we've got it all right here!
---
Chene Gear's Mission: A Wader That Doesn't Leak, Plain and Simple
Chene Gear was created based on the idea of subverting the premise that "all waders leak" and it was founded by diehard waterfowlers who were tired of spending their hard-earned money on waders that did not perform their basic function, keeping them dry. The Chene founders are not what you'd call casual duck hunters. These men live in their waders. When they aren't hunting, they spend the offseason improving habitat and participating in conservation efforts. In the fall, they're still in their waders, reaping the fruits of their labor both on their home turf and across North America.
Chēne is the French word for Oak. The name was chosen to pay homage to their hunting roots and the famed waterfowl hunting history of Arkansas' flooded oak bottoms.
"We wanted the brand's name to represent our roots, and Arkansas' rich waterfowl hunting heritage since our experience in this special part of the country is what drove us to start the company," Jones said.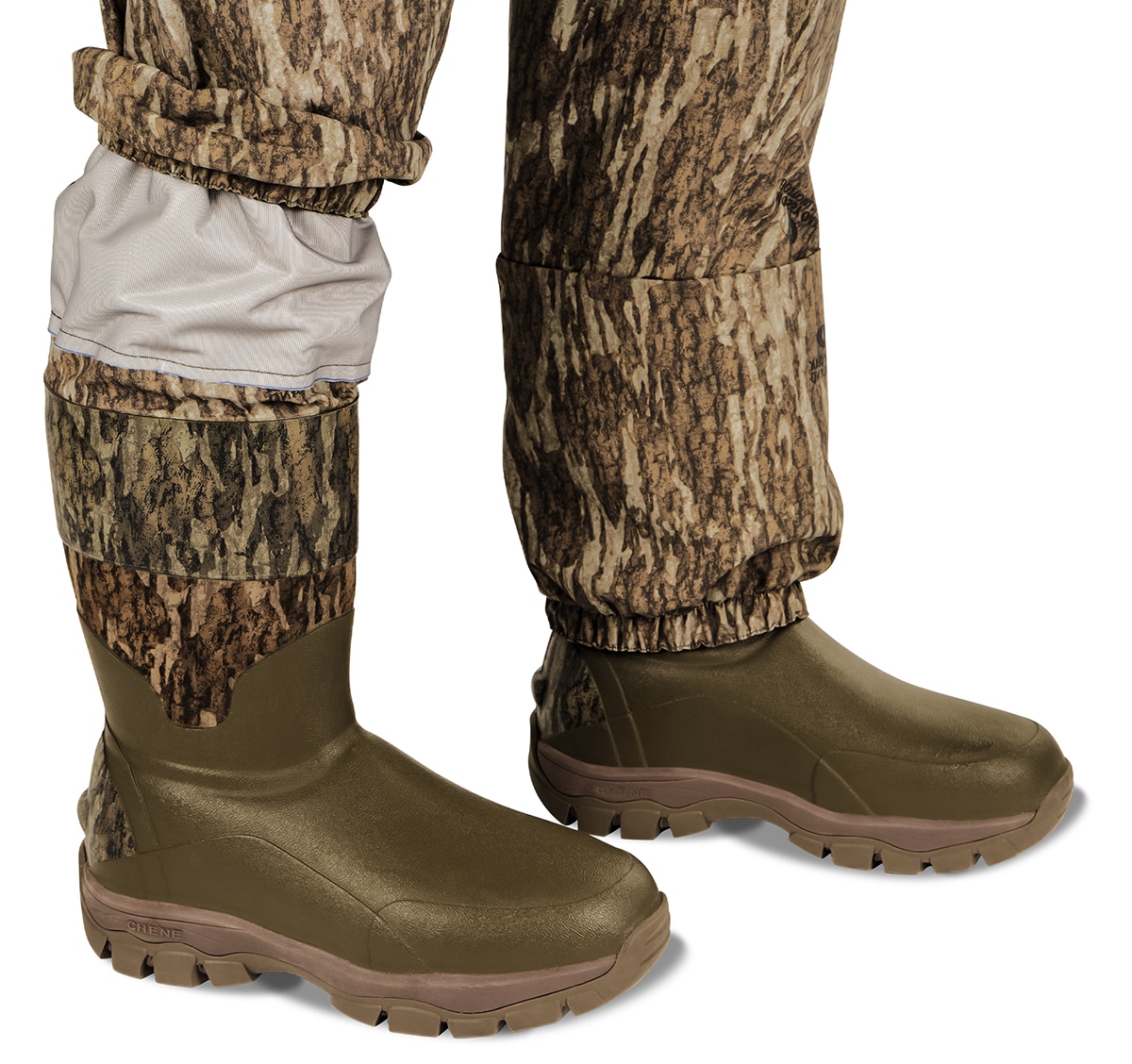 After years of product testing, Chene officially opened its doors with the launch of the Chene Gear Wader, their flagship product, in July 2021 (MSRP: $1,100).
After only a year, the company has some pretty heavy hitters in the waterfowling world giving testimonials as to the quality of their product. You'll see names like Rob Kinney, a professional photographer who specializes in waterfowl, Spencer Halford, owner of Rolling Thunder Game Calls, and many others in Chene's Behind The Waders video series.
But the waders were just the start for this up-and-coming waterfowl gear company. The folks at Chene are taking their desire to make better waterfowl gear to the next level. In July 2022, Chene Gear announced the launch of some pretty sweet-looking items, including The Sixty Series 1/2 Zip Hoodie, a Scout Vest, the Chene Over-And Under-Jacket, and more. But let's take a look at the product that started it all, the Chene Waders:
In an effort to build a better wader, Chene completely reimagined how waders are made. The process began with the selection of a premium waterproof 4-layer nylon fabric instead of polyester. Waders are most commonly made from a three-layer polyester or neoprene fabric.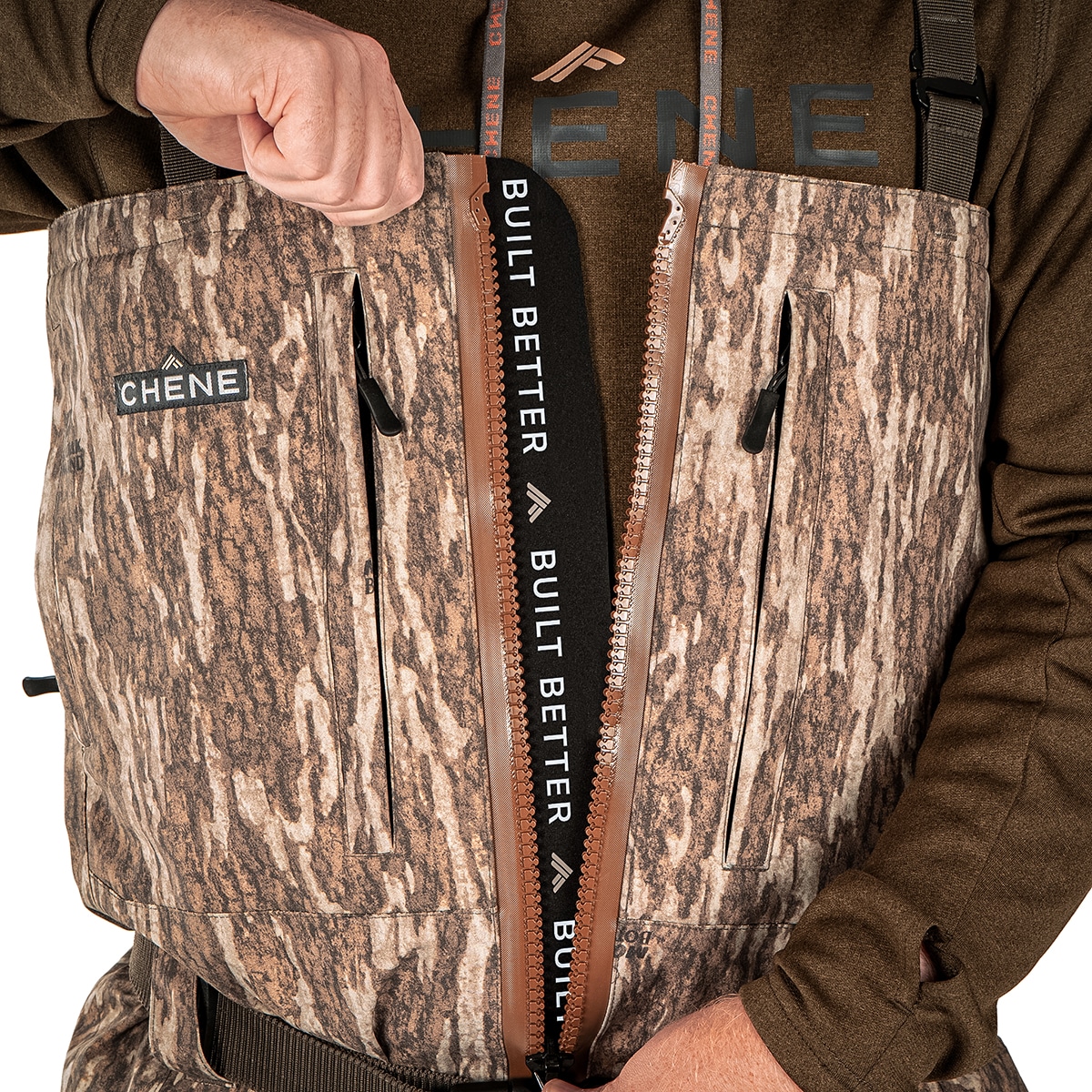 Nylon has proven to be more durable than polyester, but when you're talking about breathable waders, there's never a way to make them bulletproof. The seams are usually one of the first things to fail on any piece of clothing, and waders are no different. Many waders have stitched-and-taped seams, and stitching means making thousands of tiny holes in the fabric, and holes, no matter how tiny, aren't good for waterproofing.
Chene Gear uses a stitchless process called mechanical bonding to make its waders. The process forms a waterproof seal, and then the seams are taped to serve as a secondary waterproofing measure.
Chene's waders also feature a front YKK Aquaseal zipper for easy donning and doffing, adjustable shoulder straps, and a custom boot design with an EVA midsole for comfort. According to their website, Chene, of course, can't guarantee its product will never fail — over time, softgoods degrade — but they do guarantee a superior customer service experience if you need to reach out to them about any product issues. The gear is also backed by a limited lifetime warranty.
If you're looking at upgrading some of your gear for 2022, Chene Gear is worth considering.
---
READ NEXT – Gun and Ammo Sales Bring In $300M for Wildlife Conservation