Beretta 1301 Tactical
Beretta M9A4
CMMG Banshee MkGs
Colt Python 3-Inch
Mossberg 940 Pro Tactical
GLOCK G20
SIG Sauer MPX K
SIG Sauer P320
Criminals are getting bolder and more violent every passing day. This volatile combination, coupled with a rise in home invasions, has most of us asking, "What should I use to defend my home?" Whether you believe it could happen to you or not, most can agree that it's better to be prepared and not have to use it, than to be caught empty-handed. If a day does come when you need to defend yourself and your loved ones, you'll want to grab more than a baseball bat — you'll want the best home defense gun possible. So we've made this list.

Of course, the "best home defense gun" is the firearm you and the members of your household can shoot the best and maneuver easily inside the home. If you're choosing from scratch, start by narrowing down the type of firearm you want to use for home defense: a shotgun, a handgun, or a pistol-caliber carbine, which are all excellent choices. The merits of one over another can be debated until the ATF decides to stop changing their definitions at random, which likely won't be anytime soon.
Gravitate toward what you feel is the most comfortable and confident shooting. No matter what you choose, make sure it is going to be something you can operate under high stress. If you share a home with other adults who have access to a home defense gun, check with them to ensure they know how to properly use the firearm in the event you are unavailable or become incapacitated.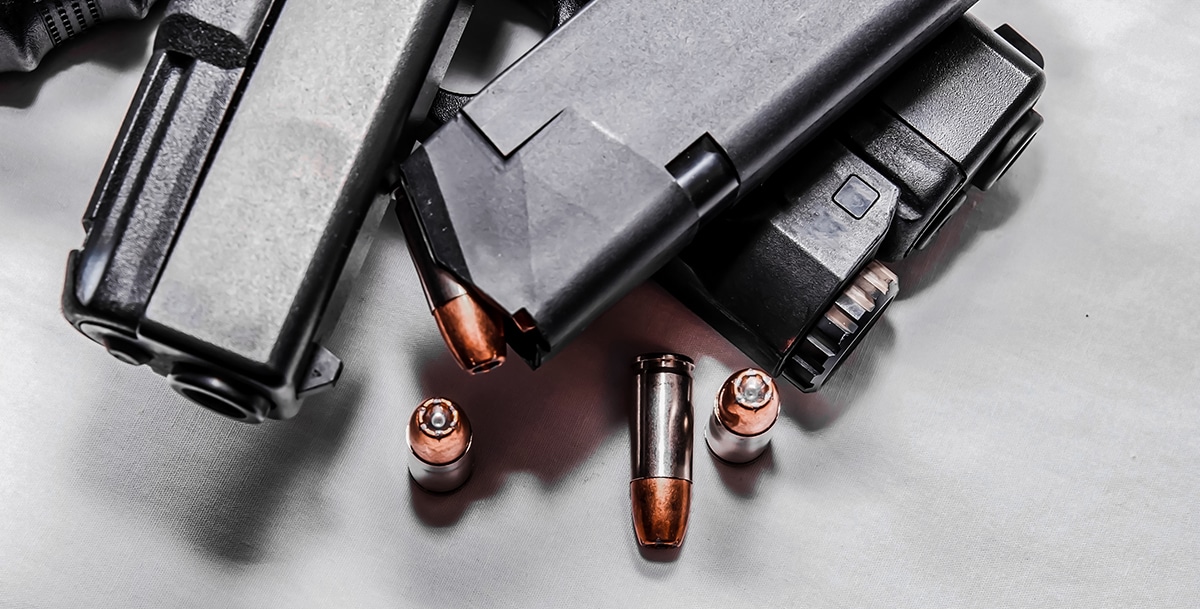 Remember, as a responsible gun owner, one of the first rules you learn is to know your target and what's beyond it. In a home defense situation, this is paramount, just as it is in the field. Also, think about how far you are likely to shoot in a home defense situation.
For people who live in the country with acres of open land, watching over the homestead with a .223 for predators and pests (four-legged and two-legged) or a .308 rifle can make perfect sense. Using these rounds or a similar caliber in an apartment scenario where you may share walls with up to three households makes you a bigger threat to your neighbors than the intruder in your home. Even in a neighborhood, a glass window or a few inches of drywall and vinyl siding and the 20-foot distance to the next home in the development isn't going to stop a .308.
When living near others like most of us do, opting for a round like a 9mm, 10mm, .357 mag, or a 12-gauge shotgun will greatly reduce the risk of overpenetration. Just don't go to the other extreme and count on a .22 — you still want to have the ability to put your intended target down.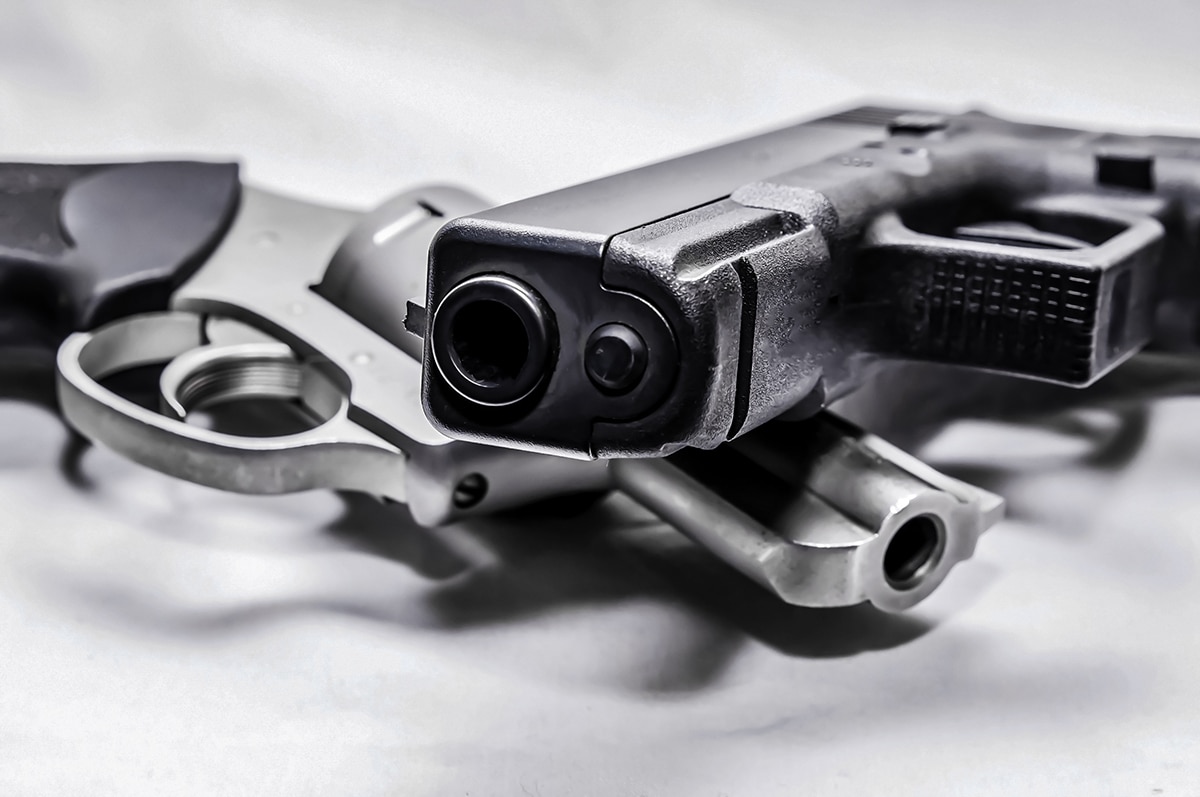 Once you've chosen your firearm, consider your defensive light source. Most home defense encounters happen at night, and to be able to positively ID a target, you have to be able to see it — so this is important. Whether or not your light will be mounted on your firearm may help dictate which gun you choose. If your weapon has the capability, you should mount a quality weapon light on the rail. Relying on an external light source introduces an unnecessary point of failure.
Using a weapon-mounted light means you only have to remember to grab one thing in the heat of the moment, not two; a weapon light also allows you to use a proper two-handed grip if your home defense gun is a pistol. Shooting a handgun accurately under stress is difficult enough — you don't want to have to do it one-handed unnecessarily.
But what about night sights? They're fine and can provide a great sight picture in low-light environments. But in pitch-black or near full darkness, there's no substitution for a weapon light.
With all that in mind, here's a list of the eight best home defense firearms you can get today:
---
MSRP: $1,154

Chambering: 12-gauge
Action: Semi-automatic
Chamber size: 3 inches
Capacity: 7+1
Overall length: 37.5 inches
Barrel length: 18.5 inches
Sights: front fiber-optic sight only
PROS: The 940 comes optics-ready: The top of the receiver is cut for the Shield RMSc pattern, allowing for a low-profile red dot to be attached. The receiver is also drilled and tapped for easy installation of a Picatinny rail. With the preinstalled red fiber-optic front bead sight, optics choices for this gas-operated shotgun are wide open.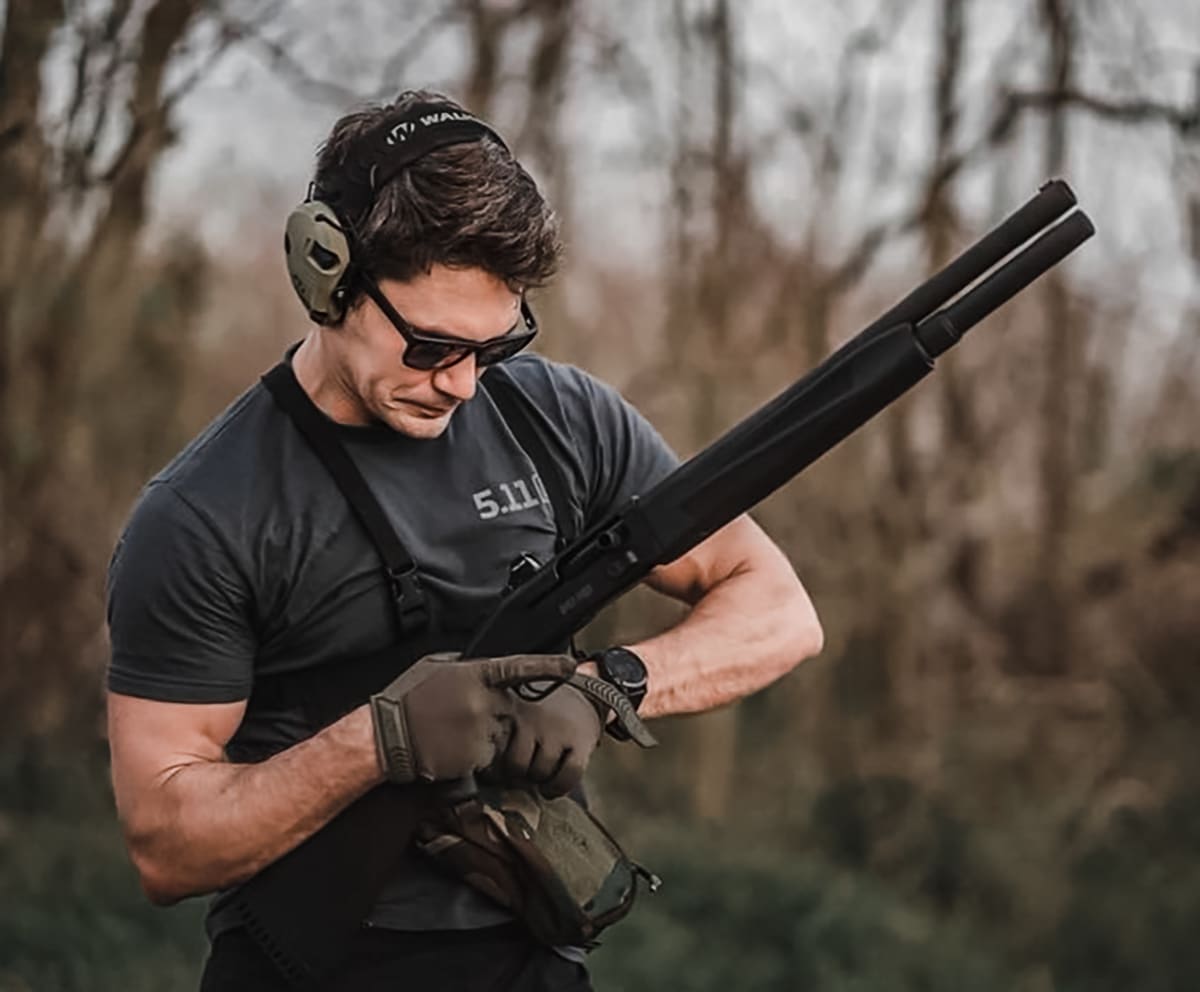 It comes with a barrel clamp with an M-LOK mounting slot on each side, making it easier than ever to install that ever-so-important weapon light. The smooth autoloading gas vent system will let you cycle eight rounds in no time. Thankfully, with the enlarged loading port and beveled loading gate, this shotgun is a breeze to operate and reload in a hurry.
CONS: Just like any other semi-automatic shotgun, the 940 has more moving parts than a pump action, which means more potential points of failure. Also, even if you feel fully capable of using a full-size 12-gauge semi-auto shotgun in a defensive situation, it may be too much gun for others in the household. And you have to be extra cognizant of overpenetration when choosing ammo, which goes for any defensive shotgun.
---
MSRP: $1,1509

Chambering: 12 gauge
Action: Semi-automatic
Chamber size: 3-inch
Capacity: 7+1 (2 3/4-inch), 6+1 (3-inch shells)
Overall length: 37.8 inches
Barrel length: 18.7 inches
Sights: Ghost ring sights/Picatinny rail
PROS: The Blink system utilized in the 1301 Tactical produces an impressive rate of fire, making this an ideal candidate for a home defense situation. The included ghost-ring sights mean the gun is ready to go out of the box, and an integrated Picatinny rail is ready for you to mount your chosen optic.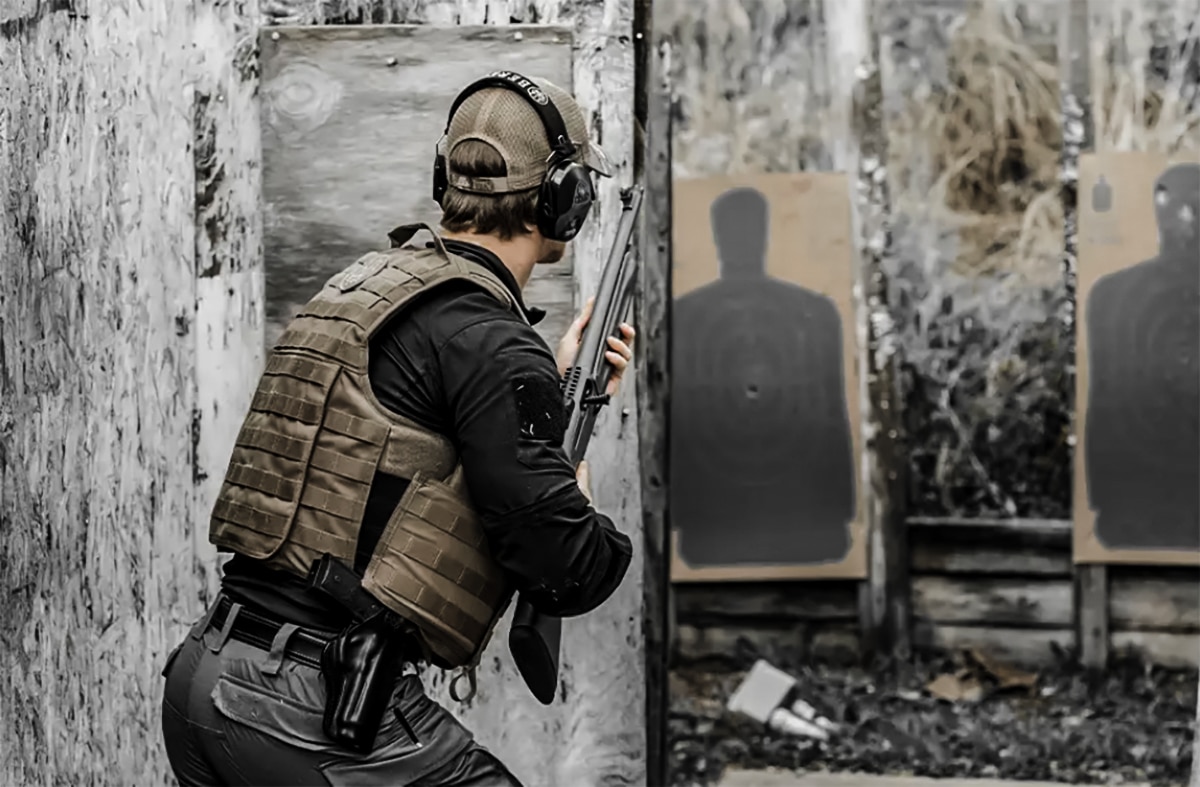 The 1301 has an incredibly healthy aftermarket for parts and upgrades, so you can fine-tune it to meet your needs. The same oversized controls developed for competition shotgunners work great on a tactical gun and mean there's less of a chance of fumbling when fine motor skills get muddy under stress.
CONS: Just like the Mossberg 940, the Beretta 1301 is semi-automatic, and again, that means more things can potentially go wrong than with a simpler pump-action shotty, but it also means you don't have to be mindful of a pump-shoot rhythm under stress. This gun also doesn't like to be dirty, and failure to perform routine maintenance can lead to feeding and cycling issues.
---
MSRP: $1,500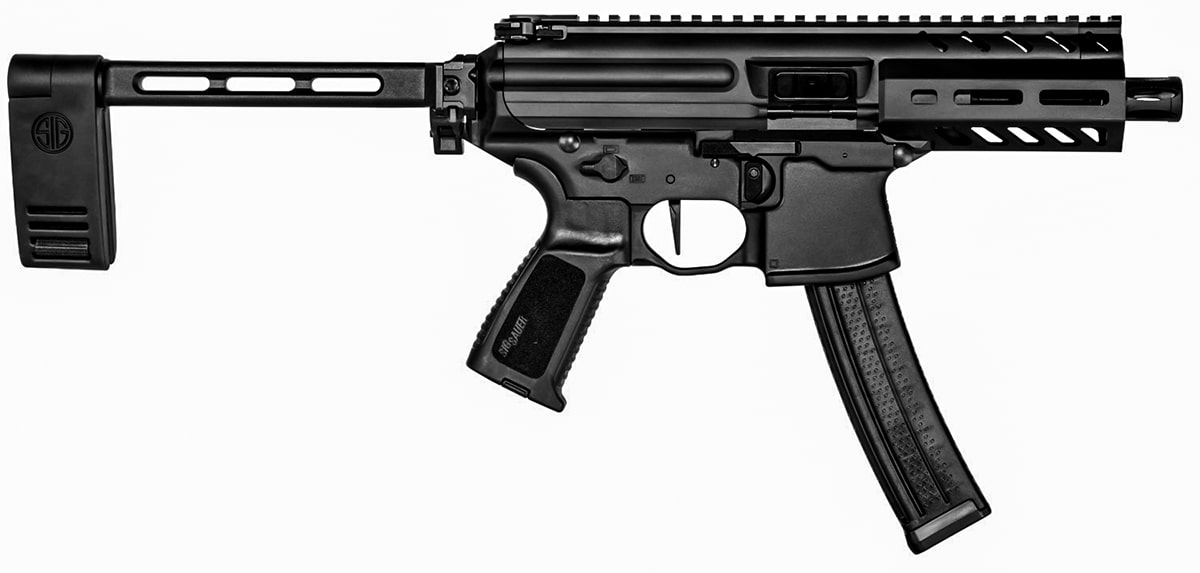 Caliber: 9mm
Action: Semi-automatic
Capacity: 35 rounds
Overall length: 22.25 inches
Barrel length: 4.5 inches
Sights: None, integrated Picatinny rail
PROS: If you're worried about capacity, a pistol caliber carbine (PCC) might be just what you're looking for in a home defense firearm. The MPX K comes with a standard 35-round magazine. Because it utilizes a short-stroke gas piston and a locking rotating bolt instead of a direct blowback system like most PCCs, you can count on the MPX K to be more reliable.
It comes from the factory with a threaded barrel ready and waiting for a suppressor, which is an incredibly important accessory for a home defense gun if it's a possibility. A gunshot in an enclosed room can be absolutely deafening, and the muzzle flash blinding — a quality suppressor greatly mitigates both.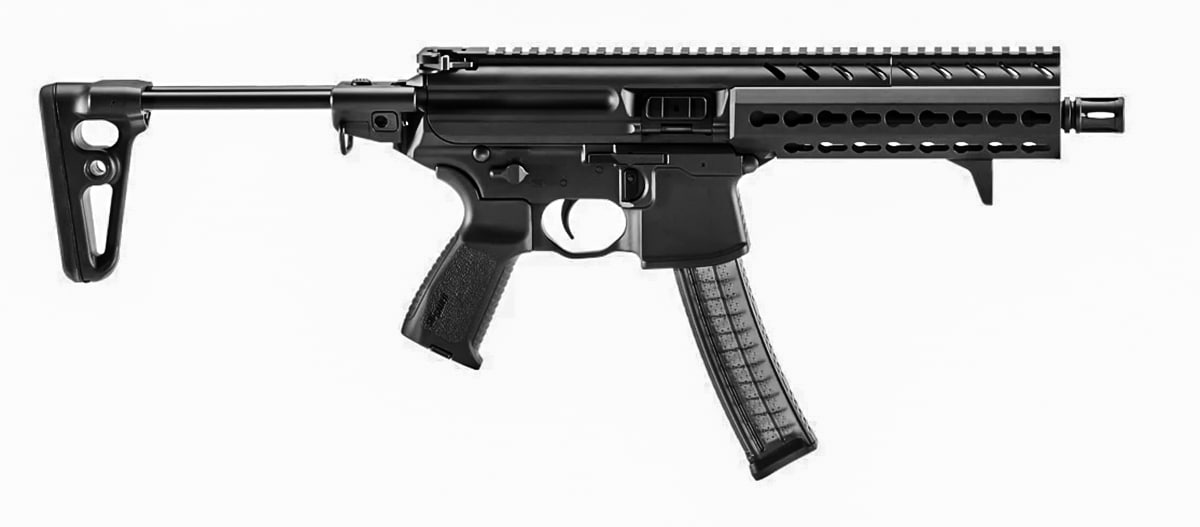 CONS: If you aren't running suppressed, the 4.5-inch barrel makes for one loud gun. When dealing with a home intruder, there won't be time for ear pro. Also consider that most PCCs are not lightweight firearms, even compared to their rifle counterparts, and using a large magazine for more ammo capacity only adds more weight.
---
MSRP: $1749.95

Caliber: 9mm
Action: Semi-automatic
Capacity: 33 rounds
Overall length: 20.8 inches
Barrel length: 5 inches (available in 8-inch variant)
Sights: None, integrated Picatinny rail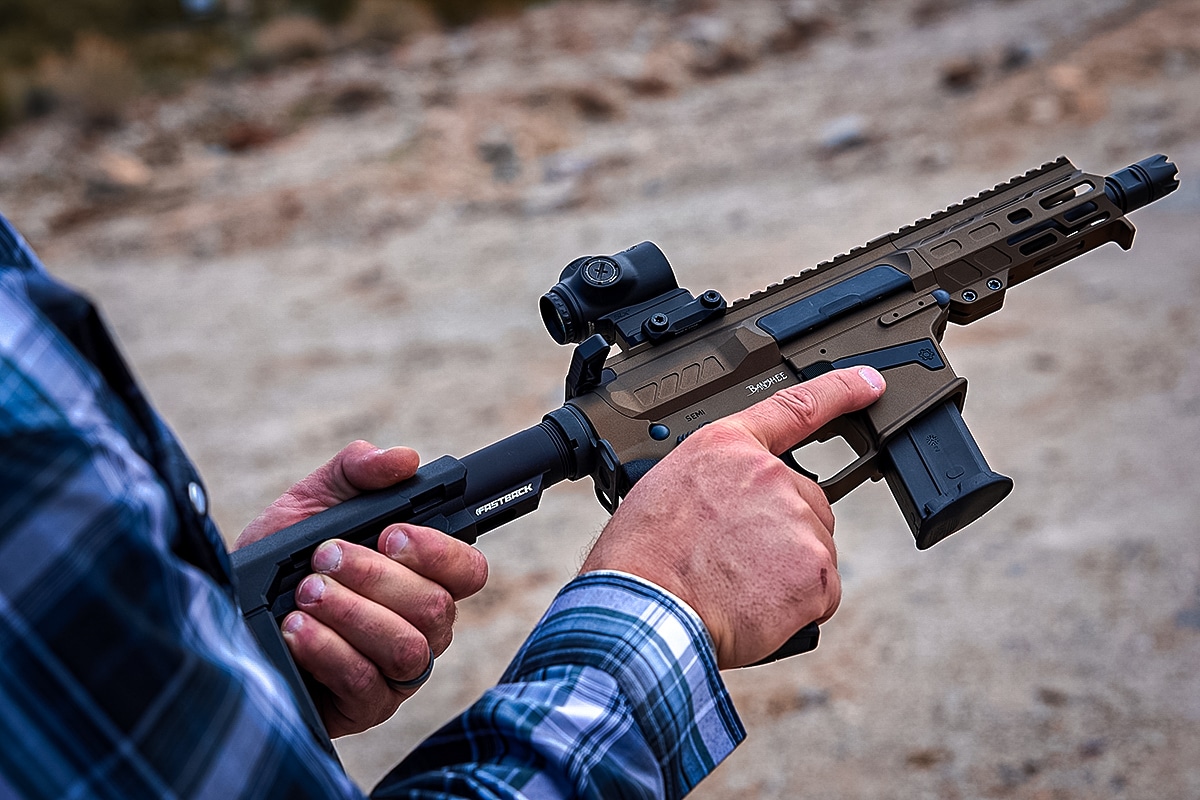 PROS: CMMG has improved on the direct blowback system with its radial delayed blowback system, which results in a lighter recoil, making this carbine very easy to control. The Banshee is compatible with Glock magazines, making it easy to stock up on plenty of extra mags — you never know how many you'll need. The gun comes stock with a threaded barrel, and it's also optics-ready.
CONS: With the muzzle that just barely clears the handguard, you can run the risk of flagging your own hand if you aren't careful — adding a quality handstop helps mitigates this risk.
---
MSRP: $500 to $750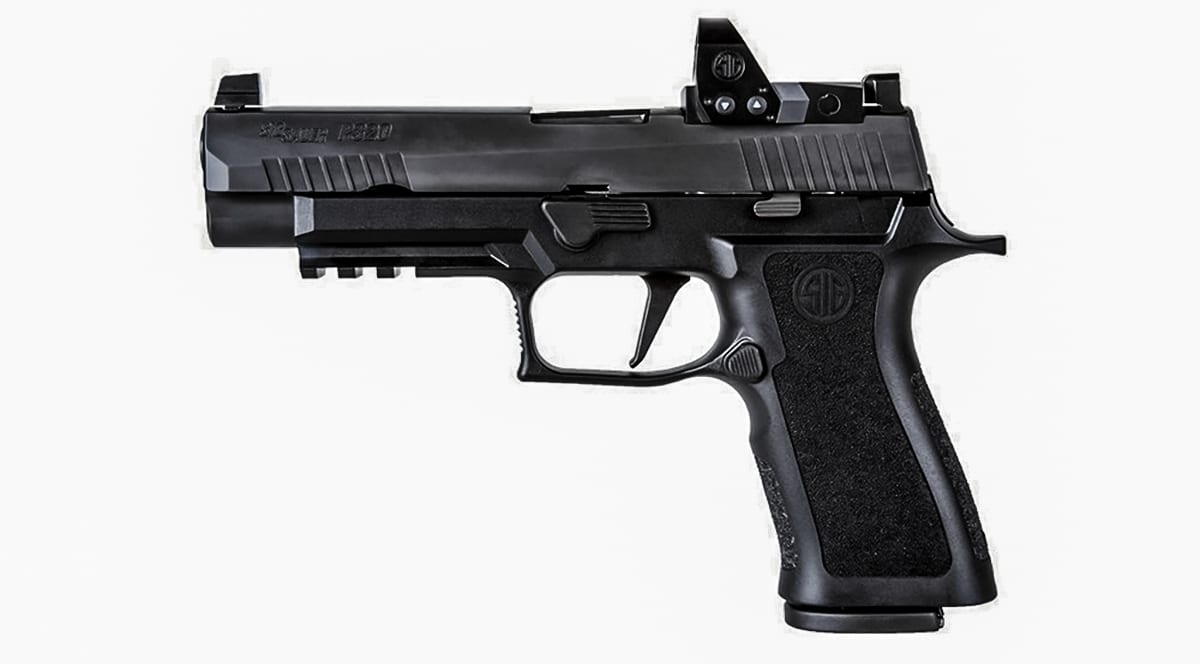 Calibers: 9mm, 10mm, .40 S&W .357 SIG, and .45 ACP
Action: Semi-automatic, striker-fired
Capacity: 17 rounds
Overall length: 8 inches
Barrel length: 4.7 inches
Sights: Fixed night sights
PROS: This striker-fired pistol, which is currently serving in the US military as the M17/M18 handgun, is currently available chambered in 9mm, 10mm, .40 S&W, .357 SIG, or .45 ACP. The P320's claim to fame is its modularity: The barrel, slide, fire control unit (the serialized component), and grip module can be swapped around with ease. Conversion kits and parts are available that allow the P320 to be tailored to just about any fit and duty.
When you have the perfect fit for your hand, the steel mag release drops those mags like nobody's business, and an ambidextrous slide release makes reloads smooth even for lefties. An accessory rail on the frame allows for the attachment of a weapon light even on the most compact configurations.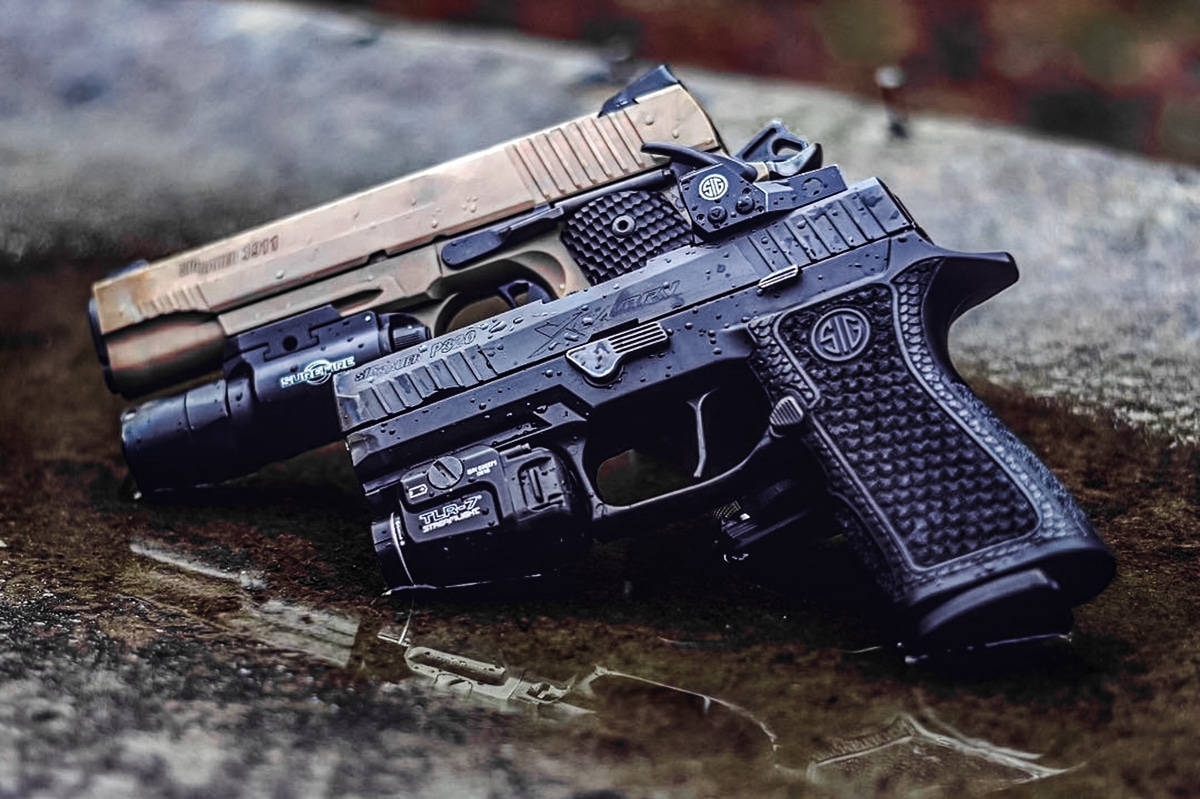 CONS: Some people not only find the modular system convenient but essential. A common complaint is that the factory grip is not ergonomic and awkward — but these days, there are a lot of grip options out there for the P320. As is the case with any handgun, you will have fewer points of contact than offered by a firearm with a stock. This means accuracy is more difficult to achieve, and good pistol shooting is a perishable skill that requires regular practice to maintain.
Also, keep in mind that this is a striker-fired pistol with no manual safety (a thumb safety is an available option on some select models) and no trigger safety. If that's a concern, maybe look to the Beretta on this list.
---
MSRP: $595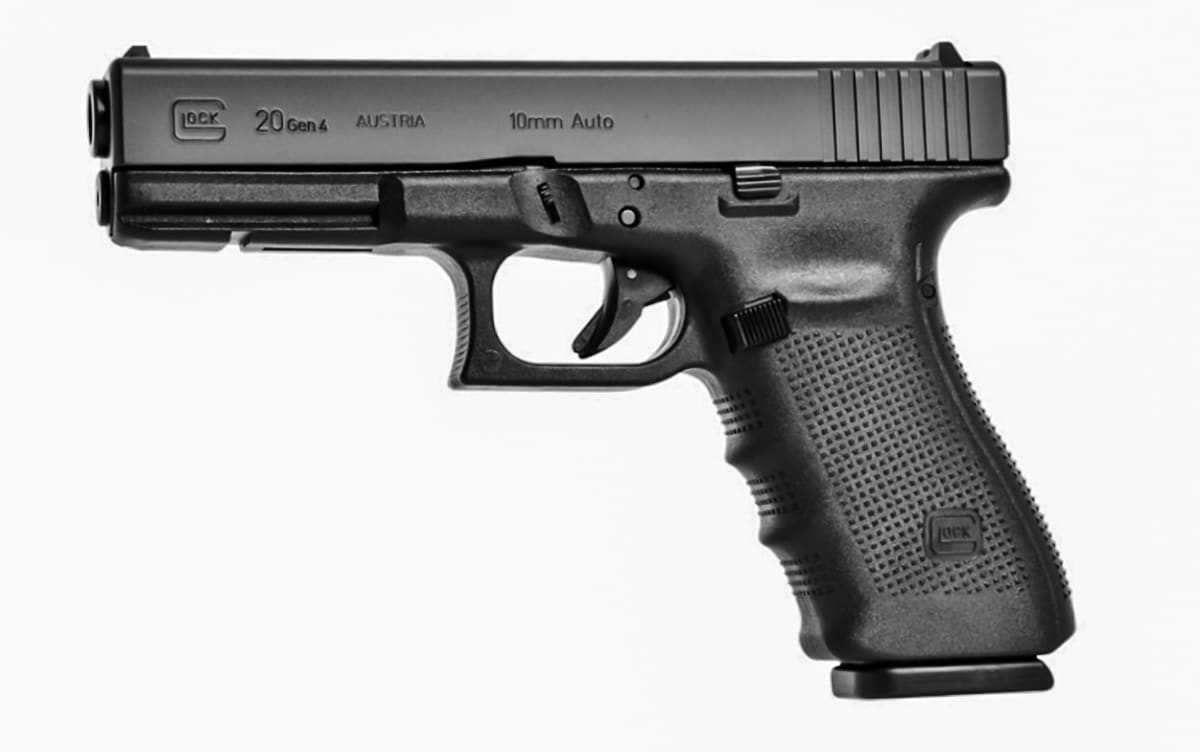 Caliber: 10mm
Action: Semi-automatic, striker-fired
Capacity: 15 rounds
Overall length: 8.07 inches
Barrel length: 4.61 inches
Sights: Fixed 3-dot iron sights
PROS: With the stopping power of the 10mm Auto cartridge and the reliability of Glock, there is no surprise the G20 is an excellent choice for home defense. A handgun's dexterity paired with a 15-round capacity of powerful 10mm ammo make the G20 ideal for getting out of most bad situations. No one has an aftermarket like Glock, making it easy to find any accessories or enhancements for this pistol you can think of.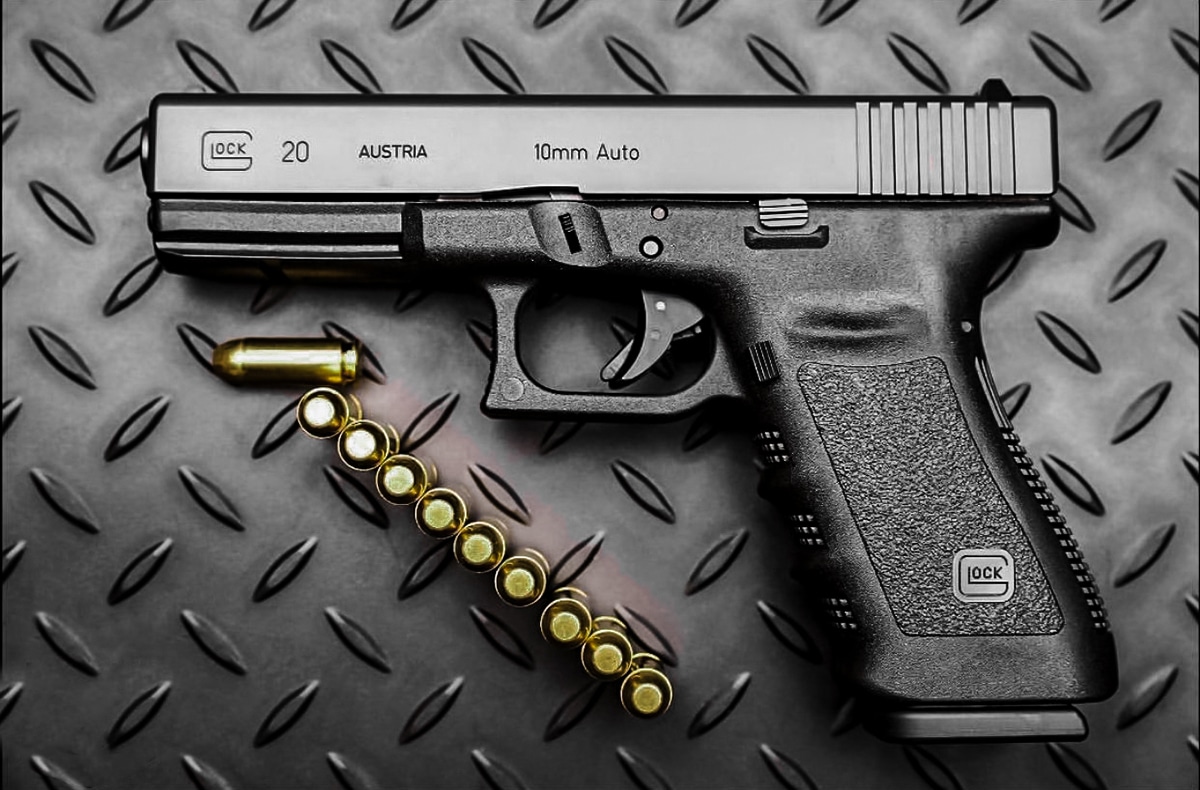 CONS: The lack of a manual safety may not be ideal for beginners. As with any handgun, you give up accuracy with a shorter barrel, which could be an issue for folks with large homes and land. Additionally, the 10mm, especially defensive loads, has a hell of a kick, which also makes it a bad choice for beginners. That hearty recoil and the fact that Glocks have the ergonomics of a blow dryer can lead to delays in getting on target for some without practice. Fortunately, there is a Glock for pretty much any semi-auto handgun chambering.
---
MSRP: $1,499.99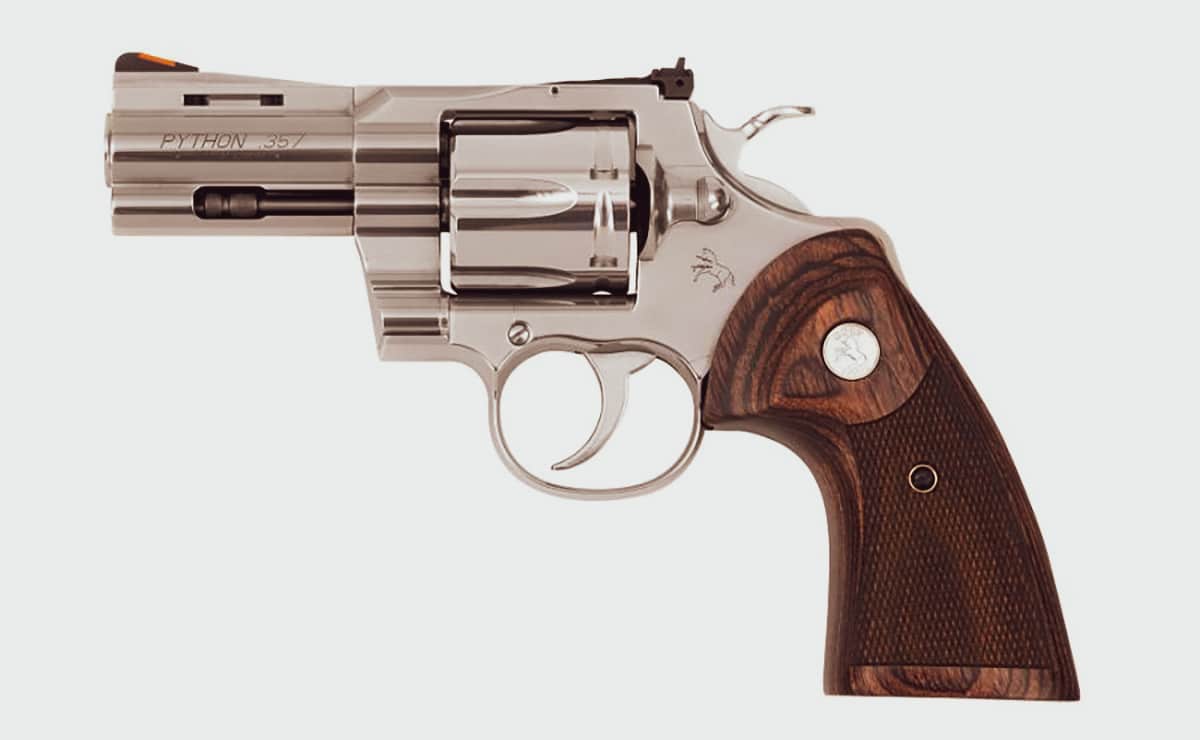 Caliber: .357 Magnum
Action: DA/SA
Capacity: 6 rounds
Overall length: 5.5 inches
Barrel length: 3 inches
Sights: fixed red ramp front sight, adjustable rear sight
PROS: This handgun has almost every con we have talked about. So, why is it still on the list? Because any home invader will seriously regret everything that led them to break into your home when you draw your Colt Python and send a .357 Mag center mass. If you're not one for fancy bells and whistles and all you want in a home defense firearm is reliability and stopping power, the Colt Python was made for you. Its operation is simple and reliable.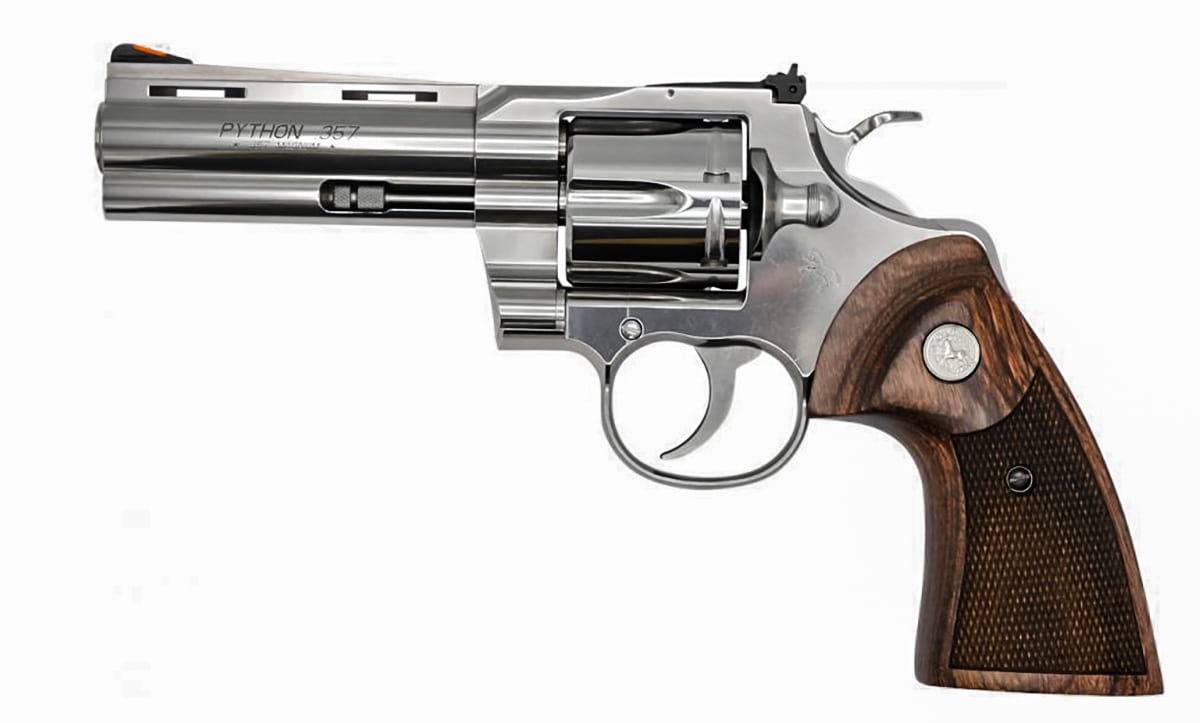 CONS: Unless you have a roll of duct tape, there aren't many options to mount a light to this hand cannon. Capacity is another issue — with only 6 rounds at the ready, you'll want to become proficient and practiced with a speed loader. Those trying to defend large properties will find farther shots difficult with a short 3-inch barrel. Fortunately, Colt makes other Python models with longer barrels.
---
MSRP: $1,129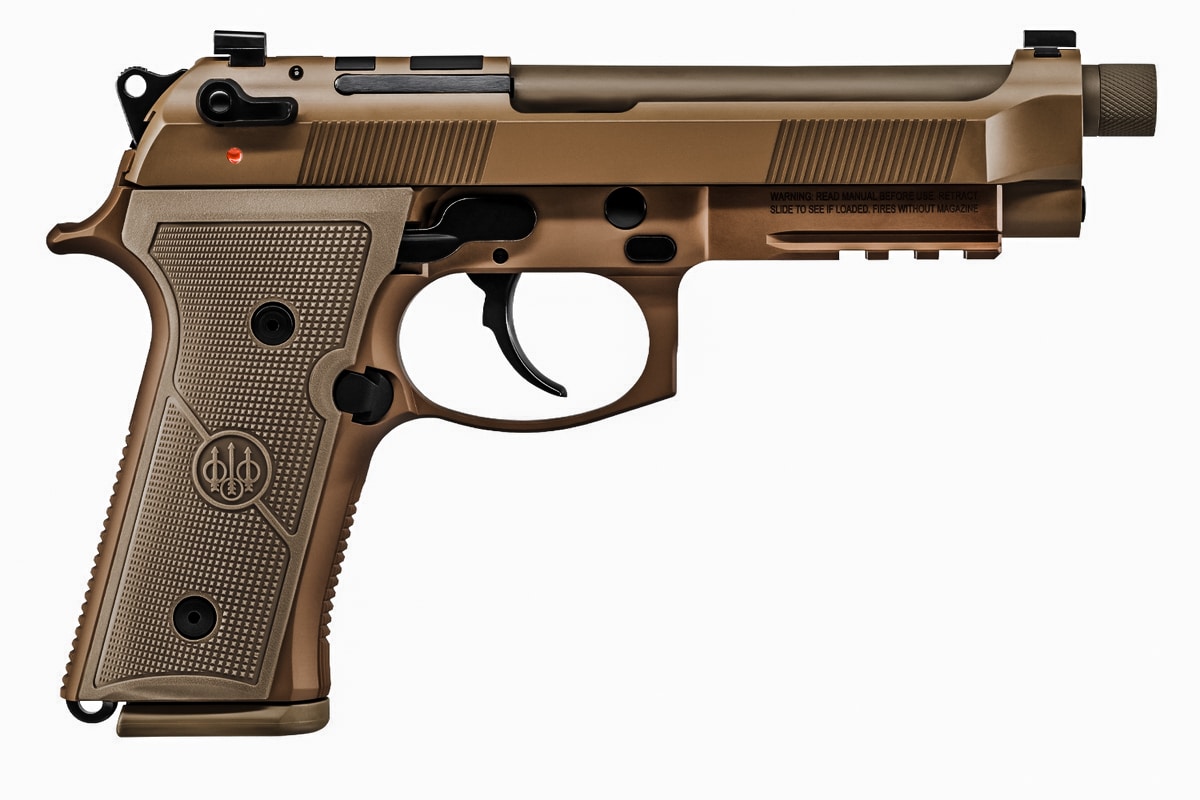 Caliber: 9mm
Action: Semi-automatic, hammer-fired, DA/SA
Capacity: 10, 15, or 18 rounds
Overall length: 8.7 inches
Barrel length: 5.1 inches
Sights: adjustable
PROS: After the Army rejected the M9A3 during its most recent trials for a new handgun (the P320 won that honor), Beretta hit the drawing board and brought the M9A4 to the civilian market — which is essentially a classic 92FS pistol with a host of modern upgrades. The non-tilting threaded barrel is ready for a suppressor out of the box, and the slide is cut to accept mounting plates for popular RMR red-dot sights. Unlike the old military M9, this model has an accessory rail and a desert-tones finish.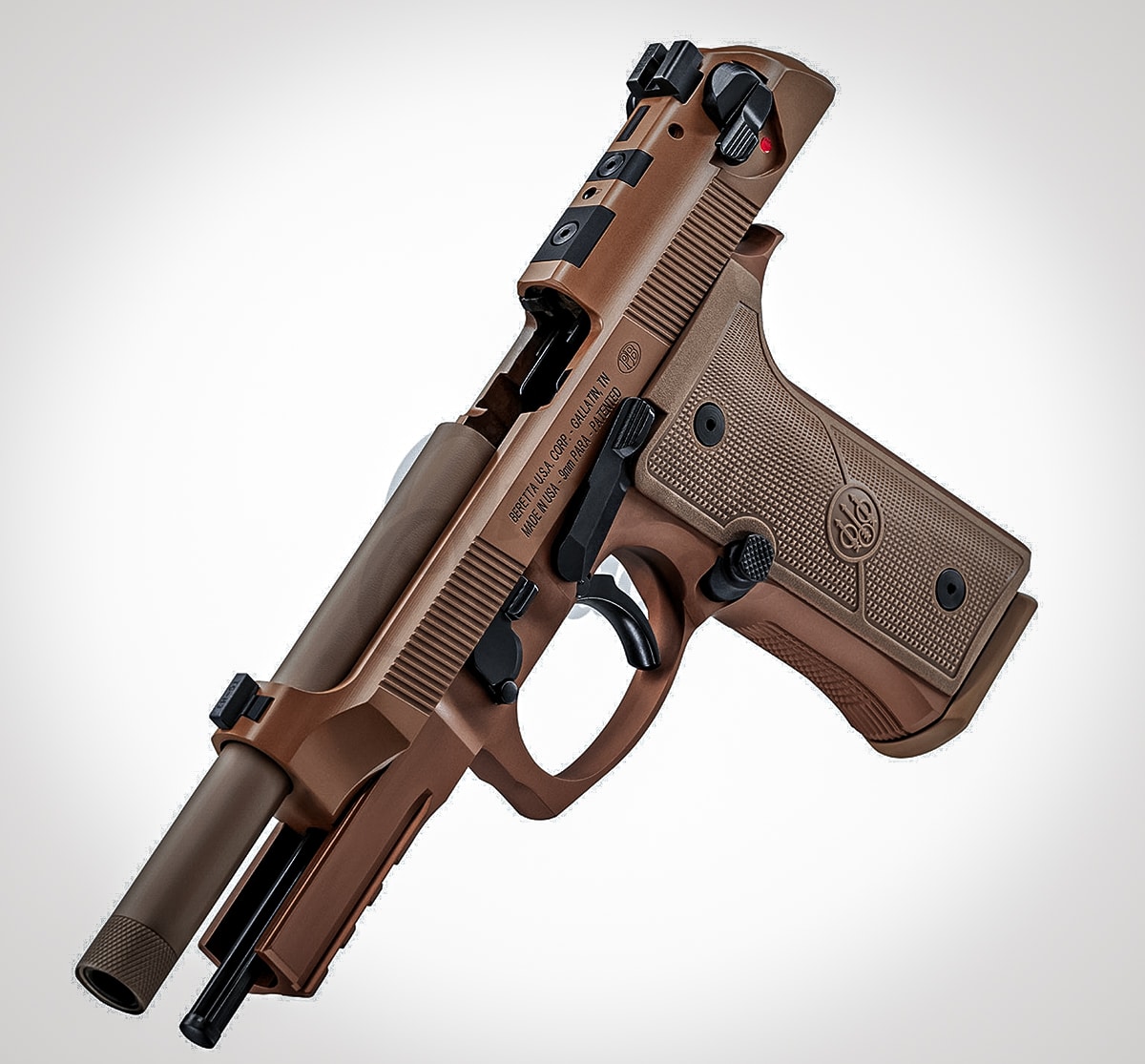 CONS: Optic mounting options for this pistol have your red dot sitting a little too high for some people's tastes. While this pistol does have a manual safety, it's a more European-style slide-mounted safety as opposed to the more common frame-mounted thumb safety. Some people find its push-forward-to-disengage operation difficult.
And since this is a DA/SA pistol, users will have to get used to two trigger pulls, which can be a hindrance for some. If those obstacles are too much to overcome with training, something with a simpler manual of arms, like the Glock 20, might be the best home defense gun for you.
---
READ NEXT – Here Are the Reasons for the National Ammunition Shortage