When it comes to flushing birds, retrieving waterfowl, treeing big cats, or tracking wild game, every hunter has a dog in the fight. Many hunting dog breeds are absolute killers when it comes to the chase that's coursed through their veins for generations.
Running down quarry is their entire existence. Woods and water are their universe. Sound and scent their waypoints. When they hit the field, there is no off switch — and despite their deep, abiding loyalty, you can sense their disappointment when a shot doesn't find its mark.
The truth is that good gun dogs make us better hunters. Another truth: Regardless of our affinities, some are simply more badass than others.
Knowing full well that this list could result in Dick Cheney-esque "friendly" fire, here are eight canines that are undisputed masters of their domain.
Treeing Walker Coonhound
Related: Cold Weather Duck Hunting Gear That Will Keep You Warm and Shooting
There are very few sounds as satisfying as the loud, echoing bugle of a Treeing Walker Coonhound on the trail of a raccoon or something a bit toothier, except for the shorter bark when they've got an animal at bay.
The hound's lineage began in Colonial times as an American foxhound named after its Kentucky-based breeder, John W. Walker. In the 1800s, a stolen dog named Tennessee Lead introduced some southern charm to the breed, and the Treeing Walker was born.
Bred initially for chasing raccoons up trees for hunters to shoot, the hound's strong tracking instincts made it popular for more than treeing trash pandas. Hunters quickly found that they were just as capable of running down bobcats, cougars, and bears. They also had a knack for grabbing squirrels, black rats, opossums, and skunks.
Although the Treeing Walker is best known as a coonhound, it has a leg up on its cousins when it comes to tracking. The TW is hot-nosed, whereas other coonhounds are cold-nosed; that means it can tell the difference between a fresh track and a cold track and will follow the fresh one, leading the hunter to the promised land.
As much as they're built for endurance, they're also built to occupy a whole lot of your couch if you're not paying attention.
Chesapeake Bay Retriever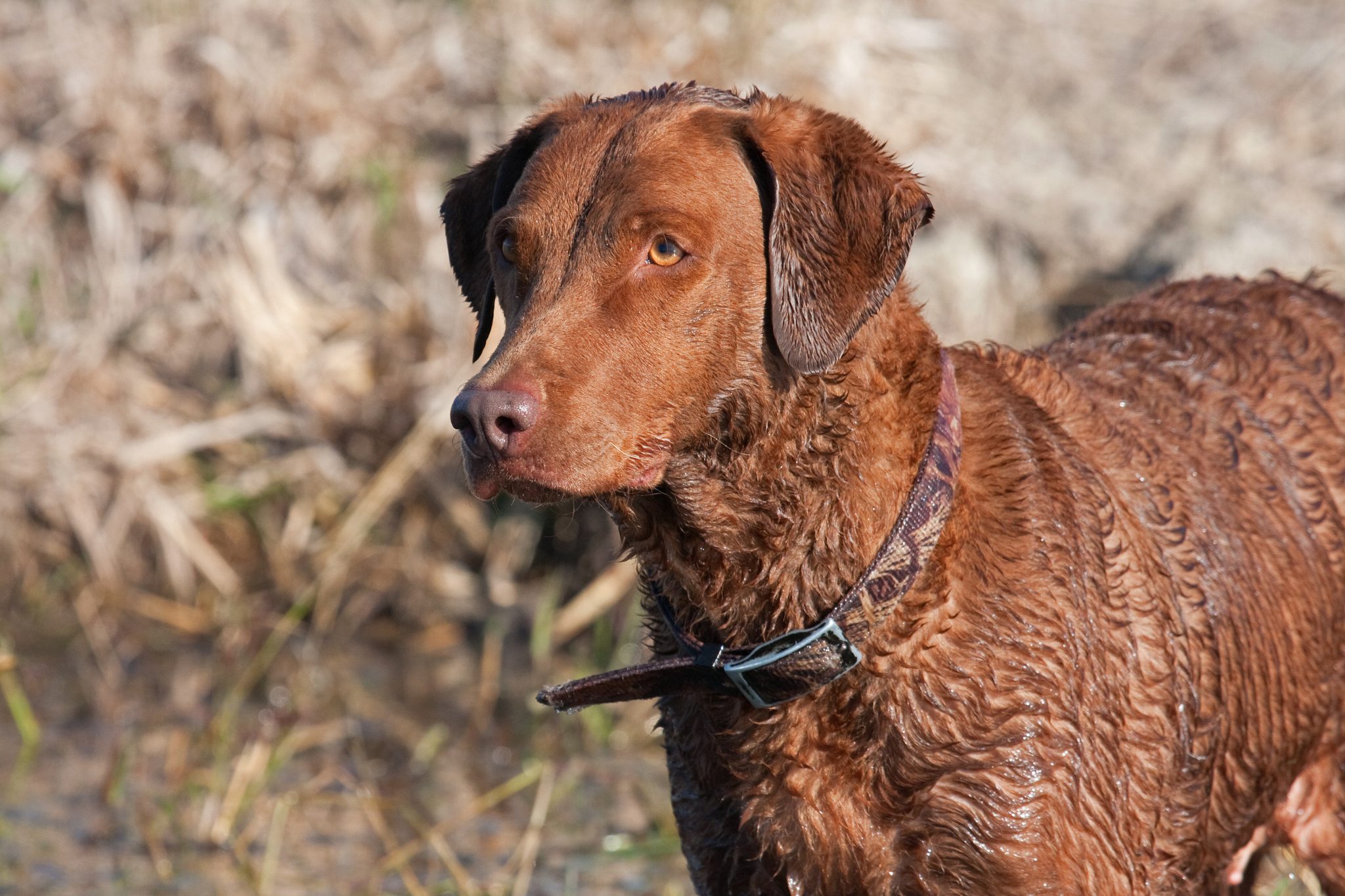 Related: Upland Hunting Starter Kit: The Gun, Boots, Vest, and Skills You Need
Two Lesser Newfoundland dogs, aka St. John's water dogs, were rescued from a sinking English ship off the mid-Atlantic coast in 1807. The two dogs made their way to new homes in Maryland and were eventually bred with highly favored local hunting dogs, including Irish water spaniels and hounds, laying the foundation for the Chesapeake Bay retriever breed.
"Chessies" are rugged, powerful gun dogs with yellow-amber eyes that have earned a reputation for being fearless while duck hunting in the rough, icy waters off the Maryland coast. Their coats have two layers: The outer layer is thick, wavy, and oily to repel water with a softer under-layer built for insulation. It's like they're made of Gore-Tex and have Zippo hand warmers burning in their guts, so they'll most definitely outlast you in lousy weather.
Declared the official dog of Maryland in 1964, the Chesapeake Bay retriever is a highly intelligent, loyal, and driven hunting dog that is just as comfortable in the field flushing upland birds as it is grabbing ducks in the water or stinking up the extra-cab of your truck.
Jack Russel Terrier
Related: Waterfowl Starter Kit: Everything You Need to Slay Ducks and Geese
Any dog that's willing to barrel its ass into an underground burrow after a fox, badger, marmot, or raccoon without so much as a break in its stride is a fucking beast.
Jack Russell terriers were bred specifically for hunting since the mid-19th century. Rev. John Russell, the breed's "father," was an avid fox hunter and saw the need for a small, agile, fearless dog that will chase the critters underground and flush them out in the open. They've even been used to retrieve waterfowl and have chased off bears.
In addition to having the right stature and attitude for the job, they have the stamina to chase prey until the job is done and then chase five or 10 more after that. Unfortunately, that tenacity can bite them in the ass. There have been cases of Jack Russell's staying in burrows for days chasing their prey. Unfortunately, lack of food and water could ultimately lead them to extreme exhaustion and death.
The more likely scenario is the dog popping out for some more ass-kicking.
German Shorthaired Pointer
Related: Banded Birds: Why Leg Bands Are More Than Mere Hunting Trophies
There are three things Germany is driven to make really well: cars, fest beer, and hunting dogs.
Their hunting dog quest began in the mid-1800s. German breeders wanted to create the finest, most versatile gun dog ever. It had to be proficient at hunting all upland game birds and waterfowl species, plus all small game animals. Plus, the superior canid also needed the innate ability to scent-track big game and hunt down and kill predators like foxes and feral cats.
Bred to be an instinctive and masterful hunting jack-of-all-trades, German shorthaired pointers point and retrieve, are fantastic with small game, and have been run for some big game, like deer.
Of course, when the breed came to the US, it joined an already killer line-up of hunting dogs that were largely specialists, so the original emphasis on wide-ranging versatility evolved to focus more closely on gamebirds.
With their short, flat coat and dense undercoat protected by stiff guard hairs, GSPs shed water and stayed warm, making them an ideal dog in the field, thick brush, or on the water.
Of course, they're also crazy-affectionate balls of unbridled energy and personality as soon as they're off the clock. Or until they're, like, 5 years old.
Rhodesian Ridgeback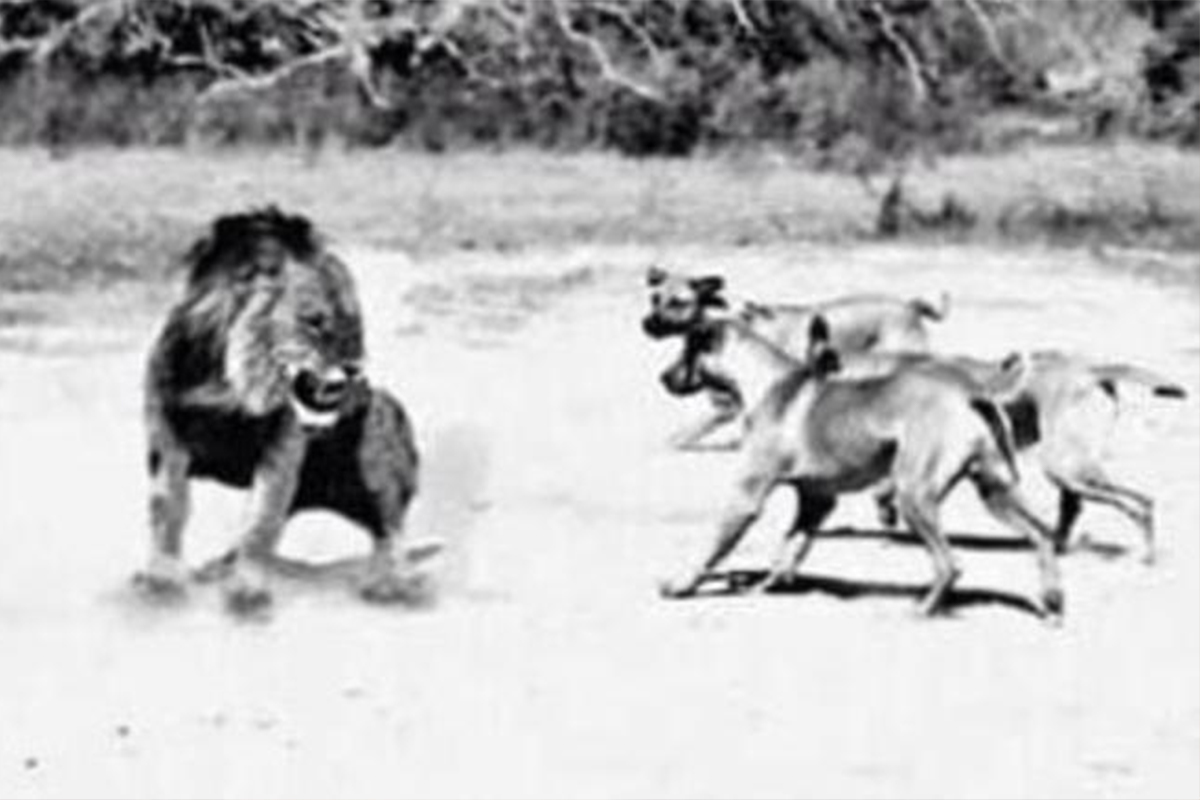 Related: No Fences: Hunting Lions in Tanzania
When Boers (Dutch and Huguenot settlers in southern Africa) established a port at the Cape of Good Hope in South Africa in the 1600s, they heard stories of a local dog breed with a ridge up its back that hunted African predators — even lions.
As the Boers settled further into the continent, bringing their own breeds of dog with them — mastiffs, Great Danes, and bloodhounds — they found that their dogs weren't worth a damn in the African heat. So, they started crossbreeding them with the region's tough, hardy ridgebacked dogs (then Rhodesia, now Zimbabwe).
They became the hunting dog of choice and further cemented their reputation as lion dogs.
Full disclosure: Ridgebacks have never killed a lion.
They were strong enough and had the endurance to last through long, grueling hunts and still had the agility to hold down a lion without getting slashed by its claws. They circled and lunged and disoriented the lion before grabbing and holding it in place until the hunter could get a shot.
While intelligent and absolutely trainable, the Rhodesian Ridgeback is a strong-willed, independent breed that still has that predator drive. Their stamina makes them great for pointing and retrieving and also running down hogs. If you're thinking of sending them for ducks on the pond, you'll get to know that strong-willed side mighty quick. They don't dig water.
Pit Bull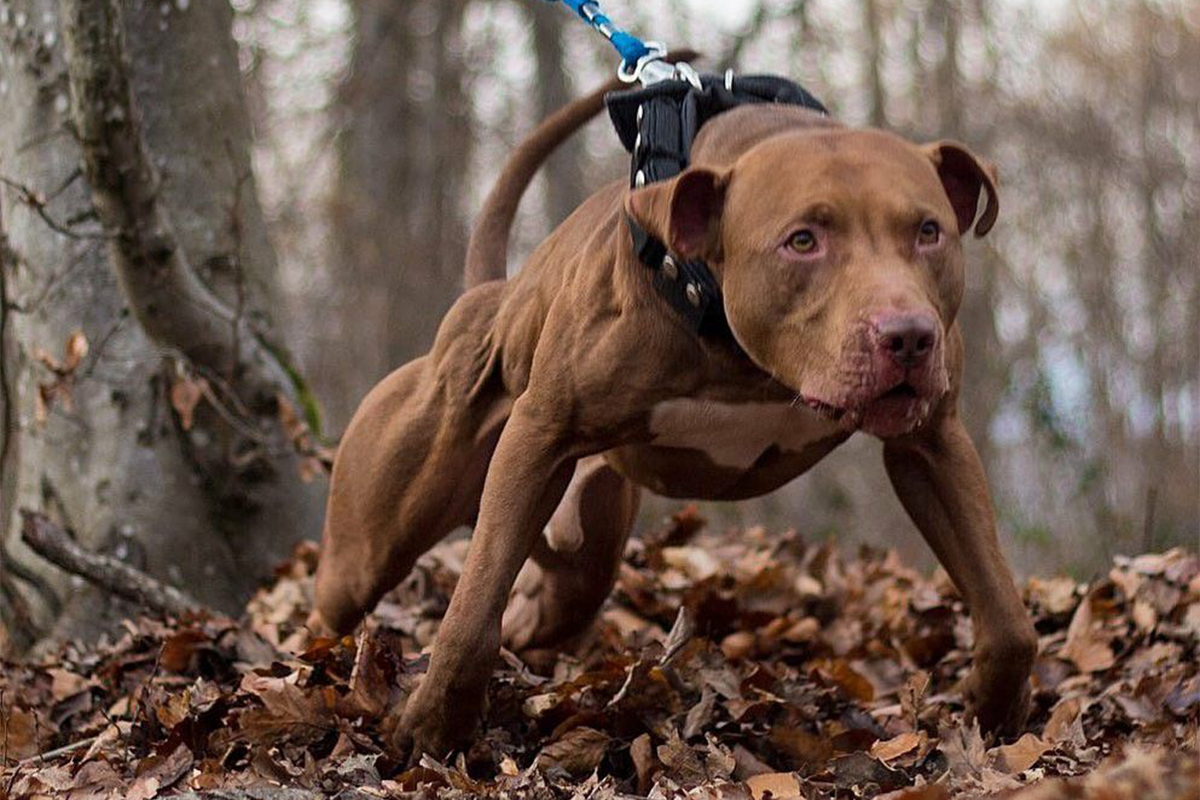 Related: Hunt All Year: Only Newbies and the Gainfully Employed Take a Month Off
Pit bulls are like Mike Tyson back in the 1980s — the breed is pretty much a lock to win out in most any fight.
Pitties are 100 pounds of muscle stuffed into a 60-pound bag. They're fast, tough to hit, tougher to injure, and they know how to use every ounce of ass in a scrap.
Hunters have used pit bulls as "bay" dogs and "catch" dogs to run feral pigs since the early 1900s, using them in efforts to put an end to an invasive species that destroys land, ruins crops, and spreads diseases.
They track down, chase, and corner a hog when they're trained to bay. They then circle the animal until the hunter gets a shot. As catch dogs, they put all that muscle and jaw strength to work, physically holding the hog in place for the hunter to kill.
In either case, they're relentlessly effective.
Labrador Retriever
Related: Off Script Q&A With Lee Kjos: Outdoor Photographer, Waterfowl Legend
For waterfowlers and upland hunters who have themselves wrapped around the axle by this point, of course, labs are on this list.
Whether American or English, Labradors are about as iconic as hunting dogs get. Fittingly, the Brits breed their dogs to have better manners and remain calm and quiet in the field. The American breed leans more towards high-energy, full-bore performance.
Labradors are the quintessential bird dog — they flush and retrieve ducks, geese, quail, and pheasants. But they're truly built to be water dogs.
They have a thick, muscular "otter tail," which acts as a rudder in the water to help them steer, and they have webbing between their toes that make them strong swimmers. Like their Chessie cousins, they have a thick double coat that sheds water and insulates them from the cold. Plus, their intelligence and trainability are off the charts, and they have a bottomless well of energy that no number of birds raining down on open water can exhaust.
One other attribute of the breed is their desire to find, but not kill, prey. They live for bringing wounded or dead game back to their hunter in the same shape they found it, which is how they became known to have "soft mouths."
Labs are driven but gentle in their mission to retrieve game. However, the one thing they won't let go of is your heart.
African Hunting Dog
Related: Mississippi Duck Hunting Victory: Public Land Buffer Zone Rejected
When it comes to prey drive, endurance, intelligence, brute strength, and sheer guts, African hunting dogs are at the top of the heap — and unfortunately, you'll never own one.
Some may call bullshit at their inclusion on this list because, unlike Ridgebacks, African hunting dogs are 100% wild and have never been domesticated — but these dogs are the real deal, even without an owner.
They are the largest wild canines, and they stick together in close-knit packs of two to 27 members, including pups. One of the most efficient big game killers on the continent (they have a 60% – 90% success rate), their game of choice is the greater kudu, Thomson's gazelle, impala, bushbuck, and blue wildebeest. Not even lions (27% – 30%), hyenas (25% – 30%), or grey wolves (14%) come close.
How they put up those kinds of numbers is the baller part, though. The dogs tailor their hunting approach to each animal species. They hunt with the deadly discipline of a Brady-led Patriots offense by communicating with sneezes (yes, sneezes), body language, and an ESP-like sense of timing.
They've been documented using a "skirmish" technique, a "trap" approach, and a perfectly-paced "charge" to take down their prey. These well-executed, predetermined "plays" combined with speeds of up to 41 mph for 10 to 60 minutes in the African heat would leave pretty much any other game-chasing hound shaking its head and looking for some shade.
Read Next: Ducks and Coffee: Three Days in Oklahoma With FowlCo Outfitters