Summer is coming. The sun is out. Temperatures are rising along with gas prices. Millions of Americans will soon hit the road, spinning the wheels on the family truckster, and looking for adventure — or just an affordable vacation.
Road trips are an American tradition, but traveling considerable distances always has been dangerous. These are some of the absolute best and most horrifying circumstances Hollywood has ever thrown at fictional road-trippers. We recommend you don't watch them before embarking on a big summer trip.
10. House of 1000 Corpses (2003)
THE DEATH OF DWIGHT SCHRUTE
Directed by: Rob Zombie
Starring: Sig Haig, Bill Moseley, Sheri Moon Zombie, Karen Black, Rainn Wilson, Chris Hardwick
Rob Zombie took all the grindhouse cinema and late night B-movie weirdness rattling around in his head and injected it into this strikingly absurd black comedy road-trip horror movie. Plus, it has Dwight Schrute getting scalped and vivisected.
On Halloween 1977, four friends hit the road hoping to find enough cool shit to cobble together a book about offbeat roadside attractions. One of their destinations is The Museum of Monsters and Madmen run by a literal clown, Captain Spaulding (Haig). After Captain Spaulding sets them to look into a local legend, a parade of bad decisions, mutilations, torture, cannibalism, death, and madness follows.
Lesson Learned: When the creepy clown who sells chicken and murder rides at a gas station tells you to go somewhere in the middle of the night, don't trust him. Oh, and don't pick up hitchhikers.
9. Jeepers Creepers (2001)
GET CURIOUS, GET DEAD
Directed by: Victor Salva
Starring: Gina Philips, Justin Long, Jonathan Breck
This is the one truly supernatural movie on this list, but it features a particularly original monster. Siblings Trish (Phillips) and Darry (Long) are cruising along a country road on the way home for spring break when they're set upon by an aggressive tailgater in an ancient truck. Later, they see the truck's creepy driver throw what looks like a body into a pit. The Creeper gives chase and runs them off the road, and then they go back and investigate the pit! See, that's how you wind up being hunted by a winged creature in a trenchcoat who wants to sew you into his sweet tapestry of body parts.
Lesson Learned: Sometimes, it's just best to stare straight ahead at the road, mind your damn business, and keep on driving.
8. Kalifornia (1993)
YAY, MURDER TOUR!
Directed by: Dominic Sena
Starring: Brad Pitt, Juliette Lewis, David Duchovny, Michelle Forbes
This slow-building chiller is a loose adaptation of the real-life crime spree of Charles Starkweather and Caril Ann Fugate that claimed the lives of 11 people in 1957 and 1958. A New York City writer, Brian (Duchovny), and his photographer girlfriend, Carrie (Forbes), decide to move to Los Angeles, but they're short on cash. So, they plan to gather material and shoot photos at real murder sites for Brian's upcoming book on serial killers while driving cross-country, and they post an ad for a couple to ride along and chip in for gas. Unfortunately, the respondent is the scary, psychotic, but oddly likable Early Grayce (Pitt), who takes them on a murder tour they didn't bargain for.
Lesson Learned: You have to be really fucking broke to spend 40-plus hours in a car with complete strangers for gas money. Save up for a month, and then hit the road, maybe in a rented Prius.
7. The Vanishing (1993)
BUDDY SYSTEM AT ALL TIMES
Directed by: George Sluizer
Starring: Jeff Bridges, Kiefer Sutherland, Sandra Bullock
The scariest thing about this one is the banal possibility of it all. Jeff (Sutherland) and Diane (Bullock) are on a road-trip vacation full of bickering and angry silences. They pull off at a bustling highway rest stop, but when Jeff gets back to the car from the bathroom, Diane isn't there. He waits and then searches the rest stop, but she's just … gone. Three years later, Jeff, exhausted and still searching for Diane, finally learns her terrible fate by experiencing it himself. Warning: You may never be able to watch The Big Lebowski the same way again.
Lesson Learned: Trust absolutely no one, and remember that a promise of free jewelry will just get you a face full of chloroform.
6. Breakdown (1997)
STRANGER DANGER
Directed by: Jonathan Mostow
Starring: Kurt Russell, J.T. Walsh, Kathleen Quinlan
If you get this movie confused with The Vanishing, it's okay. Both have protagonists named Jeff, and both involve couples driving a red Jeep Grand Cherokee — but I swear they're different movies. Jeff (Russell) and his wife, Amy (Quinlan), are on a road trip when they narrowly miss hitting a beat-up pickup. Jeff has words with the driver at a gas station down the road, and soon after, the Jeep dies. A passing big rig stops to lend a hand, and the driver (Walsh) takes Amy to a nearby diner and a phone. Jeff then discovers his vehicle died because someone fucked with the battery connections. Then, he can't find Amy at the diner. Nobody has seen her. He tracks down the trucker, but he insists they've never met. So where the hell is Amy?
Lesson Learned: Hopping into a big rig with a random trucker seems like a super fun time, but maybe don't do that. You're wearing khakis and driving a Grand Cherokee in 1997, Kurt Russell. Get a damn cell phone and AAA.
5. The Hills Have Eyes (1977, 2006)
RAPED BY MUTANTS
Directed by: Wes Craven (1977), Alexandre Aja (2006)
Starring: Dee Wallace, Susan Lanier, Michael Berryman (1977); Aaron Stanford, Kathleen Quinlan, Ted Levine, Vinessa Shaw (2006)
Both the 1977 original and 2006 remake are scary as hell — and either will inspire you to save up for a plane ticket. On a lonely desert road, an RV carrying a perfectly juicy suburban family on vacation blows a tire, so they are stuck while someone goes for help. That sucks, but it sucks a lot more when the family discovers they're being stalked by a freakish clan of radioactive cannibal mutants with hard-ons. No character is safe from a prolonged and gruesome death, even the baby and the two dogs.
Lesson Learned: From the original, if the weird gas station guy tells you to stick to the main road, listen to him. From the remake, if the weird gas station guy tells you to take a secret shortcut through the desert, don't listen to him.
4. Death Proof (2007)
"THEY ALL PRINCESS DIED"
Director: Quentin Tarantino
Starring: Kurt Russell, Rosario Dawson, Tracie Thoms, Mary Elizabeth Winstead, Zoë Bell
A lot of Tarantino fans call this his worst movie, but fuck that, this throwback grindhouse flick is awesome. The first half is not a road-trip movie per se, but the second half is about a group of women in the movie industry who get a break from filming on location in Tennessee and go bombing around in a yellow 1972 Mustang. Bell, who plays a Kiwi stuntwoman, is on a mission to test-drive a cherry 1970 Dodge Challenger a local guy is selling. Unfortunately, on their death-defying test drive, they run into Stuntman Mike (Russell), a psycho with a thing for killing women in car crashes using a specially modified death-proof stunt car. What follows is the most badass practical car chase filmed in the past 25 years.
Lesson Learned: If someone's ride doesn't have a seat belt — or a passenger seat — maybe wait for a cab.
3. Joy Ride (2001)
DO NOT PLAY WITH A TRUCKER'S EMOTIONS
Directed by: John Dahl
Starring: Paul Walker, Steve Zahn, Leelee Sobieski
After finishing his freshman year at college, Lewis (Walker) cashes in his plane ticket home so he can buy an old car and sets off on a cross-country road trip, picking up his high school crush Venna (Sobieski) at her college on the way home. How sweet. But first, he has to pick up his brother Fuller (Zahn) from jail. How could Lewis know an innocent and horribly cruel prank he and Fuller play on a trucker with the CB radio handle Rusty Nail (voiced by Ted Levine but played by Matthew Kimbrough) would rope them into a fight for their lives?
Lesson Learned: A man gets lonely on the road. Don't be taunting him with fake motel sexcapades, or somebody might get their head ripped in half at the mouth.
2. The Hitcher (1986)
"MY MOTHER TOLD ME NEVER TO DO THIS"
Directed by: Robert Harmon
Starring: Rutger Hauer, C. Thomas Howell, Jennifer Jason Leigh
Young Jim Halsey (Howell) should have listened to his mama. After giving a stranger a ride in the rain on a West Texas highway, Halsey is viciously haunted by the murderous man-shaped demon named Ryder (Hauer), who is determined to torture the poor kid until one of them is dead or mad. Halsey comes close to the latter when Ryder creates a devious scenario involving a tractor-trailer, some rope, and Halsey's new girlfriend (Leigh).
Lesson Learned: Don't pick up hitchhikers. Ever. Even if you're nodding off. That's why they invented coffee and meth.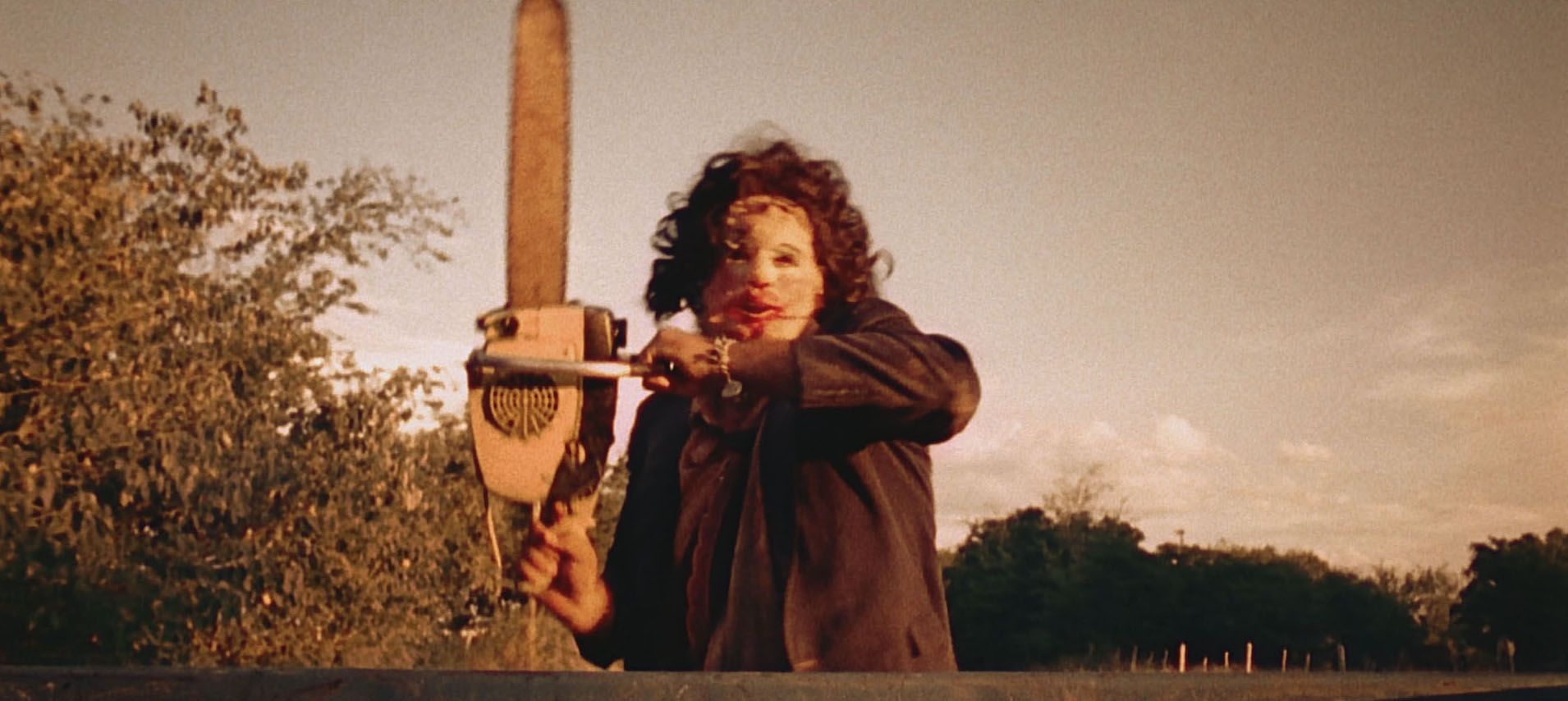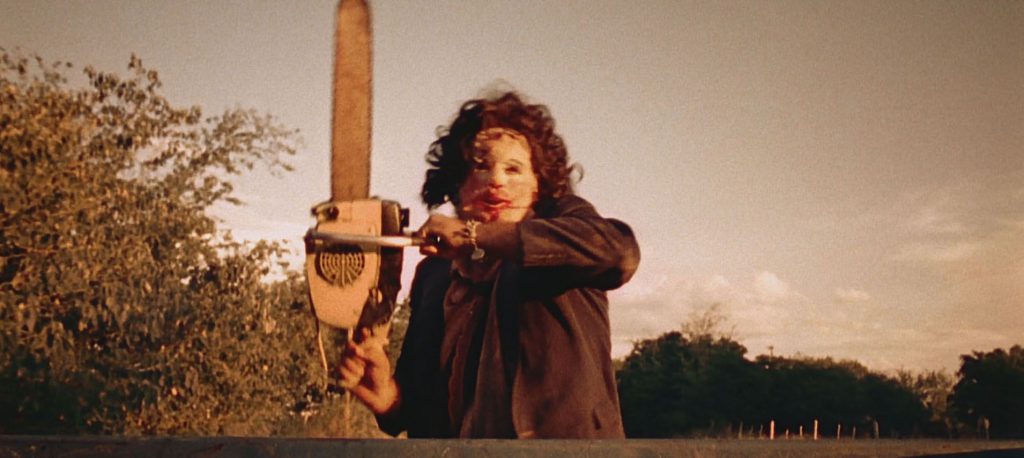 A FAMILY THAT CANNIBALS TOGETHER, STAYS TOGETHER
Directed by: Tobe Hooper
Starring: Gunnar Hansen, Marilyn Burns, Paul Alan Partain, Edwin Neal
If you've never seen this milestone horror movie, make sure you do so while sober — and maybe during daylight hours. Is it the movie's gritty low-budget 1970s feel that makes it so damn scary? Maybe it's the maniac running around in a human-face mask wielding a chainsaw. It all begins as an innocent road trip in a VW bus to investigate a grave robbing. One hitchhiker later, it abruptly becomes an otherworldly horror show of shocking violence and endless screaming. The macabre dinner scene will haunt your dreams, and the final scene with Leatherface doing his frustration dance with a whirring, exhaust-spewing chainsaw is simply divine.
FINAL LESSON: Before any road trip, go to Google Maps, turn on satellite view, and trace your route. If there's anything that looks like it could be classified as a "long, desolate, barren stretch of road" through the desert, find a detour or pack a gun.
Read Next: The Best Shotgun Moments in Western Movies